Commercial garbage disposals are more rugged, powerful and efficient than household ones. They are capable of continually operating for long hours and available at horse power ratings from 1 to 11HP. They are used by various business establishments like hotels and bakeries. They are also pricey costing up to $7000! but they don't come with any fancy features or fancy designs, they just do their job, efficiently. They are usually bigger in size and often weighs a lot.
As the leading players in this industry both Waste King and InSinkErator have a number of commercial disposer models.
As mentioned above commercial garbage disposals are available with horse power ranging from ½ hp to 11 HP depending on the volume of food wastes that need to be processed.
Finding the right disposer for your establishment is necessary as choosing the wrong one will cost you more in investment as well as maintenance. For example a 10HP disposer is needed only for non-stop restaurants or big hospitals, buying it for your deli would be a bad decision.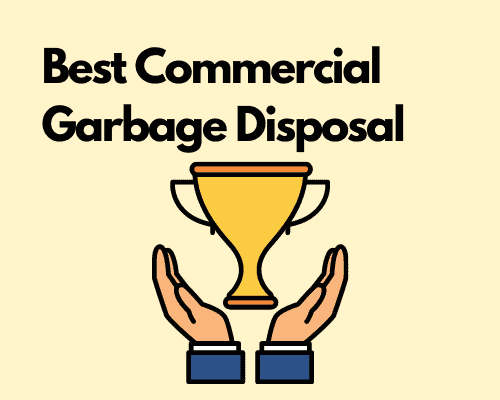 Here is my list of the best commercial disposals;
Best Commercial garbage disposals reviewed
1. Waste King 1000-3 1 HP Commercial Food waste disposer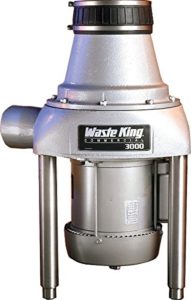 This is the least powered commercial disposer by Waste King. It uses a 1HP, permanent magnet motor to pulverize any food wastes thrown down its mouth.
Unlike the household versions all Waste King commercial disposals use low speed motor. This one runs at a speed of 1725 RPM.
One thing to note is that this one uses a 3-phase motor. This makes it ideal for industrial uses.
It uses a 'Hush Cushion' mounting connection which is more stable for industrial use. In addition, each component of this disposal is made in commercial grade. The motor is fan cooled with ball bearing construction and overload protection.
Its grinding chamber is made of stainless steel. It also has an exit chamber which is made of high-quality polyester. If you remember, the household versions of all Waste King disposals have only plastic grind chambers.
In addition the turntable which grinds food wastes is of 6.25" diameter, this is much larger than any household versions. This large diameter allows the disposal to process more food wastes at a time.
All its grinding elements are made of stainless steel to ensure a long working life.
It also comes with a 1 year long warranty. While the warranty of 1 year is much lesser than any household model this is the standard warranty period for any commercial disposal.
This Waste King disposal is an ideal choice for small commercial setups like small diners.
2. Waste King Garbage Disposal 1500-1, 1.5 HP Commercial Food Waste Disposer
Waste King 1500 is a relatively low-cost garbage disposal suitable for small establishments. It is powered by a single phase 1.5HP motor and runs at an rpm of 1725. Its design is quite rugged to withstand shocks and all day long grinding jobs.
It is a single stage disposal where food wastes undergo only a single stage of grinding, the raw power enables it to grind wastes to pulp within that stage.
The permanently lubricated bearing and the dynamically balanced turntable helps smooth operation over long hours. Also, the motor is cooled via a fan to avoid overheating on any such operations.
While household disposals are available with a 1HP rating at a much lower price they are not heavy duty machines. To know the difference, for example, the premium series InSinkErator Evolution Excel 1.0 HP Household Garbage Disposer costs only around 300 USD with the same 1HP rating but it weighs only 23 pounds whereas this Waste King Garbage Disposal 1500-1 weighs 55 pounds. It has a manufacturer warranty for 14 months.
View price and product specifications
3. Waste King 2000-3 2 HP Commercial Food Waste Disposer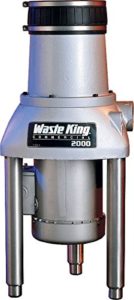 This is another 3-phase disposal by Waste King. This one is driven by a 2 HP motor running at a speed of 1725 RPM.
Just like the previous 2 models this one is also made to handle commercial operations smoothly.
It has a Hush Cushion mounting, a fan cooled, permanent magnet motor, stainless steel grinding components, and a 1-year warranty; just like all other Waste King commercial models.
One thing to note is that instead of a stainless steel grinding chamber this disposal comes with one made of cast iron. This is probably because cast iron is better at handling the increased grind power, but I leave that to the experts.
In any case of you are looking for a slightly more powerful disposal for your business this is an ideal choice.
4. InSinkErator Garbage Disposal LC-50-11 Light Capacity Commercial Waste Disposer
This is a light capacity disposal for small establishments. It is powered by a 1/2HP motor which runs at 1725rpm.
This is the least expensive commercial disposal, the manufacturer made it so targeting small establishments like bakeries. For them, a high powered costly machine is totally unnecessary.
It has an overall size of 13.6×13.63×14.5 inches, which is bigger than a household one.
Its grinding chamber is made of steel and the blades with cast nickel chrome cutting element to avoid rusting over long-term use. It weighs around 35 pounds.  It uses a standard #5 flange that will fit most sink openings. It has the flexibility of a household disposal with the vigour of a commercial one.
View price and detailed specifications
5. Insinkerator SS-100-29 Standard Capacity Commercial Waste Disposer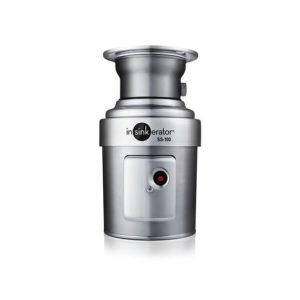 The SS-100 Small Capacity Foodservice disposer is capable of destroying up to 100 meals at a time. At first, I thought the '100' in SS-100 is for the number of meals it can destroy in one go but that's not the case, it is associated with the HP of its motor, for whatever reasons.
So this is a 1 HP motor, much powerful than the model mentioned previously. Just like the above Waste King models this one too run at a speed of 1725 RPM. This is a continuous feed type disposals, like all others.
InSinkErator has put some effort in noise reduction for their models. The SS-100 comes with a rubber mounting above the grind chamber that insulates any noise.
Its grinding components are all made from cast nickel chrome allow which is corrosion resistant and which guarantees a long life.
The disposal is fully chrome plated and paint free, so you don't have to worry about the paint getting peeled.
The SS-100 comes with a warranty of 1 year.
InSinkErator also has more powerful variations of this above model. All of them have the same features and similar dimensions, so I don't see much point in writing about each. So for a quick reference here they are;
SS-200 Medium Capacity Foodservice Disposer – has a 2 HP motor. It can handle upto 100 meals in one go. Ideal for restaurants, hotels, cafeterias etc
SS-300 Large Capacity Foodservice Disposer – It is powered by a 3 HP motor. This commercial disposal can handle up to 750 meals in one go. It is ideal for large hotels, banquet facilities etc.
SS-500 Large Capacity Foodservice Disposer – This disposal is powered by a 5 HP motor. It can handle up to 2500 meals at a time. This is a good choice for all crowded business establishments.
InSinkErator SS-1000 Large Capacity Foodservice Disposer – It is powered by a 10HP motor. It can handle thousands of meals at a time. This is all you need for large hospitals, schools, non-stop restaurants and any other large commercial establishments.
6. Hobart commercial garbage disposal
Another popular brand of commercial garbage disposals is Hobart. They have a few models of varying power. Among them FD4/500 is a popular model.
The FD4/500 is powered by a 5HP motor. It can handle up to 4000 meals a day.
This is a continuous feed type disposal. The motor comes with permanently lubricated bearings and has an overload protection system.
Its turntable diameter is 10 5/8", this large size turntable allows processing of large amount of food wastes at a time.
This disposer fits 7" ID openings. Its construction is rugged and sturdy. It can be disabled into two parts. The upper part is made of ductile iron and the lower part of ductile gray cast iron. The housing is painted unlike on the InSinkErator models which are chrome plated. The bottom part which has the motor is connected to the grinding chamber with the help of 4 bolts. This separation allows easy dismantle of the machine if needed for repair.
Hobart specialize in commercial waste disposal, they do not have a household version for their products. Probably it is this specialization that makes it worth considering this brand while buying a garbage disposal for your commercial needs.
Which commercial garbage disposal do I need?
Commercial disposers can be divided into three categories based on power; those with less than 1 HP, 1-5 HP, 5-10 HP.
Power is the most important factor to consider while buying a disposer. This is true especially for commercial ones, you can select a disposer solely based on its power and live with less regrets. That's why I prefer to make a categorization based on power alone.
<1 HP – These are the least powerful of commercial type disposers. Though many household disposals fall into this power range they are not built to handle commercial requirements. These disposals are generally smaller in size and are ideal for small delis, fast food joints, offices etc.
1-5 HP – The most popular disposals for commercial use fall into this category. These disposals are able to dispose of 100 to a few thousand meals every day. The 1HP disposals are ideal to process up to 100 meals whereas the 5 hp ones can handle up to 4000.
These disposals are suitable for large restaurants, nursing homes, hospitals, and such.
5-10 HP – If the above two categories of disposals cannot handle the volume of your establishment simply opt for a more powerful one. The disposals in this category pulverize anything that isn't possible with the other two.
Related Topics:
If you like the article above, here are some other similar articles you should check out!
The Life Expectancy of Garbage Disposals (With 15 Examples)
Can I Use My Dishwasher if My Garbage Disposal is Leaking?