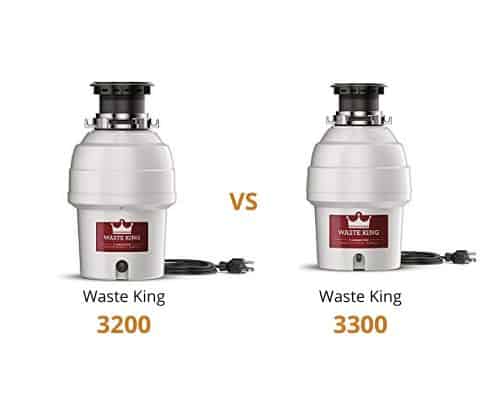 Waste King is the pioneer of garbage disposers, producing high-quality products for over a decade, making it a reputable name amongst plumbers and consumers alike. Their Legend series garbage disposals featuring continuous feed operation is an excellent addition to their line of appliances. Two of the most prominent disposers that are part of this family are Waste King Monarch L 3200 and Waste King Samurai L 3300.
Both of them have been favorite among users, but when it comes to selecting a particular model which one wins the battle? Let's have a closer look at the units to understand which one steals the show.
Similarities between L-3200 and L-3300 Garbage Disposal Units
The L-3200 and L-3300 garbage disposals are like brothers, or better, like twins. Both are manufactured by the same company Waste King, both follow the same design pattern, both use EZ Mount system for mounting, uses Jams Less technology, comes with power cords, both are continuous feed, both are powered by the same 3/4HP motor running at a speed of 2700 RPM, and I could go on, but enough on the similarities here. Oh! and the price, they too are VERY similar.
Difference between Waste King L-3200 & L-3300 Garbage Disposals
Like twins, these models have certain differences which undoubtedly will weigh on your buying decision. So here they are, as a table for easy comparison.
| | |
| --- | --- |
|   |   |
| Doesn't have as much sound insulation as L-3300 | Better sound insulation than L-3200 |
| The disposer comes along with a warranty for a period of 8 years on in-home services, while the chamber has a lifetime warranty against corrosion. | The Waste King L-3300 has 10 years warranty with in-home services along with a lifetime corrosion warranty on the grinding chamber. |
| The size of L-3200 is smaller compared to L-3300. Its dimensions are 7.75 x 7.75 x 13.75 in | Slightly bigger than L-3200. Its dimensions are 8.5 x 8.5 x 14.5 in |
| Slightly less pricey | Slightly more costly |
| View Price & Details | View Price & Details |
The main difference between Waste King 3200 and 3300 is the warranty, L-3300 has a warranty of 10 years which is two years more than that of Waste King 3200 garbage disposal. Also, Waste King 3300 comes with better noise insulation when compared to L-3200.
Another difference is their dimensions. Owing to the extra layers of insulation the Waste King 3300 garbage disposal is slightly bigger than Waste King 3200.
Conclusion: Which should you buy; L-3200 or L-3300?
As mentioned above both garbage disposals are like brothers; L-3300 being the slightly better one. If I were to choose between them I would go with the L-3300 model because the price difference between them is negligible and it has the added benefit of a longer warranty, bigger size, and better sound insulation.
You can read my full review of Waste King L-3300 here
Oh, and before you decide to buy don't forget to check the competition by InSinkErator