Badger series of garbage disposals is undoubtedly one of the most economical and reliable products by InSinkErator. Badger 5 is one among the popular disposals, and there are two more models Badger 5XP and Badger 500.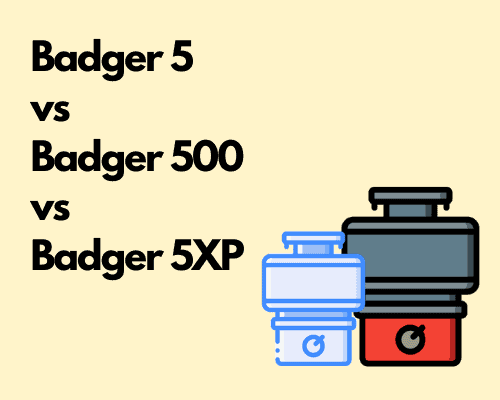 Badger 5 Vs Badger 500; what's the difference?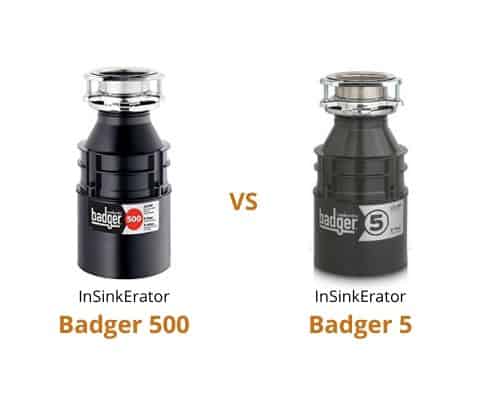 Nothing.
Yes, you heard it right,
There is no difference between Badger 5 and Badger 500. The Badger 500 is the Home Depot version of the Badger 5. The warranties and specifications of both models are the same. Since the Badger 500 is widely accessible it may be pricier by a few dollars.
Then why did InSinkErator make two exact same models? Badger 500 is the HomeDepot version of Badger 5, you can buy it directly from the store whereas to get a Badger 5 you will have to order it online. This convenience is also the reason why Badger 500 is priced a few more dollars than Badger 5.
There is a hack, by the way, to get Badger 500 for the price of Badger 5. Go to a home depot store, and tell them you are looking for a Badger 5. When they say they have only the 500 in stock look in disbelief. Then politely ask how Badger 500 is different from Badger 5 and once they tell you that both are exactly the same ask if it is possible to get the 500 for the price of Badger 5. The chances are you will.
Since both Badger 500 and 5 are the same I don't see any point in doing any further comparison, so in the rest of my article, I won't be writing anything about Badger 500. So let's jump to;
Badger 5 Vs Badger 5XP
The Badger 5 & the Badger 5XP garbage disposal models are nearly the same. They both have a 26oz capacity and spin at 1725 RPMs. The main difference is that the Badger 5 runs on a 1/2 hp motor and the Badger 5xp run on a 2/3 hp motor.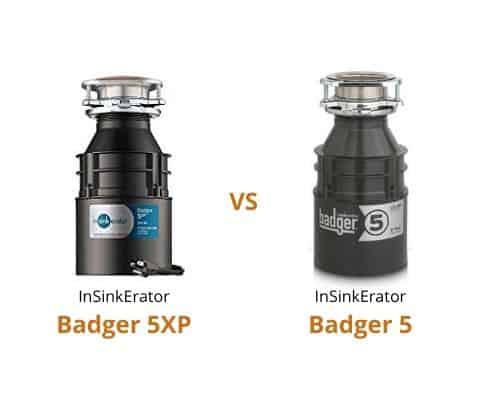 Similarities
Badger 5 and Badger 5XP both follow the exact same design, both have the same chamber capacity of 26oz, and both are very similar to Badger 1 (you can check my previous article Badger 1 vs Badger 5) They are continuous feed type disposals where you can add food wastes continuously to the grinding chamber.
Both Badger disposals run on Dura-drive induction motors at 1725 RPM. Both can be easily replaced with each other. They have grinding components made of galvanized steel, both come with the same set of accessories and are budget-friendly.
Differences
There are two notable differences here. The main difference between a Badger 5 and a Badger 5XP is the power. Badger 5 garbage disposal runs on a 1/2 HP motor whereas Badger 5XP is much more powerful with a 3/4 HP motor.
UPDATE: Both models now have the same 3-year warranty. The other is the warranty. Badger 5 comes with a 2-year limited warranty whereas the other has a 3-year limited warranty.
Other not-so-noticeable differences include the overall height and weight where Badger 5XP exceeds its friend by a small margin. Badger 5XP has a height of 12-5/8 inches whereas the Badger 5 is only 11.5 inches in height.
Insinkerator
Badger 5
Insinkerator
Badger 5XP
Power
1/2 HP
3/4 HP
RPM
1725
1725
Feed type
Continuous
Continuous
Grinding chamber capacity
26 oz
26 oz
Height
11.5″
12-5/8″
Grinding system make
Galvanized steel
Galvanized steel
Warranty
3 year (for the new version)
3 year
View Price & Details
View Price & Details
Can I replace a Badger 5 with Badger 5XP?
Yes, you can replace a Badger 5 with a Badger 5XP, and vice versa, as both garbage disposal units use the same 3-bolt mounting system, all you have to do is twist and disconnect one and twist and connect the other.
Which should you buy; Badger 5 or Badger 5XP?
The Badger5XP is the better choice over the Badger 5 because the price difference between the two models is negligible. (It's typically around 30 dollars.) The stronger disposal motor will provide more power and durability.
In any case, before you buy don't forget to check the competition by Waste King
And, here is a list of the best garbage disposals if you are interested.
Related Topics:
If you like the article above, here are some other similar articles you should check out!
Franke Garbage Disposals – Best Picks & Reviews
Criterion Garbage Disposal Review