There are many brands that are highly competitive in the garbage disposal world. The Criterion Garbage Disposal is very powerful and a great competitor to other brands for its price.
The Criterion Garbage Disposal is a great product that has 1.25 HP, and other models offer 1/2 HP, 1/3 HP, and 3/4 HP. It is made with stainless steel inside the chamber so it grinds up food well. It is efficient, and its noise level is moderately quiet so it is not distracting.
For a full review of the Criterion Garbage Disposal, read below.
Criterion Review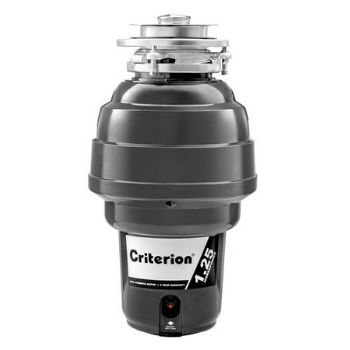 Criterion is a trademarked brand owned by Menards. That is why it is available only through the Menards website. There are a few appliances including refrigerators and microwaves under the Criterion brand name as well. (Source)
This 1.25 HP garbage disposal is the only garbage disposal unit sold under this brand. So probably that's why it doesn't have a particular model name.
This disposal is pretty interesting. It is probably one of the highest-powered garbage disposals for household use, and it resembles the American Standard 1.25 disposal very much. The price point is the most attractive part, which will be discussed later.
There are more models that are not as high in horsepower, but that work really well and they are also on the Menards website. (Source)
They sell models that have 3/4 HP, 1/2 HP, and 1/3 HP. So depending on how much space you have under your sink and how much power you want the garbage disposal to have, these are other great options.
Power and Performance
Any garbage disposal needs a great amount of power to work, but the best disposals have 1 HP or higher of power, which this one has. Criterion garbage disposal is powered by a 1.25 HP high-speed motor that runs at 2700 RPM. This gives it a lot of power so that it can grind up most of the food that goes into the chamber.
This is a continuous feed-type of garbage disposal. This means that the type of disposal to which you can add food wastes while it is running. It has a chamber capacity of 38oz, so you can fill it with 38oz of food waste.
It also comes with a reset button at the bottom of its front-facing area. This makes it convenient whenever you need to reset your disposal if a problem occurs.
Build Quality
The grinding components are made of stainless steel which is a durable and long-lasting material that many hardware products are made out of. In addition, its grinding chamber also is made of stainless steel. Normally in a budget disposal unit, the grinding chamber is made of corrosion-resistant plastic, but with this product having stainless steel it is very nice.
The stainless steel grinding components also work well with the 1.25 HP that the disposal runs on. With that amount of power, the blades are strong enough to cut through anything or almost anything that goes into the chamber. To be safe and avoid any issues with your disposal being too full, use the disposal as you do dishes or with some food at first then add more. This will make sure your disposal stays in good shape and doesn't get stuck when grinding food.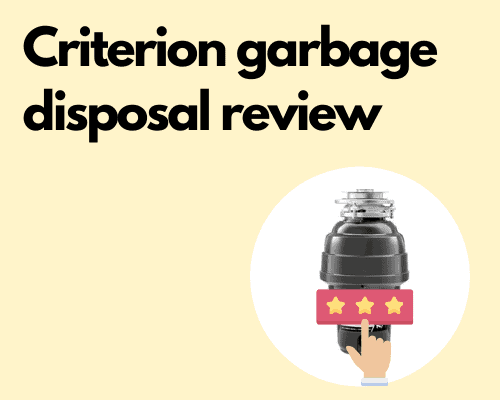 Size and Installation
Criterion Garbage Disposal is not compact in size. With 16-inches in height and 8 5/8 inches in width, it takes a considerable space under the kitchen sink. But, considering how powerful it is and how well it works, the space that is needed to install this product should not be much of an issue.
It comes with a 3-bolt assembly which makes it an easy installation. This 3-bolt assembly is also compatible with that of many other disposer models including those by InSinkErator. If you are installing this yourself, you may need some extra hands, but you can also buy a garbage disposal installation tool to help with the installation process.
Fortunately, it comes with a 3-foot-long pre-installed power cord, so you won't have to worry about fiddling with electrical connections. The length makes it easy to simply connect the cord where it needs to go without worrying that it is too short or too long.
Price & Warranty
The price is the most interesting part of this Criterion Garbage Disposal. It costs you less than $100 (at the time of writing this article). The other Criterion Garbage Disposals are offered are amazing prices as well. For the 1/3 HP, the 1/2 HP, and the 3/4 HP you can pay about $60-$100 for one of their garbage disposals.
The disposal unit is covered under a 5-year warranty, which is the longest warranty that was found for garbage disposal at this price point. It is nice to know that if something happens and your garbage disposal breaks within 5 years, it will be covered, fixed, or replaced.
Conclusion
The Criterion garbage disposal looks great in specs but it still doesn't have a big customer base unlike many of its competing models. But that shouldn't stop you from buying this one because this one is really powerful, have the pretty good build quality, and is cheaper than the competition not to mention the longest warranty in its price range.
It is a great option for any home, and you have multiple to choose from with their other models and the different sizes and power those offer. Below is a summary of the specific features of the garbage disposal to easily read them all together.
Another great feature not mentioned above is the noise level. These have been tested by the company and they are a quiet noise level. It is much nicer to have quiet garbage disposal rather than a loud one so that it is not the dominating sound in the room once it is turned on.
Here is an overview of its specifications:
Power – 1.25 HP
Speed – 2700 RPM
Noise insulation – Yes
Grinding stages – 1
Size – 16″x8-5/8″
Warranty – 5-years
Grind chamber capacity – 38oz
Feed type – Continuous
Grinding components – Stainless steel
Grinding chamber – Stainless steel
Mounting – 3-bolt
Related Topics:
If you like the article above, here are some other similar articles you should check out!
Waste King Samurai L-3300 Review