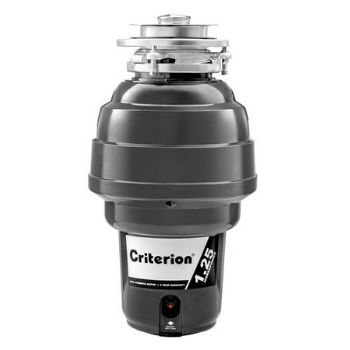 Criterion is a trademarked brand owned by Menards – Link. That is why it is available only through Menard's website. There are a few appliances including refrigerators and microwaves under the Criterion brand name.
This 1.25 HP garbage disposal is the only garbage disposal unit sold under this brand. So probably that's why it doesn't have a particular model name.
I should say this disposal is pretty interesting; I think this is probably one of the highest-powered garbage disposals for household use, and it resembles the American Standard 1.25 disposal very much. And the price point is the most attractive part, which I will discuss later.
For now, let me give you a quick overview of its specifications
Power – 1.25 HP
Speed – 2700 RPM
Noise insulation – Yes
Grinding stages – 1
Size – 16″x8-5/8″
Warranty – 5-years
Grind chamber capacity – 38oz
Feed type – Continuous
Grinding components – Stainless steel
Grinding chamber – Stainless steel
Mounting – 3-bolt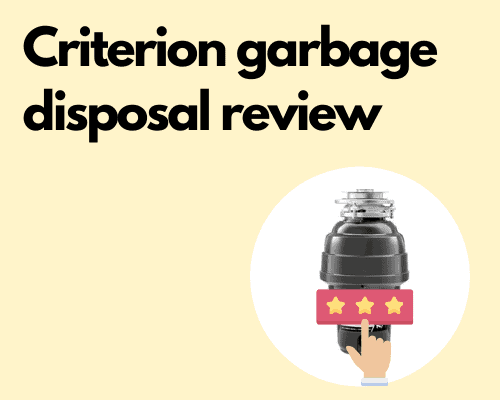 Power and Performance
Criterion garbage disposal is powered by a 1.25 HP high-speed motor that runs at 2700 RPM. As you know this is the top power a household garbage disposal has, and I think it is an overkill. It can grind any kind of food wastes, well most if not all.
This is a continuous feed type disposal ie, the type of disposer to which you can add food wastes while it is running. It has a chamber capacity of 38 oz, which means you can fill it with 38oz of food wastes.
It also comes with a reset button at the bottom of its front-facing area.
Build quality
Its grinding components are made of Stainless steel which is durable and long-lasting. In addition, its grinding chamber also is made of stainless steel, which is seen only in high-end disposals. Normally in a budget disposal unit, the grinding chamber is made of corrosion-resistant plastic so I should say the build quality of this one is pretty good.
Noise insulation
Criterion garbage disposal comes with noise insulations. However, I never get hold of this disposal so I couldn't test the noise levels myself. As per the company, it is a quiet unit but I can't compare it with any other models until after testing it myself.
Size and installation
Criterion disposal unit is unfortunately not compact in size. With 16 inches in height and 8-5/8 inch width, it takes a considerable space under the kitchen sink.
It comes with a 3-bolt assembly which is pretty solid. This 3-bolt assembly is also compatible with that of many other disposer models including those by InSinkErator. If you are DIY for installing this you may need some extra hands, or you can buy a garbage disposal installation tool to help with the installation process.
Fortunately, it comes with a 3 foot long pre-installed power cord, so you won't have to worry about fiddling with electrical connections.
Price & Warranty
I think price is the most interesting part of this Criterion garbage disposal. It costs you less than 100 bucks (at the time of writing this article) and it gives you the most power per $.
The disposal unit is covered under a 5-year warranty which is the longest for a disposal at this price point.
Conclusion
The Criterion garbage disposal looks great in specs but it still doesn't have a big customer base unlike many of its competing models. But that shouldn't stop you from buying this one because this one is really powerful, have a pretty good build quality and is cheaper than the competition not to mention the longest warranty in its price range.