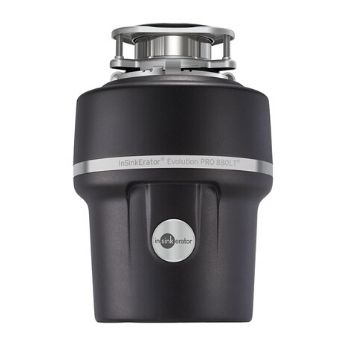 InSinkErator Pro880LT is a little more powerful version of the Pro750 garbage disposal. This model belongs to the Evolution series which is the premium range of disposers made by InSinkErator.
Here is a quick overview of its specifications;
Power – 7/8 HP
Speed – 1725 RPM
Noise levels – Quieter
Grinding stages – 2-stage grinding
Size – 12.25″ x 8.75″
Warranty – 8-years
Features – Auto-reverse technology, multi-stage grinding
Feed type – Continuous
The Pro880LT is very similar to the Evolution Select model in look and specifications. But this one has more power. Its DuraDrive induction motor produces 7/8 horsepower. It runs at a speed of 1725 RPM which is standard across all InSinkErator models. The Pro880LT has a 2-stage grinding system to help break down food wastes into finer particles. This system is capable of grinding hard food items like potato peels which are usually not recommended for ordinary disposals.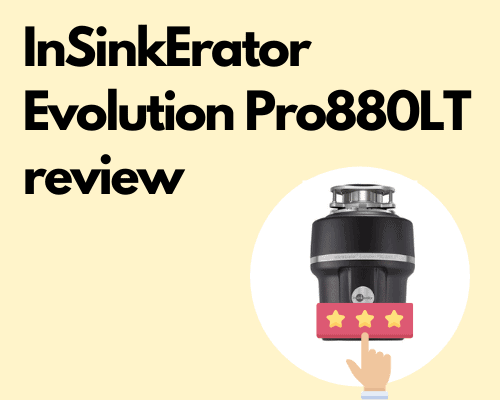 It has a chamber capacity of 34.6oz, however, this is a continuous feed type disposal so the chamber capacity is not significant to its performance. This disposer also has 'Auto Reverse' system which allows the rotor to change its direction if it comes against any blocks. This enables the disposer to break any clogs and operate smoothly.
InSinkErator is very famous for its SoundSeal technology. This is a noise insulation technology which is used in garbage disposals to reduce noise. This includes layers of insulating material around the body of the disposer as well as anti-vibration mounts. The Pro880LT comes with this noise insulation technology, so it is very quiet; so quiet that you can hold a normal conversation in the kitchen.
Pro880LT is well built with corrosion-resistant materials. Its grinding components and grind chamber are made of stainless steel. You can also check my list of best stainless steel garbage disposals if you are into it. The design of the disposer is also quite premium with its smooth curves and finish. In addition, it comes with a Stainless steel flange and an anti-microbial baffle.
The Pro880LT garbage disposal uses a 3-bolt assembly type mount. The QuickLock technology by InSinkErator makes the installation of this disposer effortless. If you are DIY I recommend you to check my post about garbage disposal installation kits.
Furthermore, this is a compact disposal. With less than 13 inches in height, it can be installed in small under-sink areas. Here are some more compact garbage disposals.
It also has a reset button and a hex hole to use in case you run into any overloading problems.
The Pro880LT is covered under an 8-year limited warranty. Not many disposals by InSinkErator have a warranty that long.
My thoughts are; I don't see any particular reason to go for a 7/8HP disposer. There are lots of models with 3/4 HP and 1 HP power, and they are available in a wide range of prices. Feel free to check Evolution Excel and Evolution Compact as well.
Related Topics:
If you like the article above, here are some other similar articles you should check out!
Waste King L-111 vs L1001 – What's the Difference?
Franke Garbage Disposals – Best Picks & Reviews