A simple Google search will show you lots of articles on the topic 'DIY garbage disposal installation'.
But most of these articles do not tell you what all you need to install a disposal unit, they go on talking about the installation process but do nothing to help the reader acquire all the necessary tools.
This leads people into believing that all they need is a disposal unit and some piping (I bet you don't know what piping is needed), and they end up with the wrong tools.
Hence I decided to write a post on what accessories/kits are needed to get the installation done.
But first;
What is a garbage disposal installation kit?
These are simply a bundle of pipes and tools you can buy without having to worry about the specifications. These are made to help novices to install their disposals without any professional help.
These kits are readily available in stores and e-commerce sites so you can purchase them along with your disposal unit.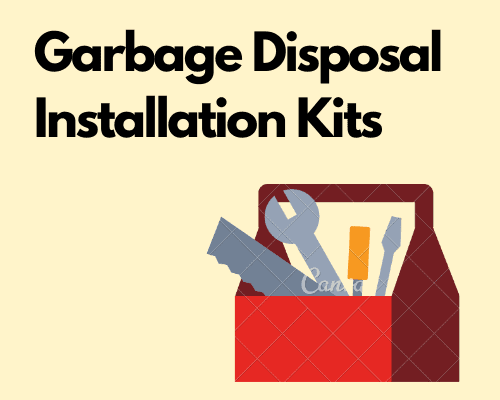 What installation kits do you need?
Pipes
Air switch/power cord
Installation tool
Screwdriver
Plumbers putty
1. Pipes
To install a garbage disposal unit you will need the following pipings;
1-1/2″ OD X 6″ Flanged Tailpiece – 1 nos
1-1/2″ OD X 14″ Flanged Tailpiece – 1 nos
1-1/2″ OD X 7″ Slip Joint Drain Arm – 1 nos
Slip Joint End Outlet Tee – 1 nos
90 Degree Elbow – 1 nos
Rubber Connection Boot with Barbed Adapter & Clamps – 1 nos
1-1/2″ OD Wall Drain Trap – 1 nos
1-1/2″ I.D. Polyethylene Washers (1) Reducing Washer – 5 nos
I bet nobody told you this in their tutorial.
The point is you can buy all these together as a kit from stores and online marketplaces. All garbage disposals follow the same standards so you don't have to worry about the specifications of these pipes, and you don't have to buy them separately.
2. Disposal Switch/power cord
Not all garbage disposals come with power cords. If you are buying a Waste King it probably comes with a pre-installed power cord but that's not the case with other brands.
So you will need to buy this separately.
Even if you have a power cord most people opt for an air switch. There are other garbage switch options but the air switch is the most popular.
So it makes perfect sense to buy an air switch kit before you start the installation.
3. Installation tool
It is really hard to install a disposal unit by yourself(even for professionals), you will need the help of another person to hold the disposal flange in position during the process.
So some people really wanted to solve this issue, and they made some cool, simple installation tools to help you do the entire thing just by yourself.
While this is not mandatory, if you are installing the disposal by yourself this installation tool kit is recommended. There are different variations available which you can check here.
4. Screwdriver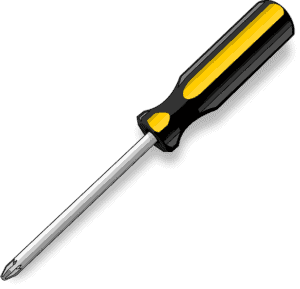 Well, you need a screwdriver for any DIY installation. And yes, it is mentioned in all installation tutorials as well though they failed to address what kind.
You only need a flathead screwdriver for the whole installation process.
5. Plumber putty
Now that I mentioned screwdriver I feel obliged to mention plumbers putty to make sure you don't miss it.
Plumbers putty is needed to seal the sink flange of the disposal unit to avoid any leaks.
Conclusion
Well, that's all. Now you know what kits to buy before installing your disposal.
Related Topics:
If you like the article above, here are some other similar articles you should check out!
Garbage Disposal Wrench (What is it, Types, How to Use)
Best Frigidaire Garbage Disposals
16 Things You Shouldn't Put in a Garbage Disposal (You Might be Surprised)