Best Frigidaire Garbage Disposals
Frigidaire FFDI331DMS GrindPro 1/3 HP
Frigidaire FFDI501DMS GrindPro 1/2 HP
Frigidaire FPDI103DMS Professional Series GrindPro 1 HP
Frigidaire GrindPro 1/3 HP
1/3 HP, 1900 RPM
7.69 x 7.69 x 13.44 in
Continuous Feed
Standard Noise Insulation
Stainless Steel Grinding System
Galvanized Steel Turntable Material
2-year Warranty
Frigidaire GrindPro 1/2 HP
1/2 HP, 2600 RPM
7.69 x 7.69 x 13.44 in
Continuous Feed
Standard Noise Insulation
Stainless Steel Grinding System
Galvanized Steel Turntable Material
2-year Warranty
Frigidaire GrindPro 1 HP
1 HP, 2800 RPM
8.5 x 8.5 x 16.1 in
Continuous Feed
UltraQuiet III Noise Insulation
Stainless Steel Grinding System
Stainless Steel Turntable Material
Lifetime Warranty
Frigidaire Garbage Disposal Reviews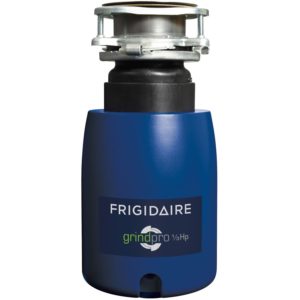 Frigidaire GrindPro 1/3 HP Review
This is a low-end disposer by Frigidaire. It is compact and lightweight. It is powered by a 1/3 HP, 1900 RPM motor. When compared with other models by this manufacturer this one uses a slow-speed motor, but it delivers enough power to dispose of kitchen wastes in a small household. It comes with a non-removable splash guard which makes cleaning difficult.
It uses stainless steel jam-resistant dual impellers but the turn table is made of galvanized steel, SS would have been better. This is continuous feed-type disposal and comes with standard noise insulation. It has a 2-year limited warranty by the manufacturer.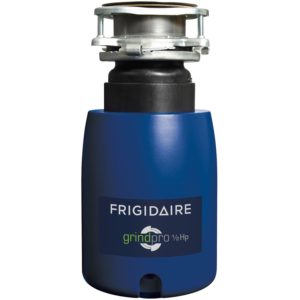 Frigidaire GrindPro 1/2 HP Review
This disposal is the same size as its 1/3HP model with dimensions 7.69 x 7.69 x 13.44 in. This is basically a high-powered version of the 1/3 HP model, the only difference between them is the 1/2 HP, 2600 RPM motor this uses and a smaller sized grinding chamber because of the larger motor.
Reviewing this would be just repeating what I wrote above so feel free to check how much it costs.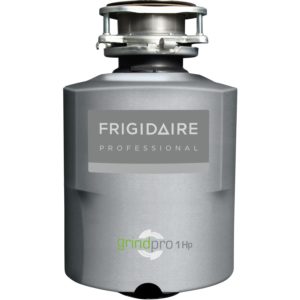 Frigidaire GrindPro 1 HP Review
This one is definitely bigger and costlier than the above two models. Powered by a 1 HP motor with 2800 RPM it is able to grind whatever you though down the disposer (except these few things ofcourse).
This disposer has a size of 8.5 x 8.5 x 16.1 inches. It has UltraQuiet III sound insulation which is far better than the standard insulation in the other two models. Its grinding components are all stainless steel.
What is notable is that it comes with a lifetime limited warranty. Most other disposers do not have this.
Related Topics:
If you like the article above, here are some other similar articles you should check out!
Goplus Garbage Disposal Review
General Electric Garbage Disposal Reviews