What Is Moen?
Moen is one of the leading faucet manufacturers in the USA. This company was founded by Alfred M Moen in 1939 in Seattle. Its first product was a single handle faucet; a revolutionary product at that time. Today this company manufacture a wide range of bathroom and kitchen products including garbage disposals, faucets, and showerheads.
Moen garbage disposals are known for their attractive design and efficiency. There models, especially GX50C is very popular across the United States.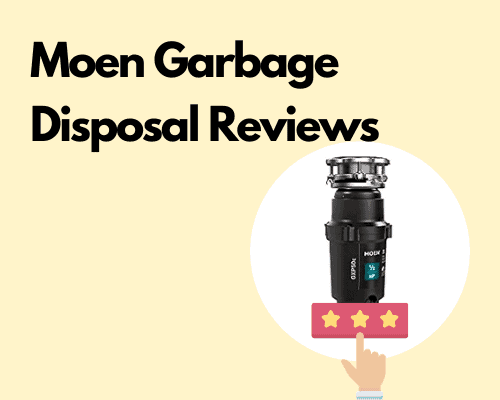 Moen has a wide range of garbage disposals. But I have chosen just 5 for my review because most other disposals are slight variations of these 5.
So here are they;
Moen Garbage Disposal Reviews
1. Moen GXP33C GX PRO Review
Pros
Universal express mount fit makes it easier to replace other disposals using similar mounting.
High-speed rotation minimizing jams
Preinstalled power cord
Polished stainless steel stopper
Cons
Power & performance
GXP33C GX PRO is the least powerful garbage disposal by Moen. It is powered by a 1/3HP vortex motor which runs at a speed of 1900 RPM. While the RPM is the slowest among my other 4 picks this indeed is faster than all disposals by InSinkErator, which is most probably the reason why the manufacturer calls it a high-speed motor.
Noise levels
This is a 'continuous feed' disposal. Its noise insulation is least among other disposals, most probably so to cut its manufacturing costs.
Build quality
The grinding components of GXP33C are made of galvanized steel which is resistant to corrosion.
Space and ease of installation
The GXP33C is small in size with dimensions 13-3/8″x5-1/2″ and weighs only 7.75lbs. (PS: the given dimensions in Amazon are wrong at the time of writing this ). This compact design is suitable where the under-sink area is less.
This disposal uses a 3-bolt, twist and lock mounting mechanism. The installation is super easy if you are trying to replace similar disposals like InSinkErator's.
It comes with a pre-installed power cord too which makes its installation less tedious.
Looks and design
The disposal really looks cute. It is all shiny black with a chrome touch. The stopper is also chrome finish so this machine lacks in nothing when it comes to looks.
Price & warranty
1/3 HP disposals are among the lowest priced. So they are definitely affordable. But to be fair Waste King offers higher-powered disposals within the same price range (The L-1001 for example).
This disposal comes with a limited warranty of 2 years.
2. Moen GXP50C GX PRO Review
Pros
Easy to install 3-bolt mounting assembly
High-speed motor with 2600 RPM
Preinstalled power cord
Chrome finished stopper
Removable splash guard
3-year warranty which is more than many of the competition.
Competitively priced
Cons
No noise insulation (competition do not have them either, so hardly worth the mention)
Power & performance
The GXP50C series is very similar to the GXP33C series which I just reviewed. This one is a 1/2HP, 2600 RPM continuous feed type garbage disposal. It is powerful than the GXP33C model but both look almost the same and both have the exact size.
Noise insulation
Just like the former one this model doesn't come with noise insulation. But it is not loud either.
Build quality
The grinding components of this disposal are made of galvanized stainless steel just like the GXP33C model. Its grind chamber is made of corrosion-proof polymer, again just like the previous model.
Space and ease of installation
This garbage disposal GXP50C shares the exact dimensions of the low powered model GXP33C. It is 13-3/8″ in height and 5-3/8″ in width. The Express mount technology makes it easy to install this disposal with just a 'twist'. Since this machine has a compact size it is advisable to be used in under-sink areas which lack space.
Looks and design
The GXP50C looks exactly like the 1/3 hp disposal reviewed above, thanks to the exact same dimensions, color, and shape 
Price and warranty
This garbage disposal is competitively priced. It also comes with a best in class warranty which is 3 years.
The GXP50C is basically GXP33C disposal with a high powered motor. If you are confused about which one to choose among these two go for the GXP50C.
3. Moen GX50C Review
Pros
High-speed motor (2600 RPM)
Pre fitted but removable power cord in case needed for hard wiring
Jam resistant
Sound shield noise insulation
Xpress mount for easy installation
Chrome finished stopper
4 year limited warranty
Cons
Moen GX50C garbage disposal is just a notch above the two previous models in terms of size, noise insulation, build quality and warranty. It also made its way into my list of best garbage disposals.
Let's review this in detail;
Power and performance
The GX50C uses the same vortex motor as of the GXP50C above (Noticed the 'P'?. Why do they name them so similar?) It has a power of 1/2 HP and is capable of running the disposal at a speed of 2600 RPM. Like all the two above models this is a continuous feed type disposal. It does a pretty good job at grinding food wastes into pulp.
Noise insulation
Unlike the previous two models, this one comes with good noise insulation. The technology is termed 'SoundSHIELD'  which can be easily confused with the 'Sound seal' technology of InSinkErator (but both are basically the same wine in different bottles). It does a good job of reducing the operational noise of the disposal.
Build quality
This disposal has better build components. Its grinding components are made of Stainless steel which lasts long against corrosion. Its grinding chamber is made of corrosion-proof glass-filled polyester and nylon.
Size and ease of installation
It is a bit wider than the previous two but it looks much bulkier owing to insulations for noise reduction. It weighs more, 9.25lbs and has dimensions 13-3/8″x7-1/2″. Though bulky this disposal is compact as well. It has the same height as the other two models above so low under sink areas are not an issue here.
It is also easier to install thanks to the Universal XPress mount which you can see in all Moen garbage disposal models. It also comes with a power cord but it is removable in case you require hard wiring. This is handy when replacing those disposals which were hardwired.
Looks and design
I just love the design of this disposal. Those vertical lines make it looks like some layers of latex cover the body of this disposal but it is high-quality plastic. Of course, looks are subjective but I bet many agree that this is one beautifully designed disposal.
Price & warranty
The GX50Cis competitively priced and will fit your wallet. It also comes with a limited warranty of 4 years.
4. Moen GX75C GX Review
Pros
A powerful, high-speed motor (3/4 HP, 2700 RPM)
Stainless steel grinding components
6-year warranty
SoundSHIELD noise insulation
Jam-free operation
Universal Xpress mount installation
Preinstalled power cord
Chrome finish stopper
Removable splash guard
Cons
Power and performance
Moen GX75C GX is powered by a 3/4Hp vortex motor which runs at a speed of 2700RPM. This is a continuous feed type garbage disposal where food wastes can be added continuously while running the machine. The 3/4 HP motor is capable of processing all disposer friendly garbage.
Noise insulation
Moen GX75C GX comes with Sound Seal noise insulation technology which is the same as that in the GX50C model I reviewed above. It does a pretty good job at reducing overall noise.
Build quality
Again, just like the GX50C model, this one comes with stainless steel grinding components. As you know stainless steel is resistant against corrosion and hence guarantees a longer lifetime for the disposal.
Space and installation
It is bigger than the GX50C model by just 1 inch and weighs 12lbs. Its dimensions are 14-3/8" height, 7-1/2" width. This is not exactly a compact design, so take into account the under-sink space you have before buying this one.
The Xpress mount system makes installation easier. and like all other garbage disposals by Moen this one too comes with a pre installed power cord.
Looks and design
The design of GX75C is very similar to the GX50C model but it is a little bigger in size. Attractive design nonetheless.
Price and warranty
There is nothing surprising about the price, it is on par with all its competitors. When it comes to warranty Moen covers this under a 6-year limited warranty which is better than many of the competing models offer.
5. Moen GX100C GX Review
Pros
Powerful 1 HP motor running at 2800RPM
Jam-less operation
Stainless steel grinding components
SoundSHIELD noise insulation for quiet operation
Xpress mounting for quick installation
preinstalled power cord
7-year warranty
Cons
Not exactly a compact design
Power and performance
The Moen GX100C GX is powered by a 1HP motor running at 2800RPM. This is a very high-speed motor and the most powerful of my 5 picks. The high-speed movement of the blades reduce jamming, that is the reason Moen is using high-speed motors for its garbage disposals.
And without a doubt, this high powered disposal does an exceptionally good job at disposing of food wastes down the drain.
Noise insulation
The noise insulation technology SoundSHIELD which is used in the previous two GX series disposals are present in this one as well. In layman terms, this basically involves layers of insulation around the motor and the grinding chamber to minimize the noise escaping from the disposal. This insulation accounts for the bulk size of the GX100C.
Build quality
Like the previous two models, the GX100C too has stainless steel grinding components and a corrosion resistant grinding chamber. No surprises here.
Space and installation
This is the biggest Moen disposal in my list, with dimensions 16" height, 7-1/2" width. It is also the heaviest in my selection, weighing 13lbs.
It uses the same installation methods as all other Moen disposals. The 3-bolt system is easy to install with the help of its twist and lock technology which is termed as Univeral Xpress mount.
Looks and design
The GX100C follows a similar design as the other two GX series disposals. One notable thing is its bottom portion is considerably longer.
Price and warranty
I won't say this disposal is wallet-friendly. This is a high-end disposal so definitely, this is costly. If you are looking for a 1HP disposal, Waste King has a cheaper alternative but lacks some features. You can also choose a pricey but feature-rich InSinkErator Excel model. So you have many choices.
This disposer comes with a limited warranty of 7 years which is more than any other Moen disposers I reviewed.
A Quick Comparison Of My Top Picks
Here Are Some Common Features Shared By All Moen Garbage Disposals
There are a few common features for all garbage disposals by Moen. If I had mentioned them in the review I would have to just repeat them for each disposal which would be pretty boring for readers. So I decided to add them here as a list;
1. Universal Xpress Mount System
This is a simple twist and lock system that is compatible with most 3 bolt mounting assemblies. If you are replacing an existing disposer all you have to do is position this disposer, twist and lock. This also makes it easier to replace any InSinkErator disposals since most of them use a similar twist and lock system.
2. Permanent magnet motor
Garbage disposals usually use two kinds of motors; induction motors and permanent magnet type ones. I am not going to technical details but permanent magnet motors are more efficient than the former. All Moen garbage disposals use high-speed permanent magnet type motors.
3. 1-1/2″ drain connection
This is the standard drain size for all garbage disposals.
4. Less jamming
Moen garbage disposals use high-speed motors. This gives the blades enough momentum to cut through any possible jams. And since the frequency of cutting is high there is less chance of clogging in the first place.
5. Accessories included
Removable splash guard, drain elbow and mounting assembly, polished stainless drain stopper and sink flange.
The removable splash guard is a blessing when it comes to cleaning the disposal. This makes it easier to access the neck of the disposer and also to clean the underside of the splash guard.
6. Grinding chamber
The grinding chambers of all Moen garbage disposals are made of corrosion-proof glass-filled polyester and nylon.
Moen Garbage Disposal Installation
And for those looking for installation guidelines for a Moen garbage disposal here is a video thanks to Lourie Family Homestead;
Moen GXS75C Vs GX75C Garbage Disposal Comparison
The GXS75C is a cheaper version of GX75C garbage disposal. Here is a short comparison;
Moen GXS75C Or GX75C; Which Is A Better Choice?
I often wonder why manufacturers make some of their models so similar that it is pretty confusing to choose one.
Two such models are GXS75C and GX75C. Both these models have only small differences, save warranty, which doesn't matter in a practical sense.
As you can see in the comparison table above the GXS version is 1 inch smaller in height. So the other model can grind a little bit more food waste but since these two are continuous feed disposals the time you save might be only a few seconds.
Another difference is lightweight, which in my opinion doesn't matter either unless you plan to carry around this with you.
The quality of grinding components does matter. Stainless steel grinding components last longer than galvanized steel ones.
The GX75C model has 1 additional year warranty compared to the other. That too is a plus point.
But really! if the price difference between these two models is less than 50 bucks, then why make two models instead of one?
As for which one is a better garbage disposal, definitely go for Moen GX75C.
Related Topics:
If you like the article above, here are some other similar articles you should check out!
Moen Chef Series EXL100C Review – A Powerful Garbage Disposal with Lights
Moen ex75c vs Badger 900 – Which is a Better Garbage Disposal?
Moen vs InSinkErator – Who makes the Best Garbage Disposals?