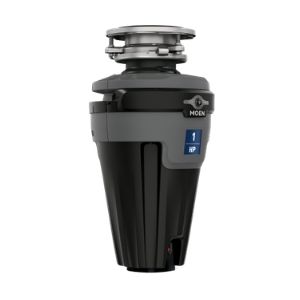 EXL100C is one of the latest Chef series garbage disposals from Moen. This is a premium product with lots of grinding power and features to make regular disposal of food wastes much easier.
Moreover, this is one of the few garbage disposals that can grind hard food items like chicken bones, avocado pits, and potato peels which are not recommended for most other units.
Specifications
Power
1 HP
Speed
2800 RPM
Noise insulation
SoundSHIELD technology
Feed type
Continuous
Grind chamber material
Corrosion-resistant polymer
Grinding component material
Stainless steel
Dimensions
16″ height x 8-3/8″ width
Motor
Permanent magnet type
Mounting assembly
3-bolt
Pre-installed power cord
Yes
Reset button
Yes
Warranty
10 years
Special features
LED lighting
Simple Snap Tool
Easy Open Dishwasher Inlet
Price
Check price in Amazon
Check price in Home Depot
Detailed review: Why is Moen EXL100C a good deal?
There are many reasons why buying this garbage disposal is a good deal. Here they are:
Affordable pricing
Moen EXL100C is a garbage disposal with premium features. But luckily it is not priced as high as many other premium units. In fact, it will cost only as much as some of the budget disposals which are around the $200 range.
It is hard to find a garbage disposal unit that is as good as the Moen EXL100C with such a low price tag.
Excellent power
To be frank this is not the only 1 HP garbage disposal in the market. If you are particularly looking for one with such a power rating there are many to choose from. But this one is among the very few that come with a low price tag.
The 1 HP motor helps not only to make the grinding process easier but also to grind hard food items like chicken bones, potato peels, fish bones, etc. The powerful motor makes sure that these items are ground to a pulp without the chance of creating clogs.
Under-cabinet lighting
This is the only garbage disposal that comes with under-cabinet lighting. It has 6 small LED bulbs controlled via a motion sensor which lights up when the cabinet doors are open. The sensor which triggers these lights is located at the front, and the sensing can be adjusted manually to suit your under-cabinet size.
The LED lights are powered by 4 AA batteries that come with the unit. The lights produce 75 lumens, which is plenty bright. Since these are LED lights they consume very little energy, so the batteries will last for many years. You can easily replace the batteries as the battery compartment is on the front-facing side of the garbage disposal.
Good build quality
The build quality of a garbage disposal is very important since it constantly comes in contact with water, and sometimes chemicals. The grinding components of this garbage disposal unit are made of stainless steel which is known to withstand corrosion. Its grinding chamber is made of corrosion-resistant plastic, a material that is proven durable over time.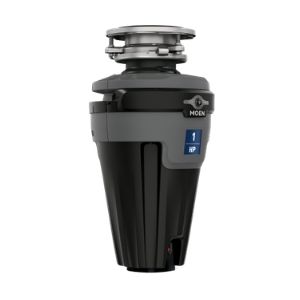 The looks of the EXL100C are also commendable. It follows a very modern design and comes in black.
Easy installation
The installation of this garbage disposal unit is very easy and straightforward. It comes with a feature called FastTrack, which involves a snap tool, and an easy-open dishwasher inlet. The unit uses a 3-bolt assembly which is normally difficult to be installed by a single person. But the snap ring makes the mounting of the disposal unit on the sinkhole much easier, and the task can be completed by one person alone. As for the dishwasher inlet, it comes with an easily removable plug so you won't have to push it with a screwdriver like done for normal disposal units.
The unit also comes with a pre-installed power cord so connecting the unit with the mains is pretty easy. You don't have to hard wire anything, just plug it into the socket and you are good to go.
Quiet operation
This Moen garbage disposal comes with layers of insulation to prevent any noise from coming out. The technology the company uses for this is called SoundShield which is also implemented on other top Moen variants.
A long warranty
Moen EXL100C comes with a 10-year warranty. This is one of the longest warranties available for garbage disposals I come across. A long warranty means that the company has good faith in the durability of the unit.
While this unit is perfect in many aspects, it is not without some drawbacks. The main drawback (and possibly the only one) of this unit is its size. While it is not very large, it is definitely not a compact unit. It has a height of 16 inches which makes it unsuitable for deep sinks. If you are looking for a low profile unit here are some.
My thoughts
Moen EXL100C is among the best garbage disposals worth the money. It is feature-rich, has ample power, and comes with a decent price tag. If you are looking for a powerful garbage disposal make sure to check it out.
Related Topics:
If you like the article above, here are some other similar articles you should check out!
Moen vs InSinkErator – Who Makes the Best Garbage Disposals?
Moen Garbage Disposals Reviews
Moen ex75c vs Badger 900 – Which is a Better Garbage Disposal?