Both Moen and InSinkErator are popular companies that make garbage disposals. InSinkErator is far more popular than Moen, and they have more garbage disposal models. But do you know that Waste King, a company as good and as popular as InSinkErator, is owned by Moen? (For those interested in knowing Who owns Who refer to this infographic). So basically Moen also makes a top-rated garbage disposal brand.
But anyway, in the garbage disposal unit industry, the battle is between Waste King and InSinkErator. However, let's do a comparison of garbage disposals by Moen and InSinkErator and see how they differ from each other.
Moen vs InSinkErator – Differences and Similarities
Before jumping into the comparison please note that this is an overall comparison of the common features of garbage disposals from these two brands. Both brands make a lot of disposal units so it is impossible to compare all units with each other.
Here is a tabled comparison for a quick view:
| | Moen | InSinkErator |
| --- | --- | --- |
| Motor | Uses high speed (up to 2700 RPM), permanent magnet type motors across all models. | Uses slower (~1725 RPM), induction motors across all models. |
| Performance | Comparable | Comparable |
| Noise | Premium models come with SoundShield technology that reduces noise. | Premium models come with SoundSeal technology to reduce noise. Have the quietest models. |
| Multi-grinding stages | No | Has many compact models with heights of less than 13 inches. |
| Compact size | Has very few models with heights less than 13″. | Has many compact models with heights less than 13 inches. |
| Build Quality | Top models have Stainless Steel grinding components and a corrosion-resistant polymer grinding chamber. | Top models gave Stainless Steel components as well as a grinding chamber. |
| Looks & Design | Good looks | Good looks |
| Pre-installed power cord | Yes | No |
| Mounting system | 3-bolt with Universal Xpress Mount | 3-bolt with QuickLock |
| Replaceable with each other? | Yes | Yes |
| Warranty | Comparable | Comparable |
| Removable splash guards | Yes | No |
| Price | $$ | $$ |
| Brand owned by | Fortune Brands | Emerson |
| Hex hole | No | Yes |
| Reset button | Yes, on the front-facing side | Yes, on the bottom side |
Now let's see the above points in detail:
Motor
Without a doubt the motor is an important part of the garbage disposal, how else is it gonna run?
The main difference between Moen and InSinkErator garbage disposals is the motor. The motors used in Moen and InSinkErator are fundamentally different. All Moen models use a Permanent Magnet motor that runs at a speed range of up to 2700 RPM. That being said, there are models, especially the low-powered ones that run at below 2000 RPM but they too use the same type of motor. On the other hand, InSinkErator garbage disposals use induction motors. They call them "DuraDrive", and they all run in the 1725 RPM range. These are definitely slower than those by Moen.
There have always been debates about which type of motor is better, I have no expertise in that field so I leave that to you. Here is a good article if you are interested – Permanent vs Induction motors
Performance
Now that you know both brands use different types of motors, which one do you think is better in terms of performance? As a layman I always thought faster is better but I never came across any performance issues with InSinkErator models. So across models within the same power range, the performance is more or less the same.
Noise
Compared to its sister company Waste King, Moen has models with better noise insulation. Its best models are quiet. InSinkErator also has a range of quiet garbage disposals. The quietest of all disposals are by InSinkErator though; Evolution Excel disposal by them is ultra-quiet. I should say both brands have quiet disposal units but InSinkErator has more.
Multiple grinding stages
This is a feature I have seen so far only in top-end InSinkErator models. These units have multiple grinding stages, which help to grind food wastes into finer sizes. InSinkErator calls it MultiGrind technology. But to be frank, it doesn't have multiple chambers for grinding, it simply has a range of grinding components in the same grinding chamber. If you want to know more about it please check this article.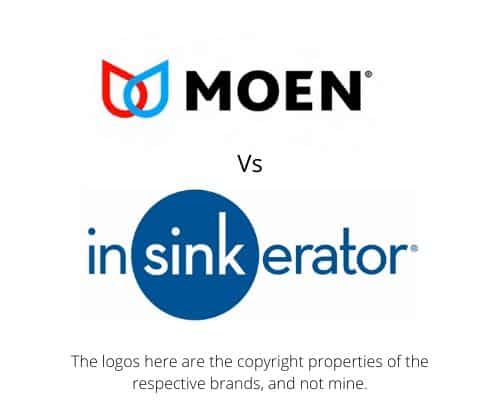 The benefit of multi-stage grinding is that you can grind fibrous food items like celery, which are not recommended in normal disposals. Since these fibrous food wastes become fine particles they won't clog the pipelines.
None of the garbage disposal units by Moen have multiple grinding stages whereas the top-end models by InSinkErator do.
Compact size
A compact garbage disposal is one with less than 13 inches in height. This is purely a definition made by me. People look for them because they do not have sufficient space under the sink to accommodate the disposal. So if you have a deep sink compact garbage disposals are the best choice.
InSinkErator has a good number of compact garbage disposals while Moen has very few.
Build quality
The build quality of Moen is the same as that of Waste King. It uses galvanized grinding components in economic models and Stainless Steel grinding components in top models. However, the grinding chamber material is the same corrosion-resistant plastic across all models.
InSinkErator also uses galvanized grinding components in low-end models and Stainless Steel ones in high-end models. But instead of plastic grinding chambers, they use Galvanized Steel for economy models and Stainless Steel for high-end models.
So does that mean InSinkErator disposals last longer than InSinkErator ones?
Well, it will take years to test and get a proper answer to that question by myself. So it is better to rely on other customers' experiences. Both brands have been making garbage disposal units for a long time so their build quality is time tested. And both seem to be working for years without complaints. So it is safe to assume that even though Moen uses plastic, it is as reliable as the Stainless Steel bodied competitors.
Looks & Design
Looks are subjective. To me, the units across all categories by Moen look better than those by InSinkErator. But hey, that's just me. Please tell me, in the comment section, which units you like and why.
Pre-installed power cord
All Moen garbage disposals come with a pre-installed power cord which makes the installation far easier than an InSinkErator disposal. There are some InSinkErator models that come with a power cord but generally, they don't. According to InSinkErator, this is to reduce the overall cost of the unit because in many cases where people are replacing their existing disposals, they already have the old power cords. But personally, I prefer the ones with preinstalled power cords, it makes everything much easier.
Mounting system
Both Moen and InSinkErator use 3-bolt mounting assemblies which are compatible with each other's models. InSinkErator calls their system QuickLock while Moen calls it Universal Xpress mount. Both assemblies take the same time and effort to install.
Warranty
The warranties of similar disposal models from Moen and InSinkErator are almost the same. For example, Badger 5 and GT50C units come with a 3-year in-home warranty. So I really cannot say one brand is better than the other here.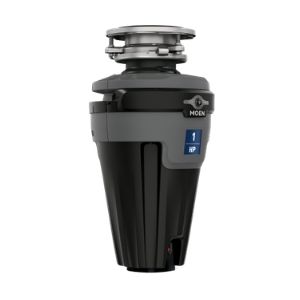 Removable splash guards
The splash guards in InSinkErator models are not removable unless you disconnect the unit from the sink. This is very inconvenient when you want to clean the underside of the splash guard which easily accumulates rotten food particles. On the other hand, all Moen units come with removable splash guards which is very convenient. Removable splash guards don't sound like a big thing but practically for me, it is a big plus.
Price
If you compare the prices of disposal units within the same power range, you will find that they are all very similar. These two brands do not make cheap models as Waste King does.
Hex hole and reset button
All garbage disposals at some point in time will get stuck. InSinkErator provides a hex hole at the bottom of all their disposal units so you can use a hex wrench to collapse the jam. But many other models including Moen do not have this. Here you will have to use a stick/broom handle and insert them from the top to rotate the blades and unclog the unit.
All garbage disposals come with rest buttons. For Moen units, the reset buttons are on the front-facing side whereas for InSinkErator they are on the bottom.
So which garbage disposal is better? InSinkErator or Moen?
Both Moen and InSinkErator garbage disposals have their pros and cons. Most of their disposals are very similar in many aspects. So I can't really say one is better than the other but if I were to buy a disposal I would prefer one from InSinkErator simply because they have more options to choose from and the more quiet models.
Related Topics:
If you like the article above, here are some other similar articles you should check out!
Waste King vs InSinkErator Garbage Disposals – What is the Difference?
Batch Feed vs Continuous Feed Garbage Disposals (Differences, Pros & Cons)