Both Moen ex75c and Badger 900 are popular garbage disposal models. As you know Badger 900 is owned by InSinkErator while Moen ex75c is owned by, well, Moen.
I have written a detailed comparison of the general features of garbage disposals from InSinkErator and Moen which pretty much covers the differences between these two models as well. Feel free to refer to the article Moen vs InSinkErator for more information.
However, I thought it is prudent to write an article to compare the above two disposal models because people are asking about the differences between them in various forums. To be frank, there isn't much common between these two garbage disposals, the main similarity is both are run by 3/4 horsepower motors.
The Moen EX57C is a better garbage disposal compared to the Badger 900. It has more premium features for a better price including a faster motor and advanced noise reduction.
So if you are planning to buy a 3/4 HP garbage disposal and are confused between ex75c and Badger 900 hope this article will help you.
Moen ex75c vs Badger 900 – Differences & Similarities explained
The main difference between Moen EX75C and Badger 900 is the motor. Moen uses a high-speed permanent magnet type motor while Badger 900 uses a slow-speed induction motor.
Here is a quick comparison of the differences and similarities between the two models:

EX75C
Badger 900
Power
3/4 HP
3/4 HP
Speed (RPM)
2700
1725
Motor type
Permanent magnet
Induction motor
Category
Premium
Economy
Noise insulation
SoundShield
None
Feed type
Continuous
Continuous
Compact size?
No
Yes
Removable splash guard?
Yes
No
Preinstalled power cord
Yes
No
Mounting system
3-bolt Universal XPress Mount
3-bolt QuickLock
Warranty
7-years
6-years
Build
Stainless steel grinding components and corrosion-proof grinding chamber
Stainless steel grinding components and galvanized steel grinding chamber
Price
$$$
$$
Hex hole
No
Yes
Reset button
Yes
Yes
Replaceable with each other?
Yes
Yes
Looks and design
Stunning
Above average
Check price in Home Depot
Check price in Amazon
Check Price in Home Depot
Check price in Amazon
Now let's compare them in detail:
Power, speed, motor type
Moen EX75C is run by a permanent magnet motor that runs at 2700 RPM. This motor is called 'Vortex', a name trademarked by the company. Badger 900 is run by a DuraDrive induction motor which runs at 1725 RPM. As you can see Moen uses a high-speed motor while InSinkErator does not. Moen claims that the higher speed will help to avoid any jams but jams in Badger 900 too are rare.
Both disposals use a 3/4 horsepower motor which is ample for a regular household kitchen. So in terms of grinding performance, both disposals score the same.
Category
Moen EX75C is a premium garbage disposal. So it comes with certain premium features like SoundShield which I will explain shortly. Other premium features include a 'Fast Track' installation feature that involves a snap tool to make the mounting of the unit easier. Badger 900, on the other hand, is an economy class model that doesn't come with any fancy features.
Noise insulation
EX75C comes with good noise insulation around its motor housing. Moen calls this technology SoundSHIELD, and it is more than just some layers of insulation. I am not sure about any more technical aspects of this technology but it suffices to say that this garbage disposal unit is quiet.
Feed type
If you are familiar with garbage disposal units you may know that there are two feed types; continuous and batch feed. In batch feed disposals the food wastes are ground in batches, first, you need to fill the unit with food wastes and then close the lid/flange which activates the unit. For a continuous feed disposal, the food wastes are continuously put down in the unit while it is running.
Both EX75C and Badger 900 are continuous feed-type disposal units.
Compact size
Compact garbage disposals are getting very popular due to the increasing popularity of farmhouse sinks. These deep sinks are so deep that the space under the sink may not be enough to accommodate a normal disposer unit. So you will need a small garbage disposal there.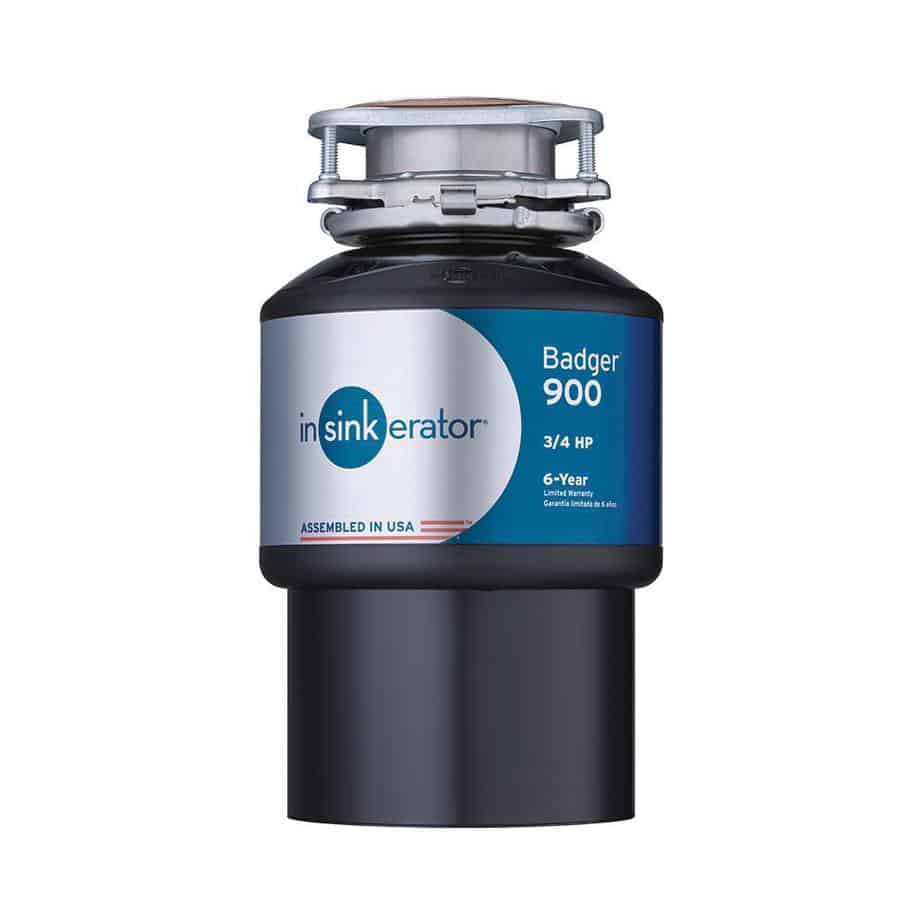 EX75c has a height of 13-3/8 inches while Badger 900 is 12-5/8″. Though the difference in their heights is very small, since the EX75C is more than 13 inches tall it doesn't fall into the category of compact garbage disposals but EX75C does.
Removable splash guard
A removable splash guard makes it easy to clean its underside which is more than often smelly with all the rotten food particles sticking on it. Badger 900 doesn't come with such a splash guard. Its splash guard cannot be removed without disconnecting the unit which is not practical to do every week for cleaning. But for EX75C its splash guard can be removed from the top which makes its cleaning very easy.
For some, this may not matter but I know a lot of people who like to have a disposal unit with a removable splash guard.
Preinstalled power cord
A preinstalled power cord is a handy feature if you are not good at making electrical connections. EX75C comes with a preinstalled but removable power cord that makes the installation much easier for inexperienced hands. Badger 900 doesn't come with a power cord but you can buy it separately. However, you will have to connect the wires manually to the unit.
Installation
Both disposer units use a 3-bolt mounting assembly which is compatible with each other. The installation of Moen EX75C is slightly easier because it comes with a 'Simple Snap Tool' which makes it much easier to snap the mounting ring on the sink flange. Badger 900 doesn't have this. However, I don't think this really matters because it is going to save you like, 3 minutes?
Both disposal units feature twist and lock technology. Moen calls it Universal Xpress Mount while for InSinkErator it is QuickLock. Both are basically the same, I couldn't find any differences.
Warranty
The warranty coverage for EX75C is slightly longer than that for Badger 900. For Moen, it is a 7-year warranty while for Badger it is 6 years. Both warranties are in-home where a technician will come to your home for repair as well as replacement.
Build quality
Both garbage disposals use Stainless Steel grinding components. The grinding chamber of EX75C is made of corrosion-resistant polymer whereas that of Badger 900 is made of Galvanized Steel. Both units are equally durable.
Hex hole & reset button
Badger 900 comes with a hex hole at its bottom which is handy if it jams; simply use an unjamming wrench to break away the jam. Moen doesn't have any such hex hole but there are wrenches that you can insert from the top to unjam it.
Both disposal units have reset buttons; for Moen, it is on the front-facing size while for Badger 900 it is on the bottom. They are used to reset the garbage disposal when overloaded.
Price
Moen EX75C is a premium garbage disposal, so it costs more than the economy model Badger 900. But the pricing is really volatile so it is better to compare the pricing by yourself.
Looks and design
Unless you plan to keep the cabinet door open the look and design of garbage disposal don't matter. However, people do good-looking products. In terms of looks, EX75C wins by a large margin (strictly in my personal opinion).
Can you replace EX75C with Badger 900?
you can replace EX75C with a Badger 900 and vice versa since both of them use 3-bolt mounting assemblies.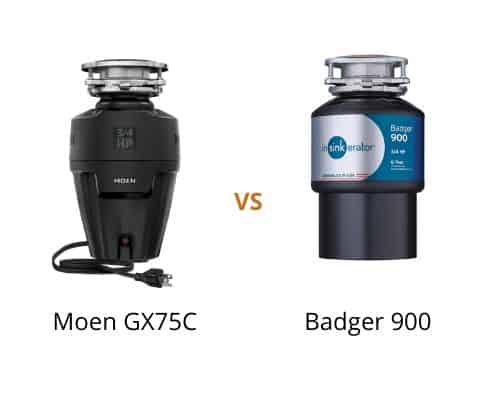 Which is a better garbage disposal – Moen EX75C or Badger 900?
Without considering the price EX75C is a lot better than the Badger 900. It has more premium features and better looks. So if you can get EX75C at a similar price as Badger 900, definitely go for it.
Related Topics:
If you like the article above, here are some other similar articles you should check out!
Moen vs InSinkErator – Who Makes the Best Garbage Disposals?
Moen Chef Series EXL100C Review – A Powerful Garbage Disposal with Lights