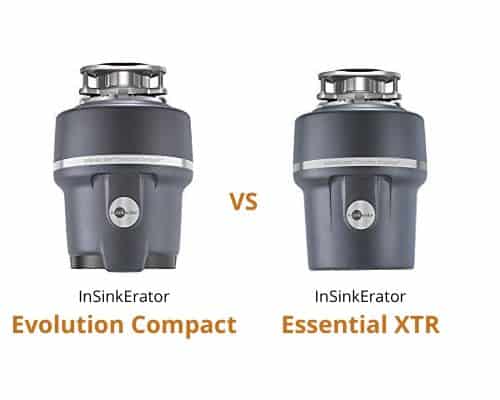 Evolution Compact and Essential XTR are two popular garbage disposals made by InSinkErator. At first look, the Essential XTR looks very similar to its counterpart, but if you look closely they are different. It is this similarity in looks that made me check for differences between the models. On further research, I found many similarities as well as differences between Essential XTR and Evolution Compact disposal models.
 

InSinkErator

Evolution Compact

 

InSinkErator

Essential XTR

 

Power
3/4 HP
3/4 HP
RPM
1750
1750
Build Material
Stainless Steel
Stainless Steel
Size
12-1/4" height, 8-3/4″ width, 34.6 oz
12-1/4" height, 8-3/4″ width, 34.6 oz
Multi-stage grinding
Yes
Yes
Feed Type
Continuous
Continuous
Mounting
3-bolt
3-bolt
Noise
Quiet
Quieter
Warranty
8 years
6 years
Power cord
No
Yes
Sink top switch
No
Yes
 
Check Price
Check Price
So here is what I found. If you are confused between picking Essential XTR and Evolution Compact I hope this article will help you.
What are the similarities? InSinkErator Evolution Compact vs Essential XTR
As said before, they look very similar. This mostly has to do with the body color which both models share, and the steel belt both have. The only difference in their design is that the lower ends of the two disposals look different. The lower part of Essential XTR is smooth and continuous while that of Evolution Compact is not.
In addition to following the same design, both disposals are the same in size as well. Both products have an overall height of 12-1/4" and a width of 8-3/4". They also have the same chamber capacity which is 34.6 oz (chamber capacity is the amount of food waste a disposal unit can hold at a time).
Evolution series disposals are known for their premium quality and features. Both Evolution Compact and Essential XTR are equipped with top-of-the-line features. Both use multi-grinding technology with 2-phases where the food wastes undergo two stages of grinding instead of the single-stage which most disposals have. They also come with a noise insulation technology called 'SoundSeal' which makes these machines quieter than other models.
When we consider the power and other such specifications; both disposals are equipped with 3/4 HP Dura-Drive induction motors. They run at an RPM of 1725. Both disposals are continuous feed types ie, you can add food wastes continuously into the disposal while it is running.
In terms of build quality both of these machines are made of high-quality Stainless Steel. As you know Stainless Steel does not corrode easily. Their grinding components are also Stainless Steel which guarantees long life. (Check my article 'Stainless Steel garbage disposals' to see more SS disposals)
Both InSinkErator Essential XTR and Evolution Compact models come with a Stainless Steel stopper, a 3-bolt Quick Lock sink mount, discharge tubes, sink baffle, and other necessary accessories needed for installation. The 3-bolt mounting system reduces vibrations and hence is good at reducing noise. These disposals are compatible with each other; one can be replaced with others without any hard work.
Both disposals also have manual reset buttons at the bottom.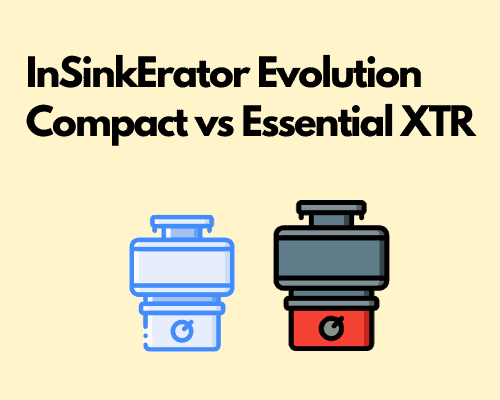 What are the differences? InSinkErator Evolution Compact vs Essential XTR
As you can see above, both disposals share a lot of common things. But price-wise the Essential XTR is much costlier than the Evolution Compact model. So what does XTR have that Compact doesn't?
I mentioned that both these models use Sound Seal technology and they are quieter than many other models, but I didn't say how quiet. The amount of insulations for reducing noise varies from model to model, here Evolution Essential XTR is much quieter than Evolution Compact.
The Essential XTR also comes with a power cord and a sink top switch. A good sink top switch costs around 30-40 dollars, and a power cord for around $10. So that's $50 worth of items that the Compact model doesn't include. This is the first time I am seeing a sink top switch included with disposal, also called an air switch it helps to trigger electrical contact with the help of an air tube. The lack of electrical components in the switch makes it safer to operate even when wet.
Another area where Essential XTR wins over the Compact model is the warranty. The XTR model comes with 6 years of warranty whereas the InSinkErator Compact is covered for 8 years. I don't know why the warranty periods are different despite both having the same build quality. And the XTR weighs a bit more, most probably owing to the extra layer of noise insulation it has. The weight of the XTR disposal is 20 pounds whereas the Compact weighs 19.5 pounds.
InSinkErator Evolution Compact vs Essential XTR – Which is better?
Both InSinkErator models are very similar in their features. But the Essential XTR model is around 80 bucks more than the Compact model at the time of writing this. But the XTR model comes with $50 worth of accessories so the practical difference is only $30 IF you are buying a disposal for the first time. If you are looking to replace another InSinkErator then you may already have a power cord and a sink top switch which makes it unnecessary to buy them again. In the former case, I would definitely choose the XTR model since it has a good warranty and better noise insulation than Evolution Compact.
Can I replace InSinkErator Evolution Compact with Essential XTR and vice versa?
Yes. Both disposals are of the same size and use the same mounting setup. So you can just twist off one model and replace it with the other.
Related Articles:
The complete review of InSinkErator Evolution Compact
InSinkErator Evolution Essential Review
Related Topics:
If you like the article above, here are some other similar articles you should check out!
InSinkErator Badger 5 vs Badger 1 – What is the Difference?
InSinkErator Evolution Cover Control Review
Waste King vs InSinkErator Garbage Disposals – What is the Difference?