Best Septic Tank Disposer
When I say Evolution Septic Assist Disposer is the ideal buy for those with a septic tank, I mean it.
In fact:
Not only us – over 95% of difficult-to-please buyers think the same.
Although Septic Assist 3/4 HP Disposer certainly doesn't look like it deserves to be treated with garbage, it not only helps you with all the grinding but also to maintain your septic tank.
Let's see everything there's to see, shall I?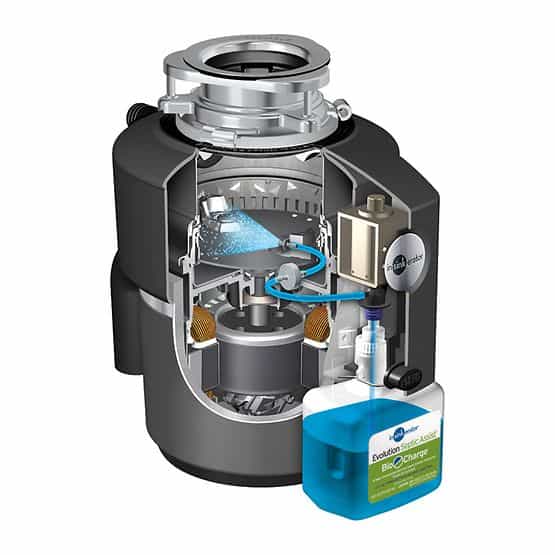 Bio-Charge Technology Speaks Volumes
In addition to the traditional grinding expected from every disposer, the Evolution Septic Assist Disposer ensures many other things by discharging a Bio-Charge enzyme every time it is in use.
At a time, this enzyme releases millions of micro organisms.
These micro organisms not only help to break down food within the disposer, but also within your septic tank – preventing blockage, reducing water usage, and removing oily contents in your food waste.
What's more, by spreading a citrus smell, it controls the stink in your sink and drains.
You don't have to refill the Bio-Charge cartridge frequently either. A cartridge every once in 3 to 4 months would be plenty for daily use.
An Unrestricted Diet
With patented MultiGrind technology, you don't have to worry about feeding your disposer with most of your kitchen's waste.
Anything from peels of vegetables and fruits to chicken bones and more will undergo 2 grinding processes.
Initially, the GrindShear Ring, powered by the 3/4 HP Dura-Drive motor that runs at a high speed of 1725 rpm, chops food into smaller particles.
But to turn those small particles of food into fine particles, the second system, namely the Tri-Action Lug System is used.
Simply put, Evolution Septic Assist Disposer would eliminate any lingering doubts regarding its performance and would maintain your drains smoothly.
Soundproof
You might already know, but for those who don't, InSinkErator adapts the most efficient and advanced technology in the industry in order to give the best user experience.
And one of them is the SoundSeal Technology. It is used to minimize the disturbing noise caused when the powerful disposer sets to work.
To do so, as if the superior insulation around the motor, the anti-vibration sink mount, and the anti-vibration tailpipe were not enough, they've included a sink baffle as well.
So naturally, when you turn on the motor, all these modifications reduce the noise remarkably. Though it is advertised as 40% less noisier than its competitors, most buyers claim to hear nothing but a low hum while at use.
More Like A Hulk Under Your Sink
Given the tasks it undertakes, it's little wonder that this one is huge.
At 14 x 11 x 16 inches in size, it weighs about 22.4 pounds, making it one of the biggest disposers on the market. So don't make the mistake of buying it before you ensure that you have enough space under your sink.
While at the same time, don't let the size be a reason against buying it because you won't find a better disposer that would take care of your septic tank from day one.
So plan out a way to make room for this little giant before you place your order.
Quit Worrying About Installation
Putting this disposer in place is not as hard as you would imagine given its size.
While you will obviously need support to lift it up, Quick Lock Sink Mount is one of the easiest mounting systems a disposer could have.
If you're using this model to replace a worn-out InSinkErator disposer, then you would need to spare only a few minutes because all you need to do is unbuckle it and buckle this up.
However, if you're doing it for the first time, don't forget to read the instructions manual clearly. And for further guidance, turn to Google and access clearer video tutorials.
Would-Be Your Buddy In The Long Run
Though the initial cost of InSinkErator disposers is a little bit higher than many other brands, when the cost is divided by the years of use, it becomes one of the cheapest investments you make.
Likewise, Evolution Septic Assist Disposer will live under your sink for probably more than a decade.
To ensure durability, the grinding chamber is made up of 40 oz. stainless steel. Not only that, even for the grinding components stainless steel is used.
In other words, the disposer will not rust over time.
Warranty
InSinkErator warranty sometimes can be disappointing, and this disposer too, doesn't have the best warranty on the market with only 4 years of back up.
But through our experience, I've hardly seen the need for a warranty because the product is of very high quality.
InSinkErator Evolution Septic Review Summary
If you've been told not to use a garbage disposer because of your septic tank by an ancient someone, then it is time for a change of attitudes.
Because:
You will simply not come across a better way to maintain your septic tank than the InSinkErator Evolution Septic Assist Disposer.
Meaning:
A garbage disposer can't get any better than this.
The US manufacturers have designed it to keep your food waste from clogging and filling your septic system – and the only task you're required to do is: passing food scraps after scraps into the disposer. The rest will be taken care of.
Sounds interesting? Then head straight to Amazon, get hold of further information and the best deals available. Tada!
Related Topics:
If you like the article above, here are some other similar articles you should check out!
Waste King 9930 vs 9920 – Which is the best?