Wireless switch kits are my favorite switch option for garbage disposals. They are also called remote switches since they are operated remotely. They are easy to use, and there is zero chance of getting an electric shock!
They are comparatively new to the market. So far air switches were the favorite but they are less convenient when compared to wireless switches.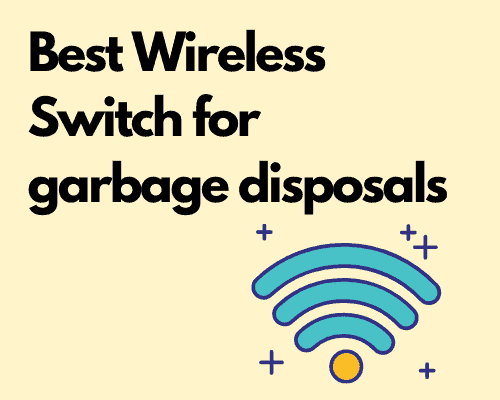 Here are the best wireless remote switch kits you can buy for your garbage disposal.
1. Didikit wireless switch kit
Highlights
Compatible with 1/3 HP, 1/2 HP, 3/4 HP, and 1 HP garbage disposals.
5-year warranty
Comes with a 30 second and 60-second timer in addition to on/off switches
10-year battery life
Max-load – 16 A
Max-power – 1800W
Magnetic switch base
Didikit is an easily portable wireless switch suitable for any household garbage disposal. It can work up to 16A and 1800W which is more than ample to accommodate a normal 1 HP garbage disposal.
It can be used as a wall switch as well as a remote control. It has a detachable magnetic base so you can just stick it on your fridge door or on any metallic surface.
It has a range of 30 meters indoors and 200 meters outdoors. Normally people stick it on their kitchen wall using a 3M double-sided tape but the same kit can be used to open garage doors and control other electrical equipment, that's where its high range comes in handy.
It is powered by a battery which, according to the manufacturer, will last for 10 years on normal use. The battery compartment is located at its bottom which you can access by detaching the magnetic base and tuning the cover to half an inch in the counter-clockwise direction. But hopefully, you won't have to access it any time soon.
One thing I like about this wireless switch kit are the timer buttons. You can set the disposal to work for 30 seconds or 60 seconds. With all those quiet garbage disposal models people sometimes forget to turn off their units, so these timers come handy in such situations.
Each Didikit wireless switch kit has a unique id and is pre-paired so they won't be interfered by any other wireless signals. It is also protected against any interference from the disposal motor.
It is covered under a warranty of 5-years. It is also splash-proof but I wouldn't recommend pouring water over it.
2. Cleesink Self Powered Wireless Switch
Highlights
Compatible with 1/3 HP, 1/2 HP, 3/4 HP, 1 HP, and 1.1 HP garbage disposals.
Does not require any batteries
Waterproof and fireproof
30-meter range indoors
Pre-programmed for immediate use
Cleesink is a popular and reliable brand that makes food waste disposers as well as remote switches for them. This is a self-powered wireless switch by the company, it doesn't require batteries to run. Instead, it uses friction to trigger small electrical charges to tun on and off the wireless switch.
This switch can be used to control many other electronic devices and not limited to garbage disposals. (Actually, no wireless switches are limited to garbage disposals, they can be used for anything).
It is designed to power garbage disposals with power up to 1.5 HP though to my knowledge the most powerful household disposer is 1.1 HP. Anyway, that means this switch kit is suitable for any disposer in the market.
The switch has a simple, round design and is waterproof. The power outlet also has a similar design. Both are pre-programmed so you won't have to do any kind of pairing, just plug it in and use.
The wireless kit has a 30-meter range indoors and it is powerful enough to bypass walls and any other obstacles. It is also waterproof and fireproof. It can either be mounted on the wall using glue or double-sided tape or handheld.
3. Unbranded switch kit
Highlights
Compatible with 1/3 HP, 1/2 HP, and 3/4 HP garbage disposals.
Max-load – 10 A
Max-power – 1200W
Waterproof and fireproof
30-meter range indoors
Requires battery
This wireless switch kit doesn't have any brand mentions but it looked pretty reliable. I haven't used this personally but it comes highly recommended.
This one looks much like the Cleesink switch kit mentioned above. Of course, this one have a bigger button, and it also requires a battery to run. It uses a CR2 battery which is used in high-power cameras, so the battery will last for years.
It can be used to operate 1/3 HP, 1/2 HP and 3/4 HP household disposals but NOT a 1 HP disposal. It also needs to be paired before initial use.
It is both waterproof and fireproof, and it has a range of up to 30 meters indoors. It can be wall-mounted using double-sided tape, and also used as a remote to open garage doors from inside your car. It has multiple applications and totally worth the money which is why I added it into this list.
How does a wireless switch work
The working of a wireless switch is pretty simple.
A wireless or remote switch kit has two parts; 1. The remote control, 2. the power module.
The power module is just like a 3-pin adapter plug which has an on/off switch inside it which is controlled via the remote control. It is to this power module the power cord from the garbage disposal is plugged in. So this power module basically acts as a switch between the mains and the garbage disposal.
When you turn ON the power module using the remote control the circuit opens which sends power to the garbage disposal. If you switch it OFF it cuts off the power supply.
How to install a wireless garbage disposal switch?
The installation of wireless switches is pretty easy. It will probably take a minute to get them installed and ready.
Step 1 – Plug the power module into the power socket near the garbage disposal.
Step 2 – Plug the garbage disposal power cord into the power module.
Step 3 – Use the wireless switch to control ON/OFF
Advantages
Safer option
Touching an electrical switch with your wet hands is dangerous. Our hands are usually wet while working in the kitchen and that is unavoidable. So wireless switches are a safer option to operate garbage disposals (and any other kitchen appliances) since the remote control switches are not in contact with electricity.
Convenience
Having a wireless switch is very convenient not only to work a garbage disposal but also for any purpose. You can carry it in your pocket or fix it on the wall whichever is more convenient for you.
Easy installation
It takes only a few minutes to install a wireless switch. Most kits come pre-connected so all you have to do is plug it in.
No dilling
If you are installing an air-switch you will have to make a hole on the countertop. With a wireless switch, this hassle can be avoided.
Here are some other garbage disposal switch options for your reference.