Although garbage disposals make our lives easier, the manner in which they operate is quite complicated. To further simplify your life (but complicate the garbage disposal), you can add an air switch.
The best garbage disposals air switches are by Cleesink, InSinkErator, and Etoolcity. Air switches by these brands function well, improve the garbage disposal experience overall, and sit conveniently by the sink. With an air switch, simply push a button to turn the garbage disposal on. 
When looking into garbage disposals, there is a lot of information to understand and products to look at. So, here is everything you could want to know about air switches for garbage disposals.
What is an Air Switch?
A garbage disposal air switch is that shiny push-button switch you see on many kitchen countertops. It is used to switch ON and OFF garbage disposal. It uses air pressure to turn on a switch that electronically connects the disposal to the mains. So basically, an air switch is a switch that is used to turn on another switch!
Air switches are more aesthetically pleasing and ergonomic than regular wall switches. There is a wide variety of air switches and they have a wide range of industrial applications. However, to operate your garbage disposal, you need to buy one that is specifically made for it.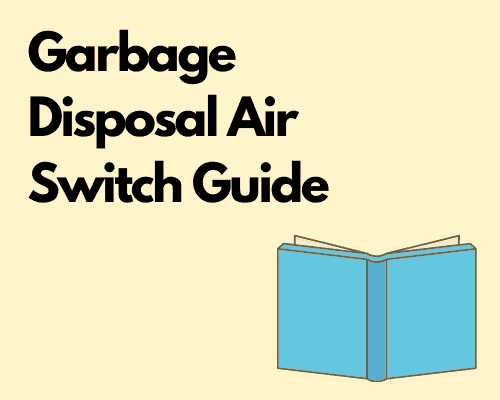 How Does an Air Switch Work?
The working of a garbage disposal air switch is somewhat similar to that of a wireless switch; however, instead of sending a wireless signal, the ON/OFF mechanism is triggered by a gush of air.
An air switch has 3 main parts:
A push-button unit
An air tube
A power unit
The push-button is what you see on the countertop. This unit has bellows that force a small quantity of air each time you push it.
The air tube connects the push button unit to the power unit.
The power unit is a receptacle that has an air switch inside it. It's this air switch that makes a clicking sound when you push the button. The power unit is plugged into the main socket and it has an outlet to plug the power cord from the garbage disposal into.
This is how an air switch works: When you push the countertop button a small quantity of air is forced through the tube into the air switch, which turns on. This opens an electrical connection between the mains and the garbage disposal. Another click on the push button will close this circuit, turning off the disposal.
InSinkErator STS-00 Dual Outlet Sink Top Switch
InSinkErator, a trusted brand name, is one of the leading figures in the garbage disposal industry.
The InSinkErator Air Switch has dual outlets that allow the connected garbage disposal as well as a hot water dispenser or any other appliance at the same time. When the garbage disposal is turned ON, the power to the second appliance is cut-off and it will be reconnected once the disposer stops running.
It comes with a 33-inch long power cord and a 6-foot air tube, giving you flexibility for installation.
It also comes with two buttons colors chrome and white. It is available in Satin Nickel finish. You can easily pop the ring of the push button body and replace it with any other colored decorative button.
The push-button unit has a height of 2 3/8 inches and it is suitable for countertops up to 2 inches thick. Installing this button requires the drilling of a 1.25-inch hole into the countertop.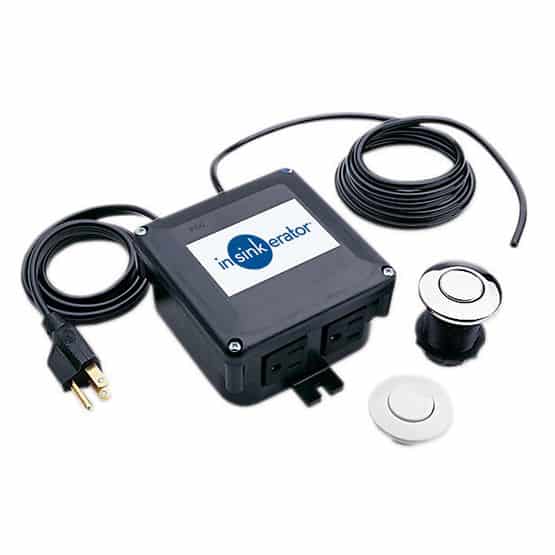 Being from InSinkErator, this unit is much pricier than other models. It is covered under a 1-year warranty. It's suitable for all InSinkErator garbage disposals as well as those by any other brand.
Cleesink Air Switch Kit
Cleesink is another garbage disposal manufacturer that sells its products throughout the USA.
Unlike the InSinkErator product above, this air switch kit comes with a single power outlet so you can only connect the garbage disposal to it.
However, this is not a big disadvantage as most power sockets come with 2 outlets. Since the air switch uses a power cord, its power module doesn't obstruct access to the second outlet, therefore, you can plug any other appliances there.
The kit comes with a 1.5-meter long air tube and a long power cord so you can install this unit anywhere under the countertop.
The button switch is available in 10 shades. It comes in two lengths: 2-inches or 2.5-inches. But, these two don't come in the same kit, you have to opt for it.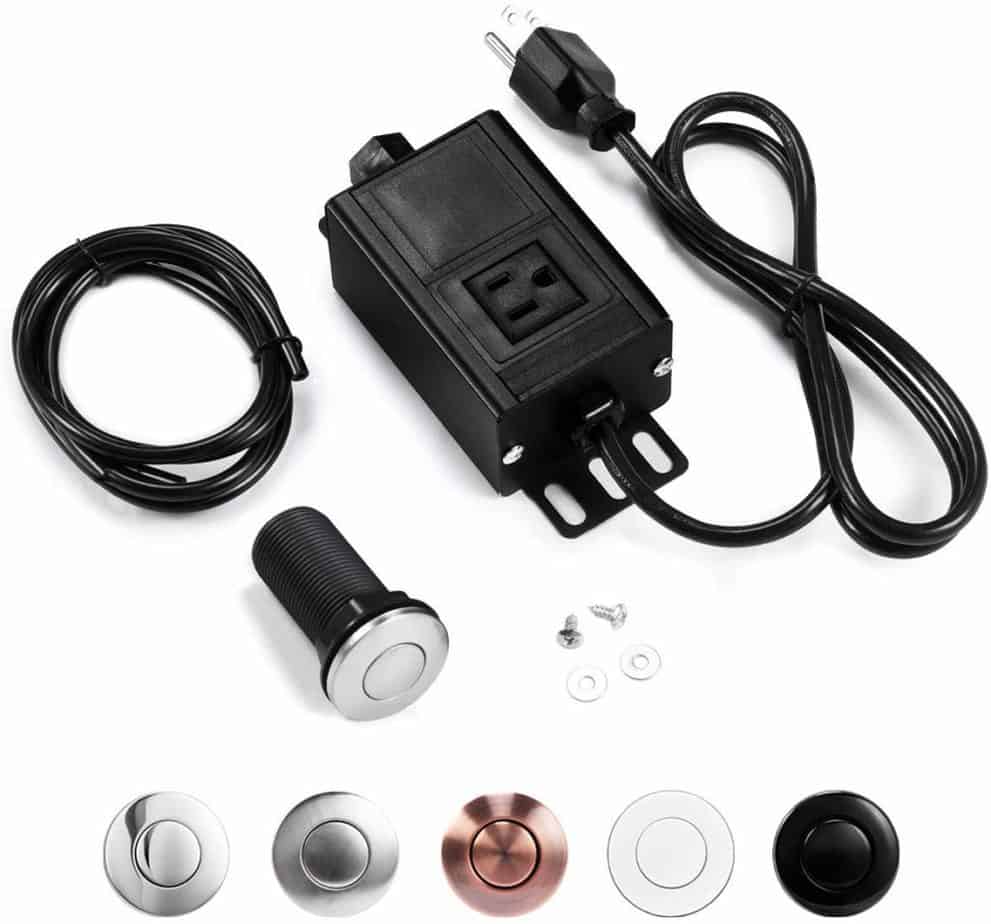 Since the buttons are available in two lengths, they can be fitted on countertops with thicknesses up to 2.5-inches. The suitable hole size is 1.25-inches, which is the same as the standard size for a sink soap dispenser. It is suitable for any garbage disposers under 2 HP.
Etoolcity Garbage Disposal Air-Switch
This is another popular garbage disposal air switch, due to its reliability and cheaper cost.
It comes with different specifications, and you can opt for a single outlet or a dual outlet model. Also, the pushbuttons are available in 2-inches and 2.7-inch sizes so they can be installed on 2.7-inch thick countertops.
The switch kit comes with a 2.5 feet long power cord as well as a 5-feet long air tube. The buttons are available in stainless steel, with both polished and finished shades.
The push-button can be installed in a 1 1/4 inch hole. The switch kit is suitable to power garbage disposals up to a 2-horsepower rating.
This air switch comes with a warranty of 2 years, which is more than the InSinkErator. If you are looking for a cheap and reliable garbage disposal air switch, the Etoolcity air switch is a great option.
Bestill Air Switch Kit
This is another popular air switch that can run any garbage disposals rated under 3 horsepower. It has dual outlets that let you connect the garbage disposal and one other appliance at the same time.
It comes with a 3 1/3 feet power cord and a 5 feet air tube. The unit can be installed on countertops with thicknesses up to 3 inches. Installation requires a 1 3/8 inch diameter hole on the countertop.
The button unit is available in 6 shades. These shades are oil-rubbed bronze, matte black, brushed gold, brushed nickel, copper, and polished chrome. With this button, you can match your sink perfectly, no matter the color.
The kit comes with a 1-year warranty. It is also priced cheaply.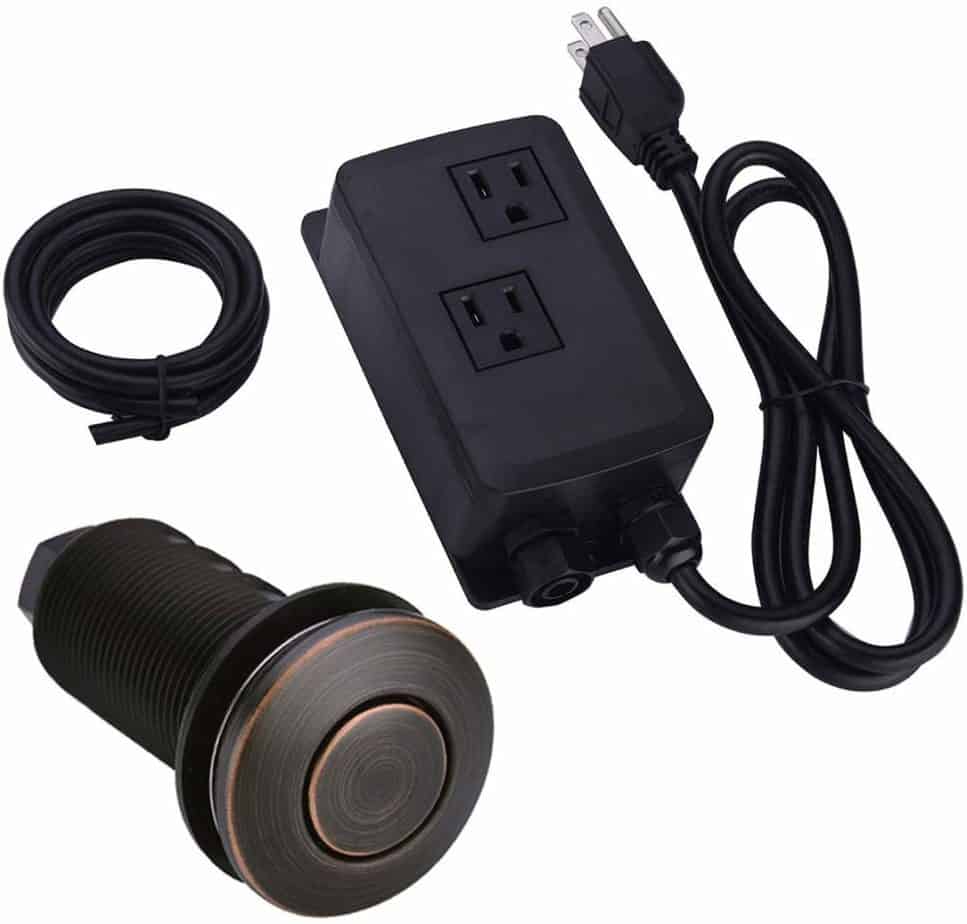 Advantages of an Air Switch
Air switches have many advantages over wall switches. Some of them are:
1. Safe to Use
Wall switches are directly connected to electricity. When flipping a switch with wet hands, there is the possibility of getting electrocuted. An air switch is not directly connected to electricity, therefore, you have zero chance of harming yourself.
2. Doesn't Need Batteries or Power
Air switches work solely with the help of airpower, they do not need batteries or any other forms of electric power. This eliminates the need to frequently replace batteries.
3. Aesthetically Pleasing
Push-button air switches are more aesthetically pleasing than wall switches and wireless switches. They come in a variety of finishes that match the sink and faucets.
4. Convenience
Air switches are easier to use than wall switches. They can be installed on countertops, under the sink, or in any other place that is convenient for the user. They are also the best option for kitchen islands where a wall switch cannot be mounted.
5. Low Cost
Garbage disposal air switches aren't costly. They can be purchased at a price range of $20 to $60. The added safety and convenience outweigh any additional costs.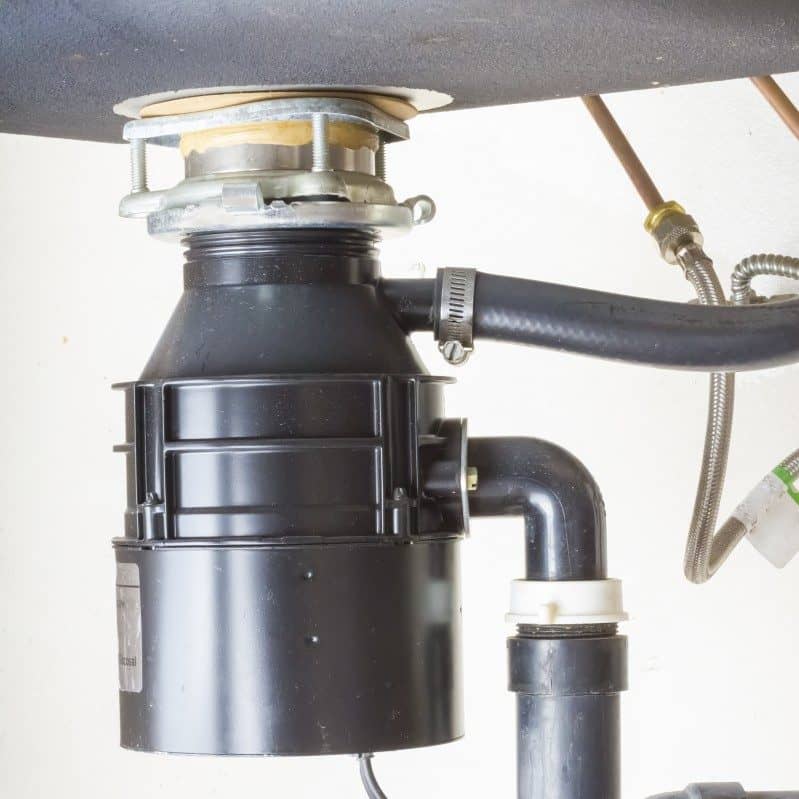 How to Install a Garbage Disposal Air Switch?
Air switches are also called countertop switches and sink top switches since they are mostly installed in these places. The installation process is pretty simple and may take up to 15 minutes to do, including the time to drill a hole in the countertop.
Here is a 7 step guide to installing a garbage disposal air switch:
Step 1: Drill a properly sized hole on the countertop or any other place you want to mount the push button. You can also use a standard sinkhole if that's available.
Step 2: A rubber gasket comes with the package. Insert it between the button and the countertop.
Step 3: Insert the push button unit into the hole, and tighten it using the plastic nut, also included in the package.
Step 4: Screw in the power unit under the countertop wall or any place you choose.
Step 5: Attach one end of the air tube to the button unit and the other end to the power unit.
Step 6: Plug the power cord of the garbage disposal into the air switch power module.
Step 7: Plug the cord into the power unit and an AC power socket.
Note: Follow steps 6 & 7 in that order to avoid any electrocution from the mains. Also, make sure you properly seal the push button unit.
If your air switch came with an installation manual, follow their specific steps.
Common Garbage Disposal Air Switch Problems
While beneficial, garbage disposal air switches do have problems. Regular use (pushing the button) can cause wear and tear, and there can be problems with the power unit as well. If your unit runs into any problems, try troubleshooting it before buying a new one.
Here is how to troubleshoot your air switch.
Case 1: The air switch is not working and it is not making a clicking sound then there is an air leakage.
In this case, follow the below steps;
Step 1: Disconnect the air tube and check for any blockage. Replace the tubing if it is too old or leaking.
Step 2: If there are no leaks on the air tube then dismount the push button unit.
Step 3: Pop open the button and ring of the unit and then remove the bellows. Check if the bellows are damaged. If the bellows are damaged, you'll need to buy a new button.
Step 4: If the button unit and the air tubing are in good condition, then the problem must be with the power unit. In this case, I recommend replacing it than trying DIY repairing. If you have enough electrical expertise open the unit and check for any loose connections.
Case 2: Disposer running only when the button is pushed in.
If the disposer unit works when you keep the button pushed but it stops when you release it, then there is a problem with the air switch (the unit that is located inside the power module). If this is the case, then you have to replace the power unit.
Case 3: The disposal unit is not working, but the air switch makes a clicking noise when pushed.
Step 1: Decide whether the problem is with the garbage disposal or not. For this, connect the disposer directly to the main outlet.
Step 2: If the disposer is working then the problem is with the power module of the unit. The best option is to replace it.
Video about troubleshooting your garbage disposal air switch:
Frequently Asked Questions
Related Topics:
If you like the article above, here are some other similar articles you should check out!
What is an Air Gap (In Plumbing)?
Can I Use My Dishwasher If My Garbage Disposal is Leaking?