The size of any product is its dimensions. But when it comes to garbage disposals, or especially when answering the question 'What size garbage disposal do I need?' it is all about the grinding power of the disposal and has nothing to do with its dimensions.
Funny enough, there is another disposal size question; 'are all garbage disposals the same size?' which is not at all about power ratings but about whether they fit all sinks.
The dimensions of the disposal are irrelevant here because most houses have ample space under the sink to accommodate one (I don't remember seeing one above 18″ in height). Also, more powerful disposal need not be bigger in size. But just in case, you mistakenly got here looking for a small size garbage disposal that fits the tiny space under your sink, refer to this post: 5 compact garbage disposals.
For all others, here we go;
What size garbage disposal do you need?
Garbage disposals are mostly available in four power ratings. They are;
Garbage disposals with 1/2 to 3/4 horsepower are powerful enough for average home use. For industrial kitchens or heavy home use, more powerful garbage disposal (1 horsepower) might be needed for disposing of larger quantities of tough kitchen waste. The amount of use it receives should also be taken into account.
Here is a table showing the recommended sizes of garbage disposals based on that number;
| Maximum number of people in the house | Recommended garbage disposal size |
| --- | --- |
| 2 | 1/3 HP |
| 3 | 1/2 HP |
| 5 | 3/4 HP or 1 HP |
| 7 | 1 HP |
| More than 6 people | 1 HP to 2 HP |
Let's see what size disposals are best for your home:
1. 1/3 HP: Recommended for students and small apartments
These are the least powered garbage disposals. Obviously, they are useful in households where the number of people is like 1-2, and they don't cook much (or order food online). These disposals are usually the cheapest ones as well.
I personally don't prefer these disposals as they are so low-powered. As I mentioned before it all depends on your needs, so there is nothing wrong if you decide to want a 1/3 HP disposal.
The most popular and recommended disposals in this category are Waste King L-111 and Badger 1.
2. 1/2 HP: Best for families with 1-3 people
Many of the most sold disposals fall into this category. They have ample power for a small family, and their prices are comparable to those of the 1/3 HP ones.
1/2 HP disposals are best suitable for homes with 1-3 people who cook frequently. Occasionally, if you happen to have a few more visitors, just make sure you don't cram everything down the disposal, just add them in small batches.
If this is the best option for you, I recommend checking these; Badger 5 and Waste King L-2600.
3. 3/4 HP: Suitable for houses with up to 5 people
This is also a popular size which is suitable for any household with 1-5 people. The majority of houses in the USA fall into this category.
These disposals have ample power, and you have more models to choose from than from any other category. You can get low-cost models as well as high-end ones that have lots of features like multi-stage grinding and noise insulation.
Many people choose a 3/4 HP disposal over a 1/2 HP one because price-wise the difference is not that huge, and also, they get more grinding power.
The most popular disposals in this category are InSinkErator Evolution Compact and Waste King L-3200.
4. 1 HP: Recommended for large families
1 HP disposals are the most powerful ones used in households. Anything above that is used for commercial uses.
1 HP is definitely plenty of power for your kitchen, these disposals can grind almost anything effortlessly. If your home has 4+ people, if someone there aspires to be a professional cook, or if you want to dispose of harder food wastes this is the right disposal for you.
As the saying goes, with great power comes a bigger price tag. These disposals are usually premium ones that come with lots of fancy features, so expect a higher price tag if you are planning to buy them.
The popular choices in this category are InSinkErator Evolution Excel and Waste King L-8000.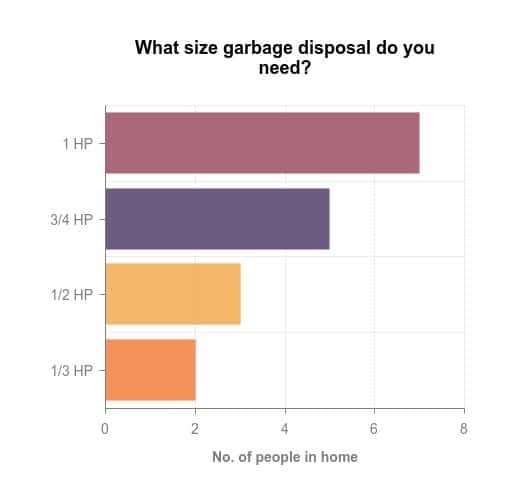 Other things to consider while deciding the size of a garbage disposal
Even though the number of people using the garbage disposal is a huge factor, there are a few more things to take into consideration while deciding its power rating. Here are they;
Type of food wastes you want to dispose of
Most garbage disposals cannot process tough or fibrous food items. Here is a list of what you shouldn't throw down a garbage disposal. But some top-end models by manufacturers like InSinkErator claim to be able to dispose of items like small chicken bones and even eggshells which otherwise damage disposals.
So even if you have only 1 person in your home, to dispose of hard and fibrous food items you will have to buy top-end garbage disposal models. InSinkErator Evolution Excel comes highly recommended.
How much space do you have under the sink?
Some garbage disposals can be up to 18 inches in height. It is also recommended to leave 4 to 5 inches of space under the disposal. But if you are using a farmhouse sink or similar there won't be enough space under the countertop to accommodate a tall garbage disposal. So if you do not have much space under the sink it is recommended to go for a smaller size garbage disposal unit.
How much money are you willing to pay?
The prices of garbage disposals are somewhat proportional to their power ratings. A 1 HP garbage disposal always costs more than a 1/3 HP one. In case you are looking for a quieter or a feature-rich unit the price is going to be much higher.
If you have a large household then you have no options other than buying a 1 HP garbage disposal. Units like Evolution Excel come with a premium price tag. However, there are also some affordable options like Waste King L-8000 in case your budget is low.
For models with low power ratings ie, those with up to 1/2 horsepower the price tags are almost the same. But for 3/4 HP and above, there are premium models as well as budget options. So please make sure to do a price comparison before you decide on the product.
Do you prefer a quiet and smooth operation?
Low-powered garbage disposals are likely to jam more than their powerful counterparts. They also do not have any noise insulation. So if you are looking for quiet and smooth-running garbage disposal you will have to choose one of the premium models. Premium models come with noise insulation as well as anti-jamming technologies.
If you are looking for such a garbage disposal I recommend InSinkErator Evolution Excel.
Are all garbage disposals the same size?
Obviously, the question here is whether a garbage disposal fits all sinks, or, whether all of them fit a sink.
All standard kitchen drainage holes have a size of 3.5-inch diameter. All garbage disposals are made to fit this size.
Just in case the drainage hole size of your kitchen sink is different there are accessories you can buy to fit a disposal.
Are all garbage disposals interchangeable?
No, just because they are all made to fit a 3.5-inch sinkhole doesn't mean they are interchangeable.
The reason is disposals use two kinds of mountings for installation; 3-bolt and EZ, the details of which you can read here.
If your existing disposal is using a 3-bolt mounting and the new one is an EZ mount then you will need to remove the setup completely to install the new disposal.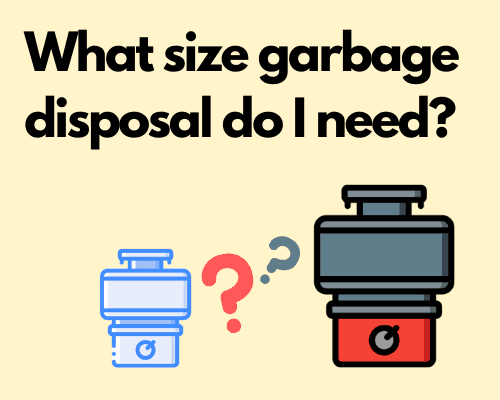 If the new disposal is manufactured by the same company most likely they can be easily replaced but not always as all companies use both kinds of mountings.
Also depending on the size (dimensions) of the new disposal, you may want to change the position of the connecting pipes. This will add further complexity to the replacement.
That being said, replacing a disposal with a new one is generally a simple task that you can do by yourself, I was just showing you the worst-case scenario.
Related Topics:
If you like the article above, here are some other similar articles you should check out!
InSinkErator Evolution Septic 3/4 HP Review