Best Wastemaster Garbage Disposals
Here is a comparison of the top Wastemaster garbage disposal units;
| | | | |
| --- | --- | --- | --- |
|   | | | |
| Power | ½ HP | ¾ HP | 1.25 HP |
| Size | 15 x 8.5 x 8.5 inches | 16 x 8.5 x 8.5 inches | 17.3 x 8.5 x 8.5 inches |
| Feed type | Continuous | Continuous | Continuous |
| Noise insulation | Extra sound insulation | Extra sound insulation | Extra sound insulation |
| Power cord | Yes | Yes | Yes |
| Grinding system make | Stainless steel | Stainless steel | Stainless steel |
| Turntable material | Stainless steel | Stainless steel | Stainless steel |
| Warranty | 5 years | 8 years | 12 years |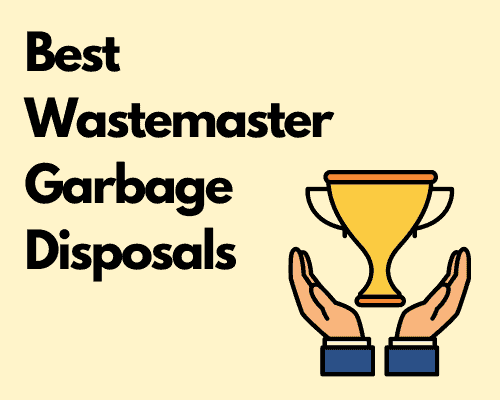 Wastemaster Garbage Disposal Reviews
1. WasteMaster WM50G 1/2 HP Gold Series Continuous Speed Waste Disposer
WasteMaster brings many models of disposers that you can enjoy in your house for a fairly affordable price. The WM50G model has ½ horsepower and it is part of the gold series that you will find very efficient. This disposer has 2700 RPM and a permanent magnet motor that allows a high-quality and speed grinding system. Both the turntable and the grinding chamber are made of durable stainless steel. This disposer is very silent which means you will not even know it is on unless you pay close attention to it. It has a front mount button easy to use and a stainless stopper.
The power cord that you will need to use this product is included in the package and the warranty is stretched to 5 years which is the best option in this industry.
2. Westbrass WM75P .75 HP Premium Food Waste Disposal
Another great model of food waste disposer is the WM75P however it comes at a slightly higher price than the previous one. But the quality is very reliable and this product is highly appreciated by the public. It has 3/4 HP and 2700 RPM which makes for a fast grinding system. The motor is a permanent magnet and the grinding chamber is made of resistant stainless steel in order to make the disposer last for a long time. Also, the balanced turntable is made of stainless steel to increase the durability of the product. The Extra sound insulation is perfect to limit the potential noise that this device could produce while it is on.
Also, along with the disposer, you will receive the power cord that it needs as well as an installation manual so you can do it all yourself. This food waste disposer comes with 8 years of warranty.
3. Westbrass WM125P 1.25 HP Food Waste Disposal
Westbrass WM125P is similar in features and characteristics to the Westbrass WM75P but it comes with some significant improvements as well. First, this model has 1-1/4 HP and 2800 RPM which allows it to speed up the grinding process. The motor is also a permanent magnet and the grinding chamber is made of stainless steel as well as the balanced turntable. It has a dishwasher inlet of 7/8 inches that is corrosion-proof which increases the quality of this product. The sound on this model is also insulated in order to keep the noise to a minimum.
A great aspect of the Westbrass WM125P is the 12 years of warranty, which breaks the limits of the industry and offers a lot more support to buyers!
Related Topics:
If you like the article above, here are some other similar articles you should check out!
Can You Put Eggshells in a Garbage Disposal?
Should Garbage Disposals be Emptied?