Waste King 9980TC is a more powerful version of the 9900TC.
Here is a quick overview;
Power – 1 HP
Speed – 2800 RPM
Feed type – Batch feed
Size – 18.5″ x 8.5″
Mount – 3-bolt mount
Warranty – 10 years
Sound insulation – Yes
Motor – permanent magnet type
As you can see from the specifications this is a batch feed type disposal. This means you can keep the food wastes stored in it for a while until it is filled, and process them all together.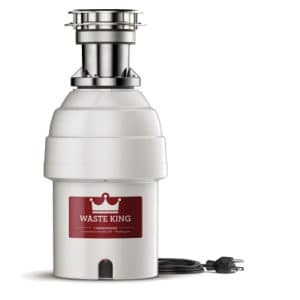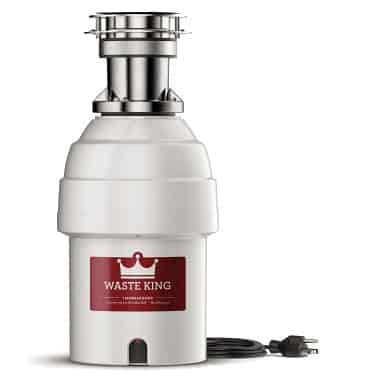 If you want to know more about the feed types check this article that compares batch feed with continuous feed types.
Detailed review
Performance
Waste King 9980TC is equipped with a 1 horsepower motor. It operates at high speeds, as fast as 2800 RPM which is pretty high compared to a lot of other competing models. Also, the motor is a permanent magnet type, so it attains its full speed in seconds. This fast and powerful disposal unit can grind almost any kind of food waste to fine particles in a matter of seconds. If you are not sure what items are NOT to put in a disposer here is a guide that you can print and stick on your kitchen wall.
As mentioned before this is a batch feed type disposal which is better in terms of safety. It also saves grinding time and electricity in households that don't cook in high volumes.
Also, it has a reset button that's located on the front-facing side which is easier to access than many competing disposers. This is very useful in case the unit jams. Unfortunately, it doesn't have a hex hold to manually rotate the disposer, which is necessary to unjam certain clogs. High-speed disposals are less likely to jam but if that happens you can use a specially designed garbage disposal wrench to unjam it.
Noise insulation
Waste King 9980TC comes with certain insulation around the grinding chamber. In addition, since it uses a 3-bolt assembly the vibrations through the sink are minimum. Overall this disposer unit is not noisy. There are of course quieter garbage disposals but this is a decent one for the price.
Corrosion-resistant build
Constant contact with water will gradually corrode any material. So build quality is an important consideration for anyone buying a disposal unit. A good garbage disposal unit will last more than 12 years.
Waste King has been leading this industry for decades now, so their disposers are time-tested. Like all models by this manufacturer, the grinding chamber of L9980TC is made of corrosion-proof polymer, and the grinding components are made of stainless steel. The sink flange also is made of stainless steel.
In addition, they also provide a 10-year warranty for this product so you are sure this will last at least 10 years!
New and improved design
Waste King has recently facelifted all its disposal units. They all follow the same standard design but they are much better looking now.
Installation
9980TC comes with a 3-bolt assembly. It is quick and easy to install especially if you are replacing another similar model disposal unit.
One thing to note is that 9980TC is much taller than any other disposer owing to its long neck. It is 18.5″ tall so it may not fit all under-sink spaces. So make sure you have enough space under the sink to install this one.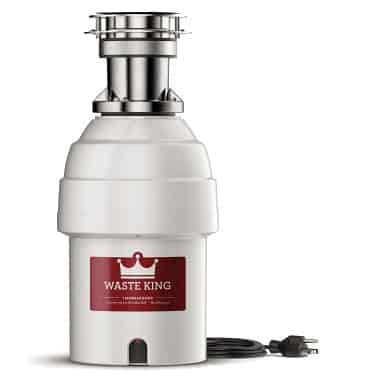 For installing this unit you don't have to worry about electric connections, it comes with a pre-installed power cord, so all you have to do is plug it in. Optionally you can also use an air switch or a wireless switch to operate the disposal which minimizes any chances of electric shocks, there are various garbage disposal switch options now.
Price & Warranty
Waste King 9980TC is a mid-range disposal unit that's not priced too high but not low either. As mentioned above it is covered under a 10-year warranty which is one of the best in its class.
My verdict
Waste King 9980TC is a powerful, wallet-friendly batch feed disposer. If you are looking for a powerful batch feed unit this is a good choice.
Some other models you can consider are;
Related Topics:
If you like the article above, here are some other similar articles you should check out!
Bear Proof Garbage Cans – Best Picks & General Advice
Waste King 9920 Garbage Disposal Review