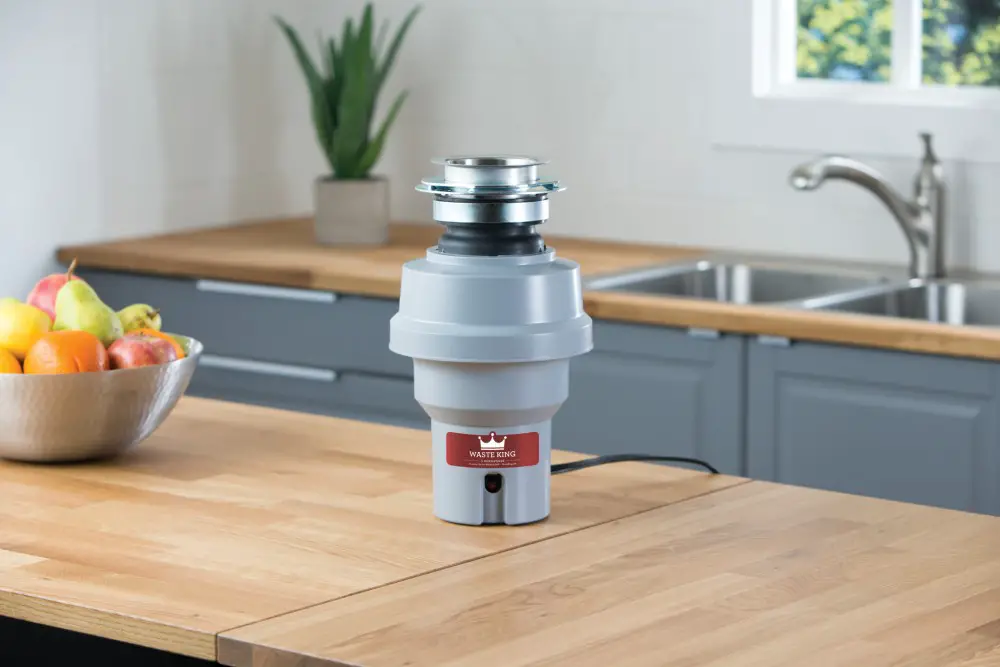 Waste King 9920 is a relatively new model, and this model addresses one main problem with all Waste King disposal; lack of 3-bolt compatible mounting. Before jumping to that point let's see how good this disposal is;
Power, size, performance
Waste King 9920 is powered by a 1/2 HP motor. Just like their all other models this motor also is a high-speed one running at a speed of 2600 RPM. The benefit of high speeds is that it increases the cutting rates which in turn reduces the chances of any jams.
The high-speed and 1/2 horsepower make this an optimum machine for a household of 2-4 people. It can handle most food wastes but not all. Check this list to know what you shouldn't put into this disposal.
It is a continuous feed type disposal, so its chamber size is not important. In any case, that information is not available for any models of Waste King.
Noise levels
Waste King disposals are not known for their silent operation. Most of their disposals do not have any noise insulation. I am not saying this disposal is terribly noisy but merely stating that there is no attempt to reduce noise. Clearly, something has to be sacrificed to create a cost-effective disposal unit.
Specifically for this model, the noise isn't that loud, it is just like any other normal disposals in this price range.
Build quality
9920 has galvanized steel grinding components and a corrosion-resistant, high-quality plastic grinding chamber. Galvanized steel is inferior to stainless which is used in better disposals, so I won't say the build quality is top-notch but for the price range, this is what all disposals have. So it doesn't have anything surprising in terms of build quality.
Space and ease of installation
The height of this unit is 13.5 inches. This is not very tall, it can be considered compact. In any case, you won't have any issues because of space constraints, most under-sink spaces have far more room than needed for this one.
As mentioned at the beginning, this unit uses a 3-bolt mounting system. The advantage is, that you can easily replace another 3-bolt unit with this one. As their competitor InSinkErator mostly makes 3-bolt disposals, having some in their arsenal is beneficial for Waste King.
Plus, it comes with a 32-inch pre-installed power cord which makes the installation further easier.
Looks and design
9920 has a different design than the traditional streamlined design of Waste King. I really don' think the new design has an advantage over the old ones. However, I should say this one looks better than the others.
Price and warranty
9920 is priced competitively but it is not the cheapest in its class. It is covered under a warranty of 2 years which is the same as most of its competitors.
Conclusion
The 9920 by Waste King is a garbage disposal model without any surprises. It is one of the many in its class so feel free to also check other models like Badger 5, L-2600 and L-1001.
PS: There is a very similar model 9930 which is worth considering. Check this comparison of Waste King 9930 and 9920.
Related Topics:
If you like the article above, here are some other similar articles you should check out!
Do Garbage Disposals Have Blades?
Do Garbage Disposals Harm Septic Systems?