This is the ideal solution for buyers on a budget, looking for a downsized disposer that won't fail to please.
While it may not be loaded with features that speak volumes, it does the basic functions you expect from a disposer – without any hassle.
It is also one of the best models I've seen – and I've seen almost everything there's to see.
So, scroll down and check whether this would fit your needs.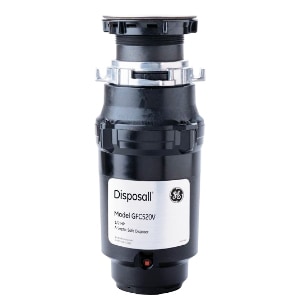 General Electric GFC520V 1/2 HP Garbage Disposer-What We Found Exciting
Fast And Smart
For a disposer with a 1/2 HP motor, a speed of 2800 RPM is considered super fast.
Which also means that the entire process of grinding down your kitchen's wastes and sending them through your drain will require only a few seconds.
What's more, the grinding chamber is large, making it easier to stuff quite large quantities of food scraps at once.
Small And Light
I know that I've already mentioned this.
But I didn't mention just how small the General Electric GFC520V is.
Though it is quite tall, at 5.2 x 5.2 x 12.8 inches, it is small enough to fit under any sink.
In fact, it might even save you some space for storage.
And due to its lightweight, you will hardly have any trouble installing it alone.
Quieter Than The Most
If noise is something you can't stand when a disposer is on the run, then General Electric GFC520V Disposer might be a great option for you.
While it is not the quietest, it is not as loud as some competitive models that are closer to its price.
All in all, the sound insulation seems to be doing a great job.
Easy-Breezy Mounting
The EZ mount system makes installation easy, assuming that you have had plumbing experience prior to this.
If you haven't, you should either get the services of a Handyman, or make sure to prepare yourself for the task at hand.
Along with the disposer, you'll be getting a manual with step by step instructions and diagrams. Study it well. And for further details, you can even Google search videos. Once you're ready, give it a go.
You'll no doubt give installation 5 out of 5.
How Long Will It Last?
To be honest, I'm quite impressed to say that this one would last for nearly a decade – more or less.
Given the price you pay for it, the lasting nature is a huge plus.
And to ensure it, most of the internal parts that are often exposed to water are made up of anti-corrosive components like stainless steel.
Even the dual swivel impellers that minimize jams are designed with stainless steel.
Speaking of jams, you can be assured that you won't encounter any, because in addition to the swivel impellers, it also has a 2-level precutter.
Points To Consider
Before you buy, make sure that you have a power code ready for the set up because this one doesn't come with one.
While at the same time, you don't have to worry about a Sink Stopper or a Splash Guard as they're included as a part of the package.
And of course you are concerned about the warranty – all buyers are.
I ain't sure whether you'd take it as a good news, or a bad news.
Because you get a year and then an additional year as warranty.
First-year covers all functional parts and labour for free whereas the additional year covers functional parts but with charges for installation.
It may not be the best warranty in the industry, but it is definitely not the worst.
I won't hesitate to recommend the General Electric GFC520V Disposer to anyone, especially to those who lack cabinet space. It is cheap, long lasting and capable of doing the job just right.
Interested? Then head straight to Amazon- for the fastest delivery and the lowest price, Amazon is like the only place.
There's nothing to worry – you still have plenty of options to choose from and the Waste King L-1001 Legend Series 1/2 HP Garbage Disposer could be where your heart would finally lie. Though it costs a teeny bit more than this, it includes a power code and many other features.
View price, specifications and reviews of this garbage disposer