For a bathroom, I highly recommend buying a trash can with a lid. A lot of smelly things like sanitary pads, diapers, etc. go into the bin so I bet no one wants to keep it open.
Review of top 5 bathroom trash cans with lids
Here are 5 best trash cans for your bathroom;
| Trash can model | Capacity | Type |
| --- | --- | --- |
| Simplehuman semi-round trashcan | 2.3 gallons | Step pedal-operated |
| Simplehuman butterfly lid trash can | 4.8 gallons | Step pedal operated with butterfly lid |
| Umbra Twirla swing top lid trash can | 2.2 gallons | Swing top lid |
| Simplehuman slim trash can | 2.6 gallons | Step pedal-operated slim trash can |
| iTouchless sensor trash can | 2.5 gallon, 4 gallon | Touchless |
1. Simplehuman semi-round – Best stainless steel option
This semi-round trashcan is the best stainless steel trash can for your bathroom. It can accommodate 2.3 gallons of garbage. Certainly, that is not large for your kitchen but ample enough for a bathroom. Also due to the semi-round shape, it is less space-consuming when placed against the walls. Plus, its height is almost the same as that of the toilet so it is more convenient to use.
Like all other Simplehuman models, the build quality of this one too is awesome. It is made of Stainless steel and has a fingerprint-proof coating. The fingerprint-proof coating prevents the bin from smudges and fingerprints making it look clean every time.
It also has a plastic rim on its bottom which prevents sliding, and also any direct contact of the steel body from the wet floor.
This is a 'step trash can' i.e., it has a lid that's opened via a foot pedal. The great thing about Simplehuman is that they test their trash cans vigorously. The foot pedal and lid of this trash can are tested to last 150,000 openings, that's like 20 steps a day for the next 20 years.
And the lid closes slowly, check the video above to see that. It's simply amazing. It is the air dampers that are meticulously fitted inside that make this possible.
It also features an inner bucket which in my opinion is indispensable for any bathroom trash can. You can simply take out the whole bucket and dispose of the garbage. It is also easier to clean in case the garbage bag breaks, the bucket prevents anything from falling into the steel bin.
For those who are not familiar with Simplehuman trash cans, all of them use custom liner bags. These are much stronger and have better quality than regular bags but are comparatively pricier. You can also use regular bags but most people go for the custom ones.
Update: A company called PlasticPlace now makes reliable and strong trash bags that are compatible with Simplehuman trash cans. Click here to check their collection.
As mentioned before the build quality of this bathroom trash can is awesome. It is reliable and is also covered with a warranty of 10 years.
2. Simplehuman butterfly trash can
This is the only butterfly-lid type trash can on my list, and I include this because it is the best.
With a 4.8-gallon capacity, this is a bit bigger for my taste. But some people like to have a bigger trash can in their bathrooms, so it is okay to include this in my list.
A butterfly lid trash can is called so because its lids open from the center to both sides like the wings of a butterfly. The advantage of this design is; that it is possible to use them under low-clearance areas since the height of the lids is only half of the normal lids.
It is made of stainless steel which is durable and anti-rust. It has a nano-coating on the body which prevents any fingerprints and smudges. As you can see this is a step trash can, the foot pedal is used to open it. It is designed to withstand 150,000 steps, which is the same as that of the above semi-round trash can.
As you can see the profile of this trash can is very slim, so it can be placed in tight spaces. The opening mechanism uses well-engineered air dampers to make sure the lids close slowly and quietly. It also has an inner bin which makes cleaning and trash disposal much easier.
One downside of this garbage can is that it uses custom-fit bags by Simplehuman. But you can use regular bags as well but they may not be as perfect as the custom ones.
With a modern design, compact shape, awesome build quality, and a 10-year warranty; if you are looking for a bigger trash can for your bathroom I don't see any reason why you shouldn't consider this.
3. Umbra Twirla swing top lid trash can
I think this is the cheapest bathroom trash can you can rely on. Made by Umbra, a Canadian company based in Toronto, it features a swing-top lid. Clearly, there is nothing new about a swing top lid, only that it is more convenient to use than a regular trash can with a lid.
It is made of high-quality plastic, and the swing lid works fine. It has a low profile so it can be placed even in the tight spaces of your bathroom.
It has a capacity of 2.2 gallons which is adequate. You can use regular 3-gallon or 4-gallon trash bags in this. Its design is modern and the swing lid keeps the trash bag out of view; so even from an aesthetic point of view, this trash can is worth every penny.
Twirla is available in 4 color variants; Black, gray, shadow gray, and white.
For its price, it is surprising that this garbage can is covered under a 5-year warranty! If you are looking for a cheap bathroom trash can go ahead and buy this.
4. Simplehuman slim trash can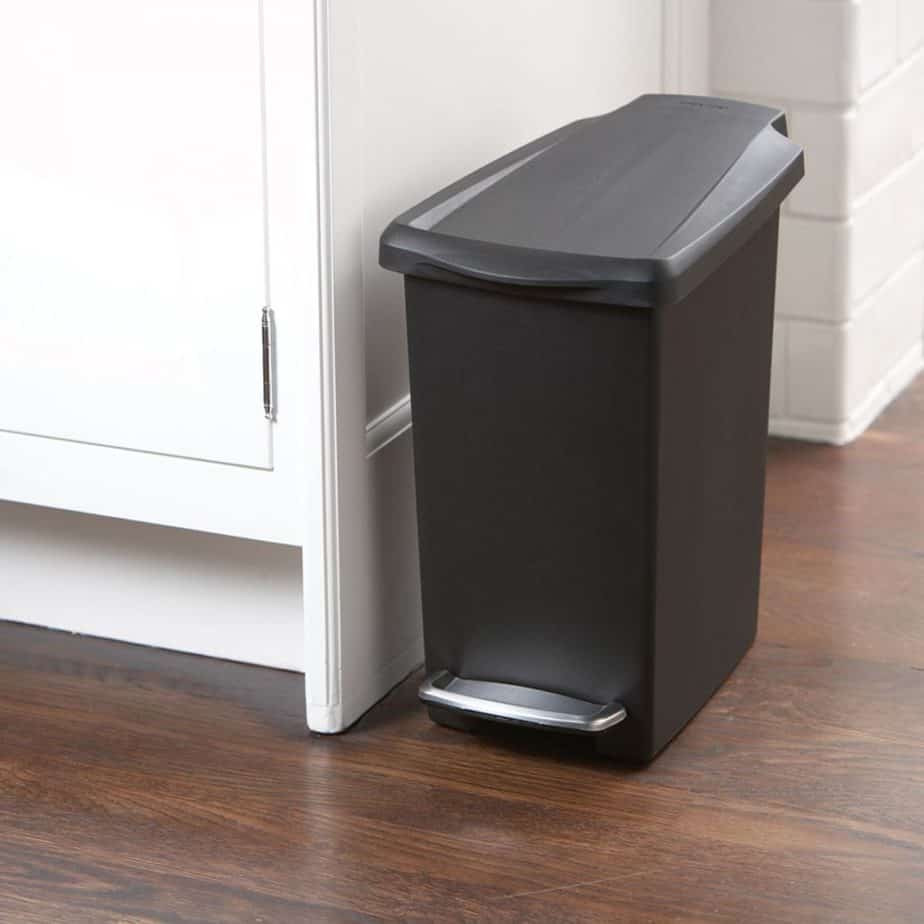 Okay, this is the 3rd Simplehuman product on my list of 5, I can't blame you if you think I am a bit partial to this brand.
This one here is made of plastic, so that's a big difference from the other Simplehumans I listed above. Of course, the plastic is of high quality, and it will withstand rough usage for years.
This is a foot-pedal-operated garbage can with a capacity of 2.6 gallons. It is slim and is perfect for bathrooms.
The foot pedal is pretty reliable but the company doesn't give any tested figures as they do for their other models. However I wouldn't worry about the quality, they have a reputation to keep.
One thing I don't like about the model is; that it doesn't have an inner bin. It would be much more convenient to use with an inner bin. And it is not as aesthetically pleasing as shown in the pictures because the lack of an inner bin means the trash bag will be visible outside. Furthermore, the mechanical components are in plain view on the backside.
It uses custom liner bags like all their other models, that's another downside. And if empty it tends to tip forward when pressing the foot pedal, unless you put a brick inside it as an anchor.
Obviously, this one has some cons but this is probably the cheapest Simplehuman bathroom trash can so that's why I added this to my list. Besides, it comes with a 5-year warranty.
If you are looking for a cheap and reliable trash can from a renowned brand this is the ideal one.
5. iTouchless sensor trash can – the best touchless trash can for bathrooms
This one is the perfect trash can for your bathroom. It is touchless, so you don't have to get your hands dirty. It is also easier to operate even while sitting on the toilet, which is not the case with step trash cans.
iTouchless is a reliable maker of touchless trash cans, they have plenty of models. This model is available in two sizes; 2.5-gallon and 4-gallon.
For those who are not familiar with a sensor/touchless trash can; it opens at the wave of your hand. It has a sensor on top that detects movements to a short range of distances. If any movement is detected by the sensor it triggers a small motor that opens its lid. Usually, this lid closes automatically after a few seconds.
The build quality of this iTouchless trash can is good. Its bin is made of stainless steel and the lid portion is made of high-quality plastic. It uses batteries as well as an AC adaptor for working (both to be bought separately).
The lid portion also houses 3 compartments; one for the batteries, one for a fragrance cartridge, and the last one for an active carbon filter. The fragrance cartridge and the active carbon filter remove any bad odors from the trash can.
This one is super convenient to use, and this is not that pricey either.
General buying guidelines
What size trash can do you need for a bathroom?
The size of a bathroom trash can ranges from 2 to 5 gallons.
As you know the size really depends on how frequently you use it. I have a 2.6-gallon one in my bathroom, I live with my wife and little kid. But if your household has more people you definitely need a bigger trash can. But in any case, I don't think it needs to exceed 5 gallons.
One more piece of advice on the trash can size; do not go for a large trash can. Trash cans in bathrooms need to be emptied more frequently than those in kitchens especially if you put diapers or any such items in them. If you buy a large garbage can it will take a lot more time to get it filled, and if you are like me, you won't empty it unless it is full and flowing. So a smaller trash can will encourage you to empty it more frequently.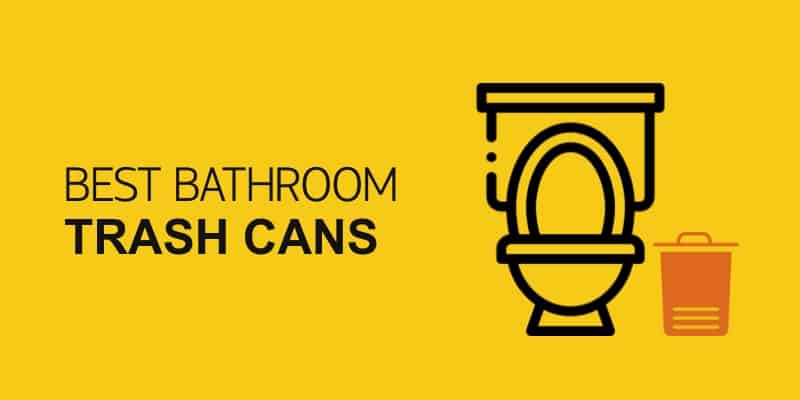 How much can a bathroom trash cost?
On average, a good bathroom trash can costs between $30-$50.
Surely, the price depends on the size, build quality, and features of the trash can. The items on my list cost from $7 to $80. However my list isn't long, and there are so many options, you can get a decent one within the $30 to $50 price range.
Stainless steel or plastic – Which is better?
Most trash cans are made of either plastic or stainless steel. For a bathroom, a stainless steel one is recommended for a few reasons. One reason is that those made of stainless steel are slightly heavier. Since most of the bathroom trash cans are pedal-operated, if they are too light, they may tip forward when pressing the pedal.
Another reason is looks, a steel trash can will look much better than a plastic one.
One advantage of plastic over stainless steel is that it will never rust. Stainless steel won't rest either but I know from experience that some do (possible reasons are explained here). Also, the plastic ones are much cheaper, which is why I use a plastic bin in my home.
What type of trash can should I buy for the bathroom?
Based on the lid operating mechanisms, there are mainly three types of trash cans;
Step trash can
Swing lid trash can
touchless trash can
There are also other types like touch trash cans and voice-activated ones but they are much more costly to be used in a bathroom.
Among the three I highly recommend buying the touchless type. It is more hygienic and easier to use.
Related Topics:
If you like the article above, here are some other similar articles you should check out!
5 Best Touchless Trash Cans for Kitchens
Do Some Dishwashers Have Built-In Garbage Disposals