Best BECBAS garbage disposals
BECBAS Element 1
1/3 HP, 2600 RPM
4.76 x 4.76 x 12.12 in
Continuous Feed
Noise Insulation – No
Stainless Steel
Power Cord Included
Removable Splash Guard
No Built-in Air Switch
2-year Warranty
BECBAS Element 6
3/4 HP, 2700 RPM
8.58 x 8.58 x 15.98 in
Continuous Feed
Noise Insulation – No
Stainless Steel
Power Cord Included
Removable Splash Guard
Built-in Air Switch
2-year Warranty
BECBAS Element 7
1 HP, 2700 RPM
8.67 x 8.67 x 15.43 in
Continuous Feed
Noise Insulation – Yes
Stainless Steel
Power Cord Included
Removable Splash Guard
No Built-in Air Switch
4-year Warranty
BECBAS Element 9
1 -1/4 HP, 2700 RPM
8.7 x 8.7 x 16.3 in
Continuous Feed
Noise Insulation – Yes
Stainless Steel
Power Cord Included
Removable Splash Guard
No Built-in Air Switch
5-year Warranty
BECBAS Garbage Disposal Reviews In Detail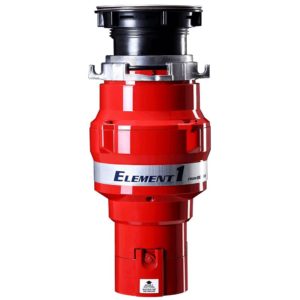 1. BECBAS Element 1, 1/3 HP Household Food Waste Disposer
The Element 1 model is powered by a 1/3HP high speed premanent magnet DC motor with 2600 RPM. Permanent magnet type motors are light-weight and are capable of running at high speeds. The logic behind using high-speed motors is that they help reduce jams.
In terms of build quality, this disposal is good, with stainless steel components and nylon reinforced grinding chamber the disposal is likely to last for many years without leaks and damages due to corrosion.
This continuous feed type disposal comes with a preinstalled 36 inch long power cord. The manufacturer didn't put any effort in adding noise insulations into this disposer probably since this is a low end product. It comes with a removable splash guard which is handy while cleaning. The EZ-mount system makes it possible to install this disposer within 20 minutes even for non-experienced hands.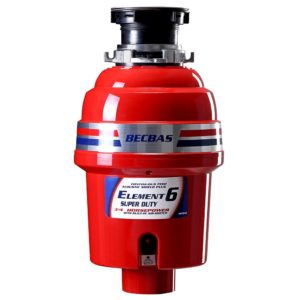 2. BECBAS Element 6, 3/4 HP Household Food Waste Disposer
The Element 6 model is powered by a 3/4 HP high-speed motor with 2700 RPM.
Stainless steel components and nylon reinforced grinding chamber make this disposer corrosion proof promising many years of life. This disposer is much bigger than the Element 1 model and has dimensions 8.58 x 8.58 x 15.98 in; it is almost twice as wide as Element 1. It also has a built-in air switch so you don't have to buy it separately.
BEBCAS Element 6 garbage disposal comes with a preinstalled 36-inch power cord, a removable splash guard and an EZ mount system along with a 2-year limited warranty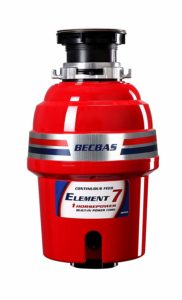 3. BECBAS Element 7, 1 HP Household Garbage Disposal
Powered by a 1Hp motor with 2700 RPM, this garbage disposal has all the features of the Element 1 and Element 6 disposals reviewed above except that it doesn't come with an air switch. But the box contains a multi-functional scraper and elbow and a stainless steel stopper. It is a little bit wider than the Element 6 model with but not so tall. Its dimensions are 8.67 x 8.67 x 15.43 in.
It also comes with foam insulation for noise reduction, this feature is not available for the other two disposers reviewed before. It has a warranty of 4 years.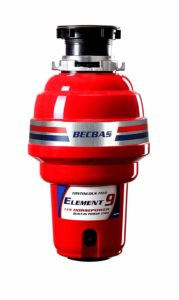 4. BECBAS Element 9, 1-1/4 HP Garbage Disposal
This is the most powerful garbage disposal by BEBCAS. 1-1/4 HP is more power than necessary for household uses. It can grind almost anything including chicken bones without trouble. Like the other 3 disposals by this manufacturer this disposal too has stainless steel grinding components and fibre-glass reinforced nylon grinding chamber which makes it durable and corrosion resistant. It has a foam insulation around the grinding chamber which muffles most sounds coming out of it. Like the Element 7 model, it comes with a Stainless steel stopper and a multifunctional scraper and an elbow.
Related Topics:
If you like the article above, here are some other similar articles you should check out!
Whirlpool Garbage Disposal Reviews
Best Waste King Garbage Disposals & Their Common Features