Evolution Prestige is a relatively new model by InSinkErator which is one of the most trusted names in the garbage disposer industry.
It is basically a modified version of the very popular model Evolution Excel. You can check my Evolution Excel review to know more about that disposer.
Here is a quick overview of the Evolution Prestige;
Power – 1 HP
Speed – 1725 RPM
Price range – premium
Grind chamber capacity – 40 oz
Sound insulation – Sound seal technology
Grinding stages – 3
Build material – Stainless steel
Warranty – 7-years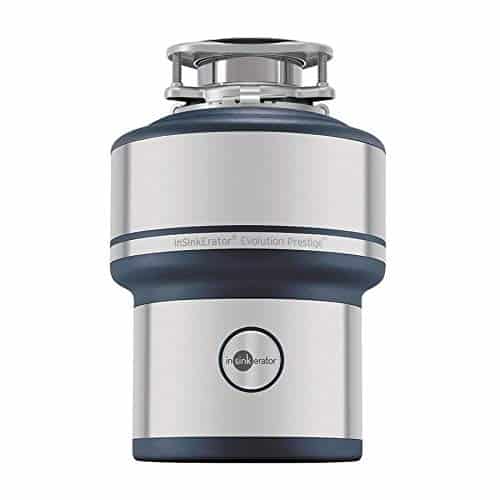 Performance
Evolution Prestige packs a 1 HP dura-drive induction motor that runs at 1725 RPM. If you are new to garbage disposals 1HP is the maximum power you can get for a normal household disposer. If you want anything more powerful go for a commercial-grade garbage disposer.
What I am trying to say is this is a super powerful food waste disposal.
Furthermore, it comes with premium features to ensure that no food waste escapes its wrath.
One such feature is Multi-Grind technology. This is a feature seen only on InSinkErator disposals, no other brands have this. It uses multiple grinding stages, the food wastes go through 3-stages of grinding. These multiple grinding stages help to pulverize any hard food items you throw into the Evolution Prestige.
Let me further explain why multi-stage grinding is a good feature;
You cannot grind certain items like celery, potato peels, etc in a normal disposer (here is a full list of items you shouldn't put down a disposer) because they will clog your drain pipes, but with 3-stage grinding, you can. For example, celery after ground in a normal disposer will still have long fibers that will eventually cause clogs but when ground using Multi-Stage technology these fibers are further cut into smaller pieces that are easily washed away into the sewage system.
In short, you can grind most food wastes in Evolution Prestige, including chicken bones and fibrous food items that cannot be ground in a normal disposer.
That's not all. It also comes with Auto-Reverse technology, patented technology by InSinkErator. This allows the disposer to run in reverse directions whenever it detects jams thus breaking any obstructions.
Also, the grinding chamber can accommodate 40 oz of food waste. Since this is continuous feed disposal (What are the differences between continuous feed and batch feed type disposals?) that size shouldn't really matter but if you are thinking of cramming a large volume of food wastes Evolution Prestige can handle it.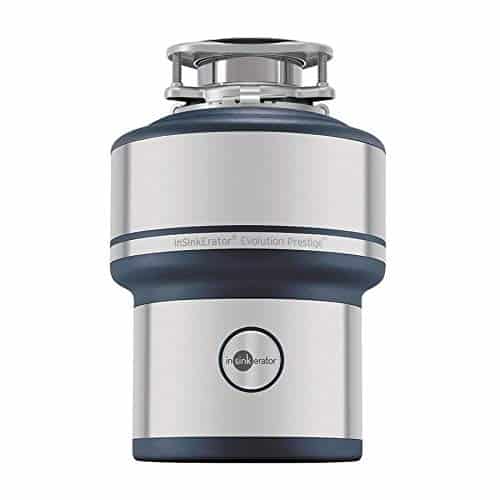 Quietness
Evolution Prestige is among the premium line of food waste disposers by InSinkErator. So a lot of work went into making it as quiet as possible. To be frank, it is not as quiet as the Evolution Excel (Refer Evolution Excel vs Prestige for more comparisons) but it comes among the second quietest.
As mentioned in many of my other articles the noise from a disposer running is not just from its motor but from the vibrations of the fittings as well. Minimize these vibrations and you can have a quieter disposer. That's why InSinkErator's Sound Seal technology not only involves layers of insulations around the motor but is also quieter and has better anti-vibration mounts. It comes with an anti-vibration mount, Quiet-Collar sink baffle, and an anti-vibration tailpipe mount. This makes Evolution 60% quieter than any other disposal.
Build
Garbage disposals have to survive constant contact with water which is a universal solvent. So they have to be made corrosion resistant or they will start leaking within a few years.
That's why Evolution Prestige is made of high-quality, corrosion-resistant stainless steel. That's right, it is one of those Stainless Steel garbage disposals whose grinding chamber, as well as grinding components, are all made of Stainless steel. This makes it resistant to corrosion guaranteeing a life span of many years.
On the outside, it looks exactly like the Evolution Excel save the colors. It has a height of 13 inches and a maximum width of 9 inches. Its design is excellent, you will know that this is a premium product just by its looks.
Installation and Troubleshooting
Evolution Prestige comes with a 3-bolt assembly. The Quick-Lock mounting makes installation fast and easy. You can replace an old Excel model with this one in a matter of minutes.
Unfortunately, it doesn't come with a pre-installed power cord, so you will have to buy that separately, and hardwire it. You can also use an air switch or a wireless switch for easy operation but you will have to do the wiring anyway.
Evolution Prestige is a compact disposal, with just 13 inches in height it can be installed in tight spaces.
This disposal is unlikely to run into any problems. But just in case that happens you can use a manual reset button to troubleshoot it. The reset button of the Evolution Prestige is located at the bottom, it is a red button and is easy to spot.
In case of a clog, which is rare, you can insert an Allen wrench into the hex hole at its bottom side and manually rotate the blades to unclog. Here is a list of common garbage disposal problems and their solutions, just in case.
Price & Warranty
Obviously, a feature-rich product like this comes at a premium price. But many will find it very appealing, and I can't say they are wrong.
It is covered under a warranty of 7 years which pretty much talks about the manufacturer's confidence in this product.
My verdict
If you have the money this is a good disposer worth every penny. But don't forget to check the following ones as well;
Related Topics:
If you like the article above, here are some other similar articles you should check out!
Garbage Disposal Not Working? Check This List of Garbage Disposals Problems and Their Solutions
American Standard Garbage Disposals
7 Best Quiet Garbage Disposal Units for a Silent Kitchen 2020