I never had the 9980 model disposer in my home. But my friend from work has it in her apartment, and she is quite happy with it.
I tried it while I was there a few weeks ago, and I really liked it. Not the best one I have come across but good in every sense.
She has the latest version of 9980 which looks better than the old one. I had seen and tried the older versions, and compared to them the newer one is definitely better in every aspect.
Let's see in detail what makes a Waste King 9980 disposer worth the money.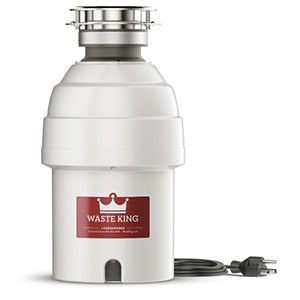 Power & Performance
Simply said the 9980 is a more powerful version of the 9950 model.
This kitchen disposer is powered by a 1 HP motor that runs at 2800 RPM. One horsepower is ample for a large family. It can dispose of most types of kitchen wastes including occasional eggshells and fibrous items but make sure you check this list of items that you shouldn't throw down a disposer.
9980 uses a permanent magnet motor, that is why it can run at such high speeds. The advantage of a permanent magnet motor is that it instantly reaches the maximum speed. The motor is also lightweight and less power-consuming. The high speed makes sure that food wastes are ground fast. In addition, the high cutting rate reduces the chances of jams.
Also, this is a continuous feed type disposal, so this is more convenient to use than a batch feed one.
Noise levels
The new version of 9980 comes with some noise insulations within its body. It is not very quiet but it has decent insulation. As these machines are operated usually for only some 20 seconds noise levels are not much of a problem, I can assure you that this machine won't wake up your neighbors at midnight.
Build Quality & Design
While the appearance of the new version is different and better than the old versions the things inside it haven't changed. The grinding chamber of this disposer is made of the standard Waste king corrosion-proof polymer, and the grind components are made of stainless steel. Stainless steel is resistant to corrosion so these components are sure to last long. Also, the grinding chamber material that Waste king uses has been in use for years now, so its quality and longevity are indisputable.
The exterior design is visually much different, it is shinier and well designed. Of course, the same design is followed by every model in Waste king now, so there isn't anything here that stands out.
Space & Ease of installation
Waste King 9980 is 16 inches in height and 8.5 inches in width. This is comparatively huge since the height of most disposers comes around 13.5 inches. So before purchasing this disposal make sure that you have enough space under the countertop.
This kitchen disposer comes with a standard 3-bolt mounting assembly. The installation is easy, and all disposals come with a detailed installation guide. It also comes with a 32-inch pre-installed power cord, so electrical wise you only have to plugin it to a wall switch.
It also comes with a stainless steel sink flange, a drain stopper, and a drain elbow.
Price & Warranty
One plus point of Waste King disposals is that all their models are budget-friendly. For a 1 HP disposal, the 9980 is given decent pricing.
And the warranty is really surprising. Waste King 9980 is covered under a warranty for 20 years! You should buy this disposer just for its warranty, it is the best in the industry, and no competitor offers a disposal with such a long warranty period.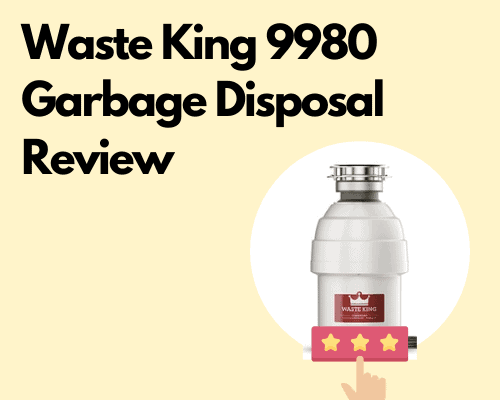 But keep in mind that this 20-year warranty is applicable only if you are using this disposer in your home. For commercial applications, the warranty period is only 1-year.
The Waste King L-8000 model also comes with the same 20-year warranty, and these two models are very similar.
My Verdict
If you are looking for a 1 HP, 3-bolt mount disposal at a decent price tag the 9980 is an excellent choice. If the EZ mount is ok for you then I think the L-8000 which I mentioned before may be a better choice.
Related Topics:
If you like the article above, here are some other similar articles you should check out!
Waste King 9920 Garbage Disposal Review
Badger 5 vs Waste King L1001 vs KitchenAid KCDB250G