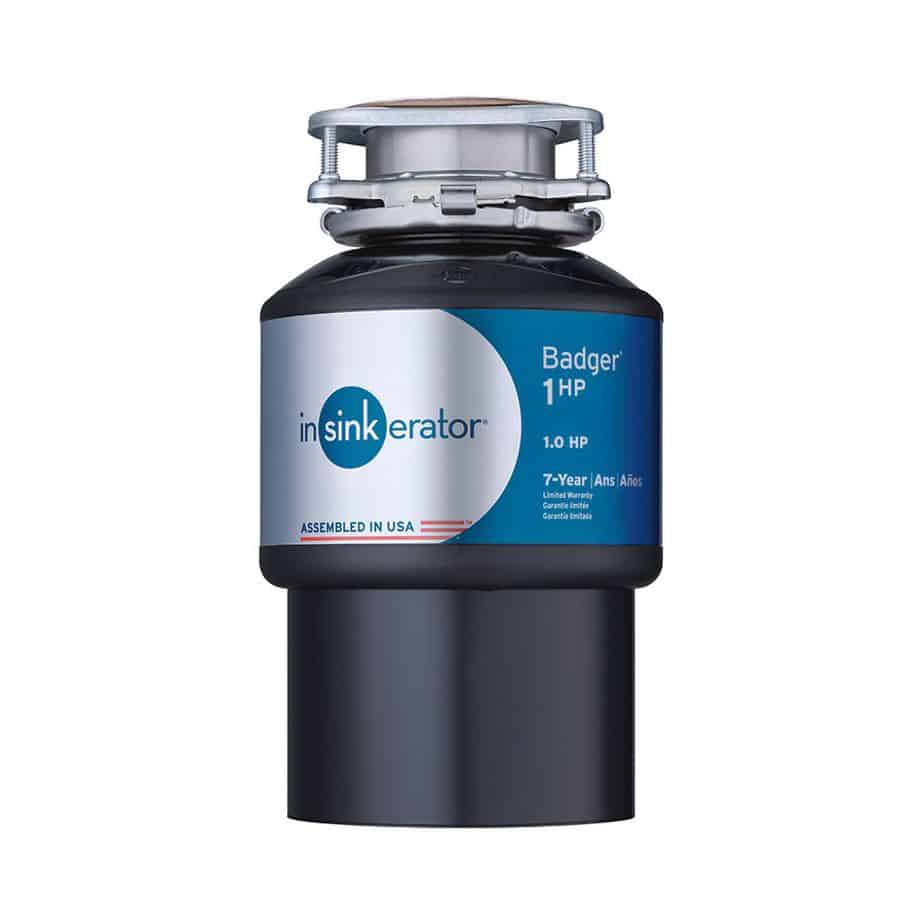 InSinkErator's Badger series is the economic line of garbage disposals. But until recently it lacked powerful disposals. The most popular and powerful one was the Badger 5 which sported a 1/2 HP motor. The main competitor, Waste King, has many models that are more powerful and economically competitive. So I guess InSinkErator is now up for the game with a few new models in the Badger line.
The Badger 1HP disposal is such a new arrival. I don't know what is with the name, they could name it Badger 1000, it would be more recognizable. But let's stick with what we have.
Exactly as the name indicates the Badger 1 HP comes with a one-horsepower motor. InSinkErator doesn't have many models in the 1 HP line, and those which have that horsepower belong in the premium Evolution series which is way more costly than most models.
So Badger 1HP is definitely a game-changer. The unrivaled models like Waste King L-8000, 9980, etc now have a contender.
Here is a quick overview of its specifications;
Power – 1 HP
Speed – 1725 RPM
Overall height – 12-5/8″
Grind chamber capacity – 26 oz
Feed type – Continuous
Grinding stages – 1
Mounting – 3-bolt
Grinding components – Stainless Steel
Warranty – 7-years
Badger 1HP uses a single-phase induction motor. It is a slow-speed motor just like all others in InSinkErators, it runs at 1725 RPM.
The overall height of this disposal is surprisingly low. Its height is only 12-5/8″ so it can be installed at low heights under sink spaces. Most compact disposals are either not economical or powerful so this one is a good choice if you are looking for low-profile garbage disposal.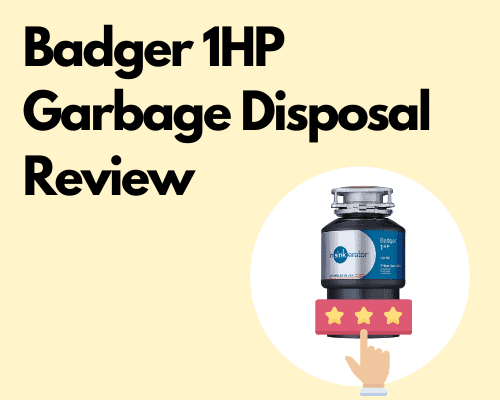 When it comes to the grind chamber capacity it is surprisingly low. 26oz is exactly how much a Badger 5 can handle, so I got curious and compared the dimensions of both models. Surprisingly both models have the same height from under the sink top to the centerline of the disposal outlet. So basically this one is a more powerful variation of the Badger 5.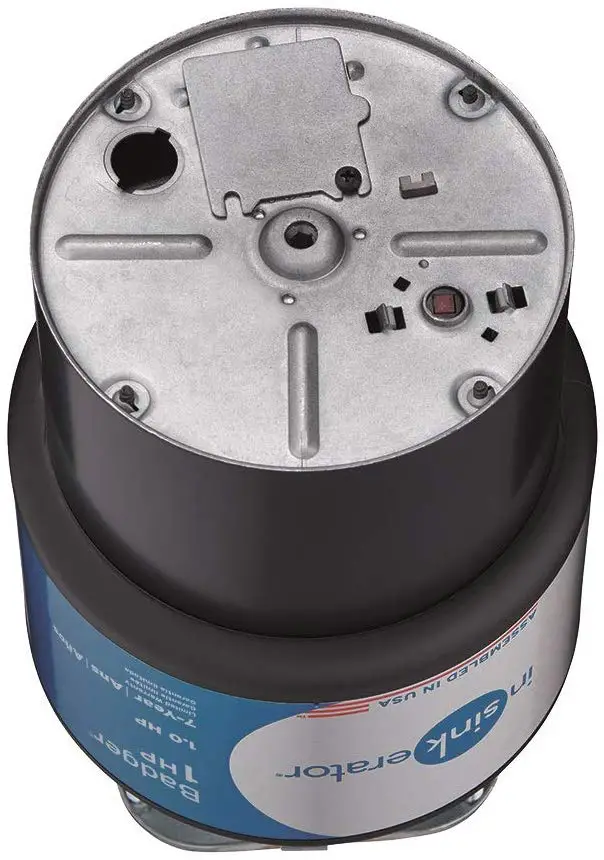 That being said this is a continuous feed type disposal so the griding chamber capacity is of no importance. In case you are wondering what continuous feed disposal is I recommend reading this article – Continuous feed vs batch feed disposals.
Talking about build quality Badger 1HP is nowhere near that of the Evolution series but we are comparing apples to oranges here. A good comparison would be with Waste King L-8000. Both disposals come with Stainless Steel grinding components, and a proven anti-corrosion grinding chamber.
If you are wondering how loud this disposer is; it has no special noise insulations. So it is going to be as loud as garbage disposers are. But frankly, I think the loudness of these machines is far overrated for selling quieter models, just my opinion.
It also comes with a reset button and a hex keyhole.
Badger 1HP comes with a warranty of 7 years. This is pretty good considering InSinkErator's warranties are usually short.
Final words
I think this is a really good model you can trust. I wish they brought this sooner, this one is a real contender in this particular segment. Powerful, reliable, and pocket-friendly this definitely worth buying.
Related Topics:
If you like the article above, here are some other similar articles you should check out!
Waste King L-9940 vs L-3200 – What's the Difference?