Food waste disposal units are very popular in the United States but not so much in other parts of the world. Though the United Kingdom is the fifth-largest economy in the world only a tiny fraction of the houses use a garbage disposal unit.
The reason why Brits aren't into food waste disposers is that culturally Europeans tend not to waste food owing to the shortages experienced during the world wars. Whatever waste they have is usually sent to landfills (or composted).
Anyway, the figures for disposal unit sales are increasing now, I expect more people to use them in the coming years.
That's why I created a list of the best garbage disposal units for the UK.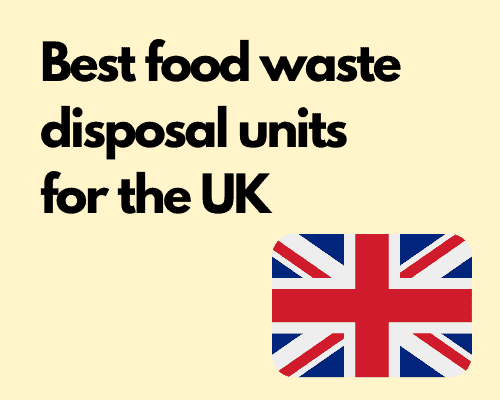 Why a separate list? I mean I already have one here. The thing is, the power supply in the United Kingdom is 220V not the 110 V in the US. Since most garbage disposals are targeting US customers they are only suitable for 110V.
But all the leading manufacturers like InSinkErator make 220-volt versions as well.
If you are living in the UK here is the list of the best 220V food waste disposal units;
Best 220V food waste disposals to buy in the UK
1. InSinkErator Model 46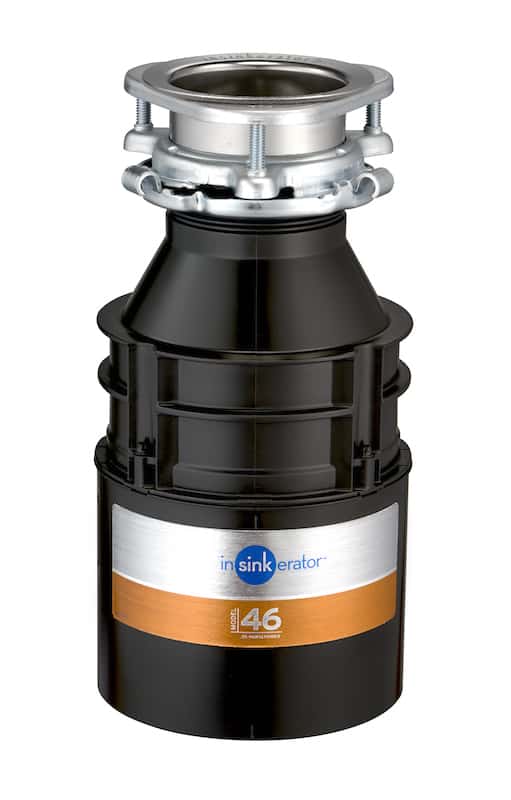 InSinkErator is a very popular disposal manufacturer in the USA. They make some special models suitable for the UK. This is one such disposer;
InSinkErator Model 46 is powered by a 0.55 horsepower Dura-Drive induction motor. It runs at a speed of 1425 RPM which is slower than many other models sold in the US. If your power supply is 60Hz it will run at 1725 RPM but here in the UK, that's not the case.
This is a continuous feed type disposer where you can continuously add food wastes while running the unit. Here is an article about continuous and batch type feeds for your reference.
This is not exactly a quiet disposal unit, it has some basic level of insulation but that doesn't mean it is loud either.
The grinding components of Model 46 are made of galvanized steel. Its grinding chamber can accommodate up to 980 ml of food waste at a time.
Model 46 has a compact size of 318mm x 159mm which makes it possible to fit it under sinks with low spaces. It is covered under a warranty of 2 years.
This food waste disposal is ample for a family of 2 to 4 people. It doesn't come with an air switch but you can opt for one.
2. InSinkErator Model 56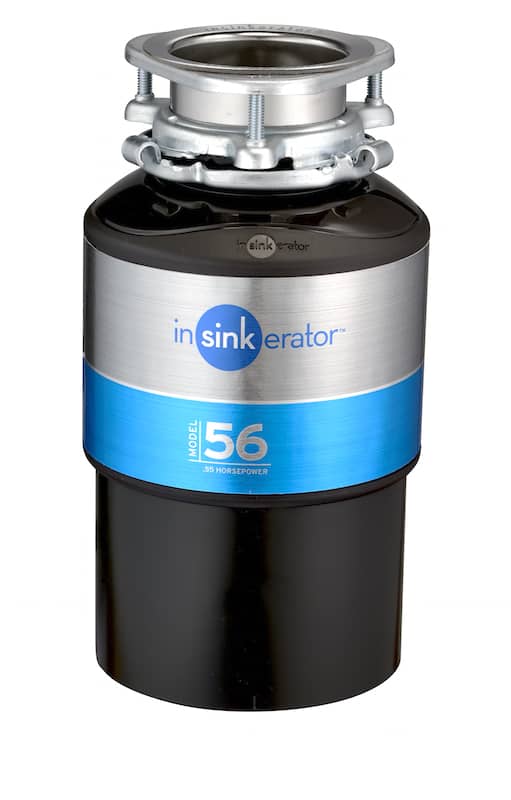 You guessed correctly, this is a better version of Model 46, but the differences are only a few.
Just like the Model 46, this one is powered by the same 0.55 HP Dura-Drive motor, and it runs at a speed of 1425 RPM.
Its feed type is continuous. It comes with some basic noise insulations and it is slightly quieter than the above model.
Its chamber capacity is the same as that of Model 46, you can fill up to 980 ml of food waste in it. But if you check the dimensions of the disposal unit, it is slightly wider with 173mm in width. The height is the same 318mm though.
I think the slight increase in width is probably due to the presence of noise-insulating layers. It also comes with an inbuilt air switch.
Its grinding components are made of stainless steel which is more durable than galvanized steel. It uses a 3-bolt mount assembly which makes the installation easy.
It has a removable sound baffle that is easy to clean. The unit is covered under a warranty of 3 years.
3. InSinkErator Model 66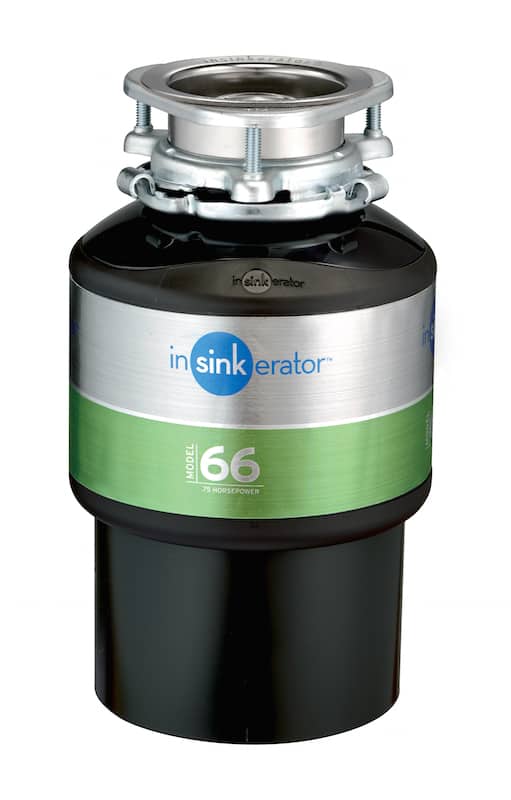 Yes, this is a slightly better disposal compared to Model 56. It is powered by a 3/4 HP motor and it runs at 1425 RPM.
It is much quieter than the 46 and 56 models. This is a continuous feed type disposal with a camber capacity of 980 ml and dimensions 318 mm x 185 mm.
It comes with an inbuilt air switch, you can also connect it with a wall switch. Its sink baffle cover can be removed so this makes cleaning the garbage disposal unit easier.
Its size is compact, it can fit under most countertops without taking up much space.
The grinding components of the InSinkErator Model 66 are made of Stainless Steel. They are more durable and resistant to corrosion than other materials which guarantees a long life for the unit.
The mounting of this unit is easy thanks to the Quick-Lock technology. The same technology is used for all the models reviewed above as well. It also has a built-in air switch.
Model 66 comes with a 4-year warranty. This is a great choice for money and suitable for a household of 2-5 people.
4. InSinkErator Evolution 100
The Evolution series of garbage disposal units by InSinkErator is well known for its durability and premium features.
The evolution 100 is a premium model with lots of features.
It has a power of 3/4 HP and a speed of 1425 RPM. Its motor is exactly the same one used on Model 66. But it offers better performance. Here is how; The Evolution 100 comes with 2 grinding stages while a standard disposer has only one grinding stage. The additional grinding stage helps to cut food wastes into much finer sizes so it is more efficient. Moreover, you can dispose of fibrous food items as well.
It is also 40% quieter than a standard disposal thanks to the SoundSeal technology. The air switch can be easily fitted on any countertop or any other convenient place.
Another premium feature of Evolution 100 is Auto-Reverse. If the disposal detects any jams it keeps reversing its direction of rotation, this to and fro movement breaks any obstructions with ease.
Its grinding chamber is slightly bigger with a capacity of 1005 ml. Its grinding components are all made of Stainless steel. It also comes with a SS strainer and plug.
This is a continuous feed disposal but you can also convert this into a batch feed one by installing the accessories here.
Evolution 100 is covered under a 5-year warranty.
5. InSinkErator Evolution 200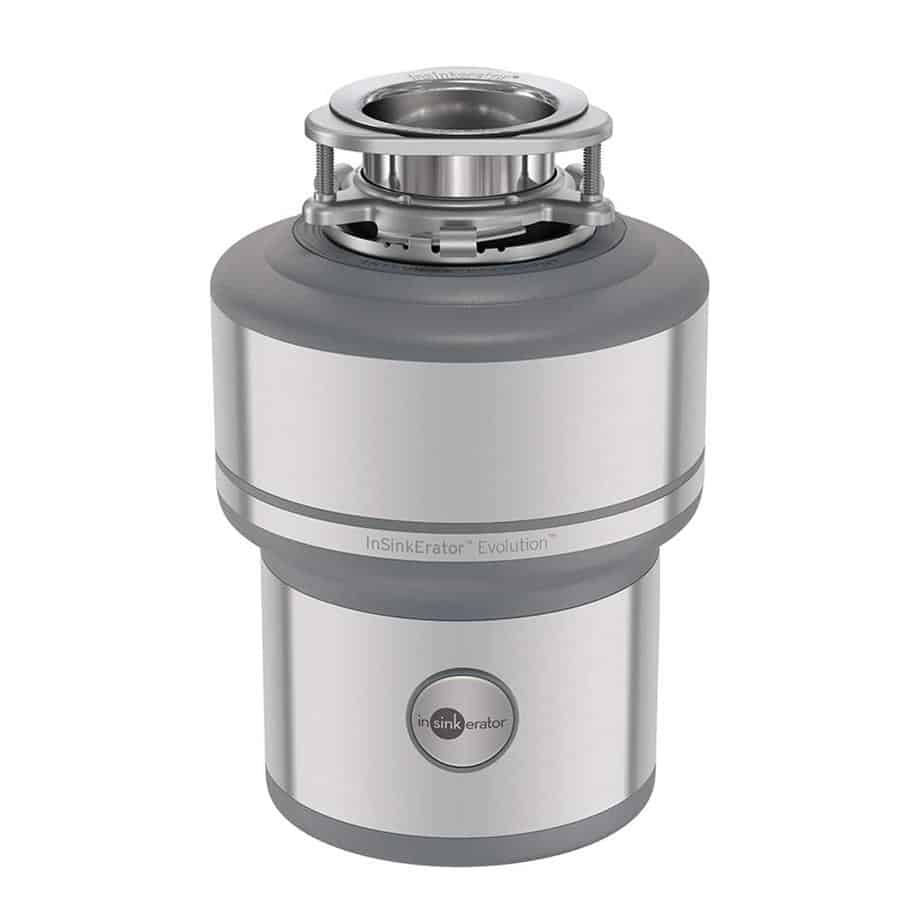 This is the most advanced and feature-rich food waste disposal unit available in the UK.
It is powered by the same 3/4 HP motor in the Evolution 100 and Model 66 disposals. However, it comes with a few additional premium features.
The Evolution 200 disposer uses a 3-stage grinding system. Combined with the 3/4 horsepower this unit can grind almost anything.
It is also the quietest waste disposal in the UK. It is 60% quieter than a standard disposal, all you will hear is the sound of the water running.
In Addition to Auto-Reverse technology, Evolution 200 has a power booster circuit. It detects jams with the help of sensors and increases the torque of the motor accordingly to cut through them. In short this disposer hardly ever jams.
Its grinding chamber is much larger than other models (1180ml). It is also bigger in dimensions; it has a height of 344 mm and a width of 234 mm. Still, it is compact enough to fit in small under-sink spaces.
Just like all other InSinkErator models, it uses a 3-bolt mounting with a Quick-Lock system which makes the installation easier. You can also easily replace this disposal with any of the above models.
Its build is premium with a stainless steel grinding chamber and grinding components. This is a continuous feed type disposer but it can be made batch feed type just like the Evolution 100 model.
Evolution 200 is covered under a 6-year warranty. if you are looking for a premium model that can grind tough food wastes this is the best choice.
Are garbage disposal units a good choice in UK?
UK has a good network of sewage systems and treatment facilities. And the plumbings in UK houses are capable of handling food waste disposal units. So if you want to install one I don't see why not.
UK has one of the best waste removal systems in the world, the local councils do a good job. So in terms of convenience, I prefer the trash can. As for the environment, food waste disposers are environmentally friendly.
So it basically comes down to your choice of whether you need another appliance in your kitchen.
Related Topics:
If you like the article above, here are some other similar articles you should check out!
Waste King 2600 vs Badger 5 – Which is a Better Choice?
InSinkErator Evolution Pro 750 vs 880 LT – A Comparison