Patios, Gazebos, and Veranda- the outdoors, are definitely not the same as indoor spaces in terms of weather, moisture, sunlight, and many other external factors. Thus, the requirements for a trash can differ from those for indoors based on the specifics of the outdoor spaces. 
Trash cans are no longer an irrelevant part of domestic households or of formal places like offices and restaurants. With an excessive emphasis on hygiene and waste management, the importance of trash cans has significantly hiked. 
Although buying a trash can is a simple task, there are too many models to choose from. Also if you buy one blindly without considering the requirements for an outdoor space you are going to regret that decision in the long term.
How to make the right decisions? What factors should you consider? And, what's best for you? Let's find out!
What to look for when buying a trash can for a patio, Gazebo, or Veranda
Outdoors spaces are exposed to different conditions ranging from weather situations to animal attacks when compared to indoors. Anything, a piece of furniture, or a trash can on your patio would have to go through a completely different scenario there.
So there are a few important factors to consider before you go ahead and buy trash cans for your outdoor spaces. Here's a list of things you must consider;
Size of the trash can
It goes without saying that size is an extremely crucial aspect, here. The size of your patio, gazebo or veranda is to be closely examined and taken into account in order to decide the size of the preferred trash can.
If you have a quite larger gazebo or veranda, the larger-sized trash can might work but still not too large. Considering the fact that gazebos do have limited space, so do the veranda and patio, you would want to keep a trash can that is neither too large, nor too small.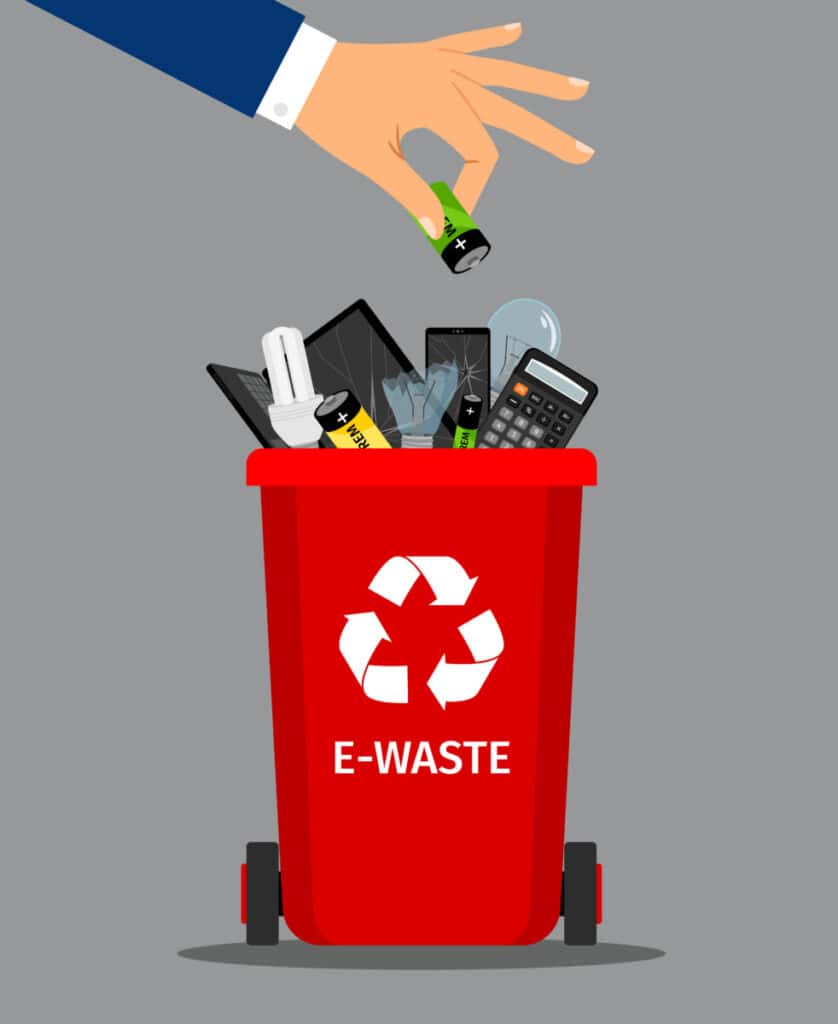 You would not want a trash can to overwhelm the entire impression of the house because patios and verandas are the first places to be seen from the outside. That is why many people prefer these trash cans to be small and some even prefer to hide them.
The amount of trash in a gazebo or a veranda is less likely to be a lot. But the trash spillage out of the trash can is not ideal, to say the least. The most popular trash can size for patios and gazebos is 33 gallons.
Ease of Accessibility and Use
How and where you place the trash cans are not the only factors that impact accessibility. Some trash cans are more accessible than others primarily because of their designs and usage. 
Lids that can be lifted without touching the can are more accessible. You can put the trash in the can even if both hands are busy or you simply don't want to touch the can. This feature makes the trash can more accessible to guests, children, or customers. 
Trash cans are often used as storage cans, as well. People also use it to store pet foods. While these are some unconventional usage of the trash can, you might also have to brainstorm a little about its usage and purpose. If you are going to put a lot of trash in the outdoor trash can, then maybe you would want a trash can with a large capacity and the ones that don't leak. 
Speaking of usage, the restaurant patios and gazebos have more waste to put in trash cans and people usually don't want to touch a public trash can with their hands, if you are planning to buy one for a restaurant or office you must ponder over these factors once.  
Durability and Lifespan of the Trash can 
The durability of the trash can depends on its quality and ability. The desired product is always the one that lasts longer without any compromises in its look and quality. 
Many brands claim to have more durable products than others, because of their confidence in the quality of their products. A durable trash can for the outdoor spaces such as patio, veranda, and gazebo can last for years despite the external extremity of the outdoors. 
You would also have to be a little careful while using it if you worry about the trash can's lifespan. Just make sure you are not putting too much trash at once. Don't overstuff it with heavy trash, it can break or can become disfigured. Also, don't let your pets scratch or play with it. 
A well-built, quality trash can would survive for years. Make sure that the can you are buying is not a feeble one. 
Design and Color Requirements
Gazebos, patios, and verandas are beautiful spaces and people often consider them the best part of their places, houses, offices, etc. This is also the reason why people put so much thought into decorating and designing these spaces.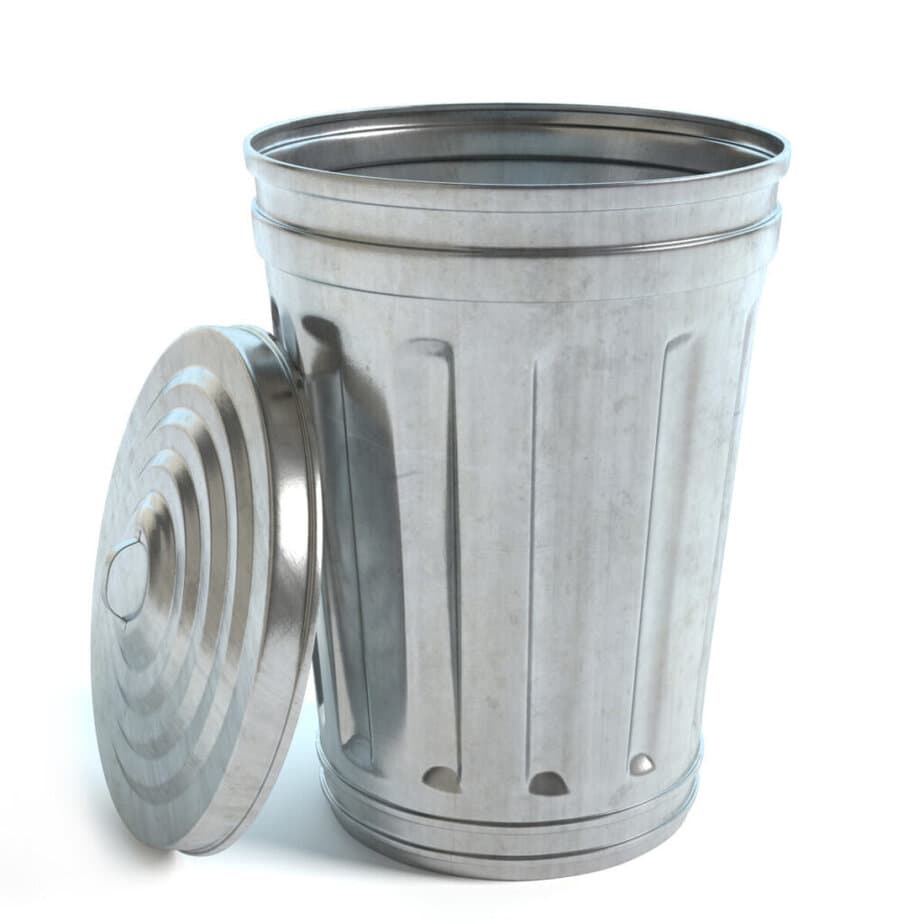 A lovely, well-designed and decorated gazebo can easily be ruined with an out-of-place trash can. There are brands that offer designer trash cans to gel in with the interior and exterior decor of the places like veranda and gazebos. 
There are branded trash cans in a variety of designs and colors to choose from. Some people go for color coding to separate the wet waste from the dry waste. Whereas, some choose to color code to separate recyclables and non-recyclables. You can choose a color that compliments your gazebo or veranda. 
Design can play an important role as well. A designer trash can looks no different from a pretty furniture piece. If you really are after design and looks, you have many amazing options to choose from. 
Material of the Trash Can 
Trash cans are made of various different materials. The material of the trash can is responsible for its durability, design, and to some extent its ease of usage. 
Trash cans are usually made of steel, plastic, and other metals. Some of the latest brands use resin in production. Each material has varied impacts on the quality and durability of the product. 
The stainless steel or galvanized steel ones are the strongest and most durable. But, resin gives a beautiful look to a trash can and makes it rust-resistant and moisture endurable. Whereas, the plastic ones are easy to carry, move, and clean because they often weigh less than others. 
Many brands use more than one material in the trash cans. Some use rubber-based lids while the can is entirely made of metal or plastic. You can decide which one to buy considering what you value more for each material has its pros. 
Some of the best quality trash cans come with steel handles and airtight lids. These are popular and in demand because of their durability. 
Ability to Withstand Weather Conditions and UV rays
As stated above, the trash cans in the outdoor spaces such as patios and gazebos will need to be a lot tougher than the indoor ones. These trash cans are exposed to harsh weather conditions, wild birds, and stray animals. And to top it all, the sunlight each and every day!
While buying a trash can for your patio or gazebo, think about the weather conditions and UV rays and the possible harm that can come to it. There are branded trash cans available in the market which are made of UV-resistant and rust-free material. Some of these brands use materials that can't be scratched or drawn upon, preventing the trash can from animals and vandalism.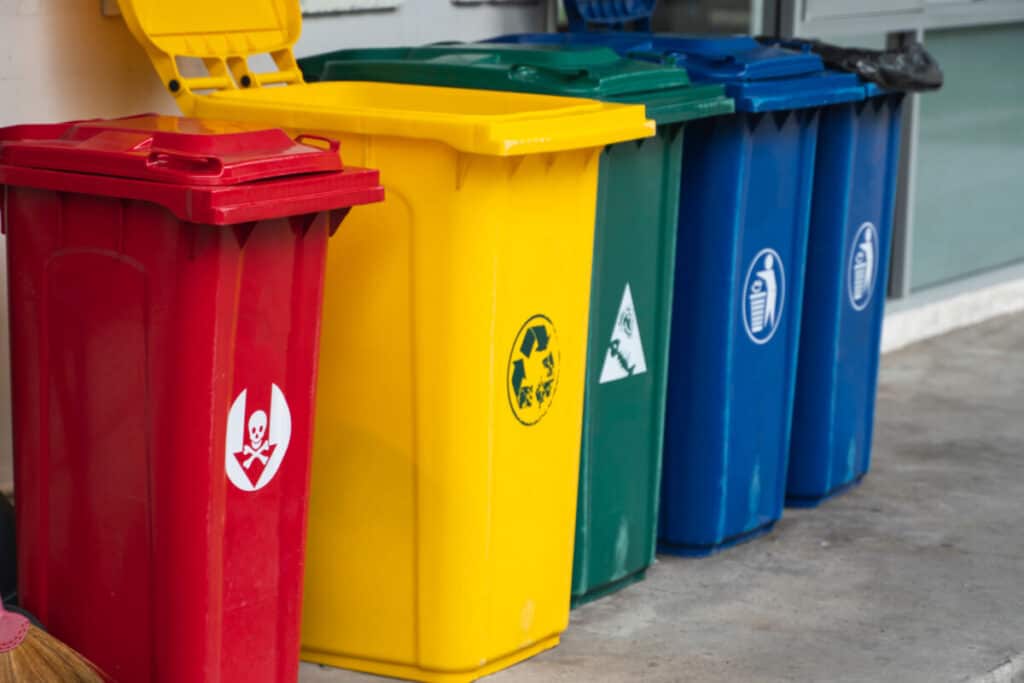 The smart decision is to invest in a can that can endure harsh weather conditions and heavy moisture or sunlight. 
Warranty Offers
Only the branded trash cans come with some sort of warranty. Whether it be an assurance through its quality or a formal warranty, it's only possible with a branded product. 
Our personal advice to you is that you buy a branded trash can, that assures you not only of all the factors that we have listed but also gives you a formal warranty. 
Ease of Cleaning- Removable Liner, Removable lid, and Integrated Handles
Trash Cans can be the cause of stinking smells and an unhygienic environment, if not cleaned at regular intervals. A trash can on your patio or veranda better is clean and tidy. 
Cleaning the trash can is a regular and unavoidable task. You would not like to waste much of your time struggling to clean it. Thus, an easy-to-clean trash can is the best option out there. 
The waste will remain stuck to the sides and in corners of a complexly designed or narrow-sized trash can. Whereas, a can that is spacious and easy to reassemble without any tool is ideal when it comes to cleaning. 
Some trash cans come with removable liners and removable lids. These are easier to clean for each and every part of it can be washed and dried up separately. Removable rims help secure trash bags and full-sized lids make the lifting of full trash bags easier. 
Mobility/ Stability- Wheels/ No wheels 
Last but not the least, mobility is a big deal with outdoor trash cans. Whether you want a stable can or a mobile one with wheels is your choice but here's the deal. 
On one hand, not all outdoor trash cans need to have mobility because a trash can in your veranda and gazebo can be stable without causing any trouble. On other hand, a trash can on the patio can be big considering that you have to take out the entire trash. It has to be mobile, with wheels, and easily be able to move from one place to another. 
Again, the use of the can determine whether a stable one or a mobile one would work for you. But, the mobile trash cans are handy and easy to use. You can easily take them to different places to empty them without having to drag them. 
If you are indecisive about the wheels or no wheels, there are adjustable ones available too. The adjustable trash can work both as mobile and stable. So, don't worry!
Top 5 Picks of Outdoor Trash Cans for Patios, Gazebos, and Veranda
| Trash can model | Trash bag size | Dimensions | Construction |
| --- | --- | --- | --- |
| 1. Keter Copenhagen 32 Gallon Resin Large Trash Can | 30 to 39 gallons | 15 in. W x 15 in. D x 33.3 in. H | Polypropylene Resin with Duotech |
| 2. Suncast 33 Gallon Hideaway Trash Can for Patio | 30 to 33 gallons | 15.75″ x 16″ x 31.6″ | Polypropylene Resin |
| 3. Keter Baltimore 38 Gallon Trash Can with Lid and Drip Tray | 30 to 39 gallons | 14 in. L x 16. 14 in. W x 34. 4 in. H | Polypropylene Resin |
| 4. Safco Products Canmeleon Outdoor/Indoor Recessed Panel Trash Can 9476BL | 30 to 39 gallons | 18-1/4″W x 18-1/4″D x 39-1/4″H | High-Density Polyethylene Resin |
| 5. Keter Pacific 30 Gallon Resin Rattan Large Outdoor Trash Can | 30 to 39 gallons | 15 in. W x 15 in. D x 33.3 in. H | Polypropylene Resin |
1. Keter Copenhagen 32 Gallon Resin Large Trash Can
Keter Copenhagen is in this list of best 5 not because of one but for many reasons. From its size, design, and use to its durability all tick the boxes of perfection.
It is designed for the patios and its design reflects that rightly. Its width is 15 inches and it has a height of 33.3 inches. You can use 30 to 39-gallon size trash bags in it.
In terms of its usefulness, it stands out remarkably well. It comes with a full-sized plastic removable rim to stabilize the trash bag in it. Once the trash bag is full you can easily take it out without any hurdle because it has an extra-large opening. 
Its designer finish gives it an elegant look. It has durable metal handles and a metal hinged lid that looks good on the dark-colored resin and gives it a sleek look. 
The ease of accessibility is emphasized more with the lid and metal handles although the entire trash can is easy to use and manage. 
It's rust-resistant, rot-resistant, and moisture endurable because it is made of resin. The durability of this product is not compromised with the looks or vice-versa. It has a gorgeous wooden design.
2. Suncast 33 Gallon Hideaway Trash Can for Patio
Suncast hideaway trash can is one of the finest for outdoor spaces such as patios, gazebos, veranda, backyards, etc. Its perfect size goes well with trash bag sizes of 30 to 33 gallons.  Its size and design provide maximum usage without overwhelming the exterior decor. 
The hinged lid latches onto the can so it remains safely closed. This locking mechanism prevents pets and rodents alike. It also prevents the stench to a great degree from getting out.
The material used for its construction is resin. This is a rot-free and rust-resistant material. It withstands the moisture outside and endures the harshest of weather conditions. It is also UV resistant so the color doesn't fade away.
The best features of the Suncast Hideaway trash can are its size and design along with its durability.
3. Keter Baltimore 38 Gallon Trash Can with Lid and Drip Tray
Keter Baltimore trash can is specifically designed for outdoor spaces. Its size is a bit larger than the other on this list; 38 gallons. It is suitable for 30 to 39-gallon trash bags. 
It's one of the most durable products. It is made of resin and which makes it very strong and durable. It is rust-free, rot-free, and moisture-induced damage free. Polypropylene prevents harsh weather, peeling, and denting. 
The additional feature of this trash can is its fluid drawer. This designed fluid drawer is made primarily to make the cleaning process as easy as possible. 
The double-lid of this trash can makes it look cool with the added benefits such as hidden trash bags and secured units of trash. 
4. Safco Products Canmeleon Outdoor/Indoor Recessed Panel Trash Can 9476BL
Canmeleon Outdoor/Indoor Recessed Panel trash can might be the best on this list. Its design is smart and attractive. Even the decorative fluted panels create a strong top and receptacle. 
It's made of the same resin used in all other trash cans on this list. As this material is resistant to all outdoor corrosion elements this Safco trash can is guaranteed to last a long time.
Its liner hides trash bags and makes it accessible for easy cleaning and maintenance. This trash can is ideal for use all outdoor living areas whether that is in your home or in public and office spaces.
5. Keter Pacific 30 Gallon Resin Rattan Large Outdoor Trash Can
Keten Pacific trash can is as elegant as it can get when it comes to trash cans. It's sleek and stylish. It has an amazing brown rattan design suitable for indoor as well as outdoor home decor. 
This trash bin can accommodate 30 gallons of trash, and you can use 30 to 39-gallon-sized trash bags with it.
It has a full-size plastic liner that is removable. This liner secures the trash bag perfectly well. Its full-sized lid gives a proper opening for easily lifting the fully filled trash bags. Its sleek and contemporary design makes it a good choice for any outdoor living space.
Related Topics:
If you like the article above, here are some other similar articles you should check out!
Best Spring Loaded Touch Bar Trash Cans for Home and Office Spaces