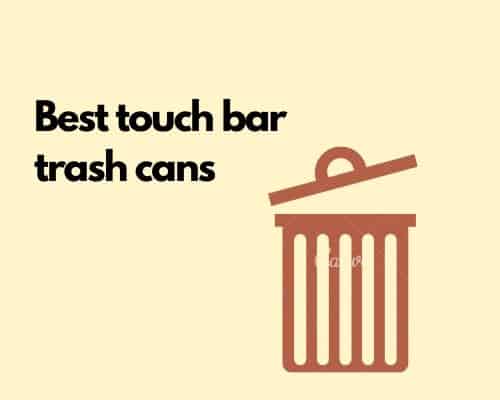 There are many types of trash cans based on how they work. A spring-loaded touch-top trash can is one such type. They come with a touch bar/push bar and a spring-loaded lid. The lid is kept in a closed position using a latching mechanism. When the touch bar is pressed this latching mechanism disengages, and the lid opens up.
For this type of trash can the lid, once opened, stays open until it is manually closed. This is convenient when you have bulk amounts of trash to dispose of.
There aren't many touch-bar trash cans in the market. So finding a good one is not difficult. Here are my recommendations for the best spring-loaded touch-top trash cans;
| Trash can model | Capacity |
| --- | --- |
| 1. Simplehuman touch bar dual trash can | 12.7 gallon |
| 2. Simplehuman touch bar trash can | 10.6 gallon |
| 3. Rubbermaid touch top lid trash can | 13 gallon |
| 4. Rubbermaid spring top trash can | 13.25 gallon |
1. Simplehuman 12.7-gallon touch bar dual trash can
Simplehuman is the leading manufacturer of premium trash cans in the US. Their trash cans excel in design and functionality. Since they come loaded with many features and excellent build quality they are often priced very premium.
This touch bar trash can is Simplehuman's version of the spring-loaded type trash can. It has a wide bar in front of it but it is more of a push bar than a touch bar. To open the lid you just push this touch bar down.
Once you push down the bar the lid will spring open since it is spring-loaded. The lid will stay open as long as you like. It can be closed only manually.
The good thing about this Simplehuman touch bar trash can is that its touch bar is designed so that it can be easily opened from any angle. You can use your elbow, knee, or anything, it is so easy to push down. The problem with other trash cans is that their touch bars are not so easily accessible. In addition, the latching mechanism of Simplehuman trash cans is mostly free from damage. The garbage cans from other brands often stay open since their plastic latching mechanism becomes faulty over time. But that of Sinmplehuman is of high quality to make sure it lasts much longer than the competition.
Another example of careful design is the lid. Most of us keep the trash cans very close to the wall, and we all know that the lids hit on the wall when we open them. But the lid of this model is carefully designed to prevent that. It stays at an angle away from the wall to make sure that the lid doesn't touch the wall.
This is a dual trash can ie, it has two compartments. One is made for trash and the other for recycling. It has a total capacity of 12.7 gallons which is equally divided between the two compartments. It uses custom-fit liners specially designed by Simplehuman.
The build quality of this model is excellent. Its body is made of stainless steel which is fingerprint and smudge resistant. The trash bins are made of high-quality plastic. The whole lid section can be lifted up for easy accessibility while removing trash bags. The can is designed so that the bag is hidden from view.
It is also available in 8 and 10.5-gallon sizes but without dual compartments.
This model is covered under a 10-year warranty, so there is no need to doubt its build quality.
2. Simplehuman 10.6-gallon touch bar trash can
This is another excellent touch-bar trash can from Simplehuman. It has a capacity of 10.6 gallons. Unlike the before-mentioned model, this one has only one compartment.
The design and working of this model are very similar to the previous model listed above. The main difference, apart from having only a single compartment, is the shape. It has only a width of 10.2 inches, it is very slim, and can fit in tight spaces.
Its lid is very slim and opens wide enough to swallow trash without spilling. The stainless steel finish touch bar is very responsive and opens the lid smoothly when pressed. Its wide size makes it convenient to open from any angle. The lid is spring-loaded, and it stays open until it is manually closed.
The body of this Simplehuman model is made of stainless steel. It is resistant to smudges and is fingerprint-resistant. It is very easy to clean as well.
The bin inside is made of high-quality plastic. It can be completely lifted out. The lid is removable so it is very easy to replace the garbage bag. The unit comes with holes at the bottom to allow air intake so that the garbage bin can be easily removed.
This model too comes with a 10-year limited warranty. If you are looking for an excellent, good-looking, and long-lasting trash can, this one is an excellent choice.
3. Rubbermaid touch top lid 13-gallon trash can
This is an affordable spring-loaded trash can that can accommodate 13 gallons of trash. Its lid is spring-loaded just like all others on this list. Its opening mechanism consists of a metallic finished bar that can be pressed down to open the lid.
The entire trash can is made of high-quality resin. It has an inner liner bucket to hold the trash bag in place. It also hides the trash bag from plane view.
Once opened the lid needs to be closed manually. When compared with the above Simplehuman models this model is not easy to operate due to less accessibility of the touch bar. But the vast difference in their prices justifies this little inconvenience.
One advantage of this model over the Simplehuman trash cans is that you can use any standard 13-gallon size bag in it. This saves a lot of money in the long term which otherwise would be spent on custom liners.
This model is available in 3 colors; black, white, and gray. If you are looking for a budget trash can with a spring-loaded lid this one is an excellent choice.
4. Rubbermaid 13.25 gallon spring top trash can
This is another touch-top trash can from the company Rubbermaid. It is slightly larger than the previous model and comes with a capacity of 13.25 gallons. It has a spring-loaded lid that opens with the help of a wide button.
This is a budget trash can that is affordable for everyone. But that also means this is not perfect in terms of reliability and build quality. It is made of plastic (including the push button) and it doesn't work as smoothly as the premium models.
But that doesn't mean this one is entirely worthless. It does the job it is made for. And it can accommodate a good amount of trash as well. Moreover, you can use any standard garbage bags in it which are much cheaper than custom liners.
This model is available in three colors; white, black, and gray. It is made in the US.
What to look for when buying a touch bar trash can?
Even though there are only a limited number of touch bar trash cans to choose from, it is recommended to keep in mind the following;
Size
When buying a trash can make sure it is the right size. It shouldn't be too big or too small. A big trash can will take time to fill up, as a result the food wastes in it will start to rot and smell. A small trash can fills up fast so you will have to frequently change the liner. The most common trash can size for a kitchen is 13 gallons.
If you are looking for an office trash can then a good size would be 8 gallons.
Build quality
A trash can made of high-quality material will last longer. Also, the latching mechanism of such models is more reliable than the others. Good build quality doesn't always mean pricey. Plastic trash cans last longer than stainless steel ones because plastic doesn't, rust, corrode, or dent. So if you are looking for a budget trash can a high-quality plastic model is more than enough. Weight is a good indicator of quality, if the trash can weighs more it is likely to be made of good materials.
Features
From a practical perspective, the features of a trash can don't weigh much. After all, it is a trash can. But premium trash cans are much more reliable and easier to use since they come with more features. It is not important to look for features but if you need a smooth operating trash can it is good to have them.
Related Topics:
If you like the article above, here are some other similar articles you should check out!
Best Wire Mesh Trash Cans for Home and Office Use.
Best Trash Cans for Camping – Collapsible, Pop Up Trash Cans
Best Trash Cans for Outdoor Living Areas like Patios, Gazebos, and Veranda