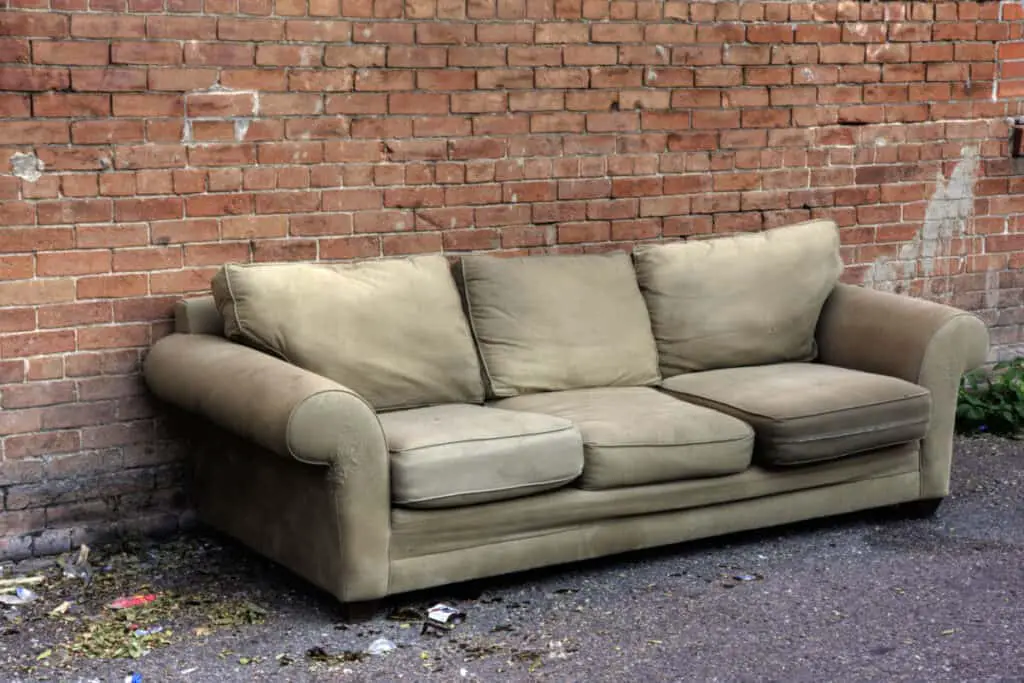 If you have an old couch to get rid of, it's beneficial to weigh the different options you have to see which will be the most cost-effective and convenient for you. Taking your couch to a dump or landfill is usually pretty affordable, although most dumps and landfills will charge you a fee for each piece of furniture.
Dumping furniture costs between $10-$50 per item at most landfills, and it is slightly more expensive to have it hauled away. Although it will vary slightly depending on location, the average cost for couch removal is $42.60. The exact cost to dispose of a couch will vary depending on the location.
You might be wondering why you have to pay money to throw your ratty old couch away, and the answer is pretty understandable. When you take your couch to a dump or landfill, the workers will often need to take the time to take off the upholstery and break the couch down into smaller pieces so that it takes up less space in the landfill. The fee is usually charged in order to compensate for the time and effort it takes to complete that process.
Comparing Costs by City and State
Furniture disposal costs about $32-$40 per ton at most US landfills, and keep in mind that this does not include the cost of renting a truck, gas money, and the time it takes to haul the materials. Although the price will change depending on your location, the average cost to drop your couch off at a dump is about $43.
Taking your furniture to the dump yourself will save you money on hauling fees, but it will also cost you more time and effort to move, load, and transport the furniture. Both options will help you to achieve the goal of getting rid of your couch just the same, so the best option just comes down to how much time and money you are willing to spend on the endeavor.
The good news is that when it comes to furniture removal in the US, homeowners are paying fairly similar prices to have their furniture hauled away, with most paying between $30-50 for the service. In Provo, UT, homeowners pay $32 on average to have their couch removed. Couch dumpers in Orem, UT are paying an average of $32 for the service in 2022. In Rexburg, ID, homeowners pay between $49 and $54. In Hudson, New York the average cost is $38. In Los Angeles, residents pay between $53 and $57. In Renton, WA, just outside of Seattle, the average was $37. With these numbers in mind, you can expect to pay $43 (give or take a few dollars) to have your couch hauled away and disposed of for you.
Other Ways to Dispose of Your Couch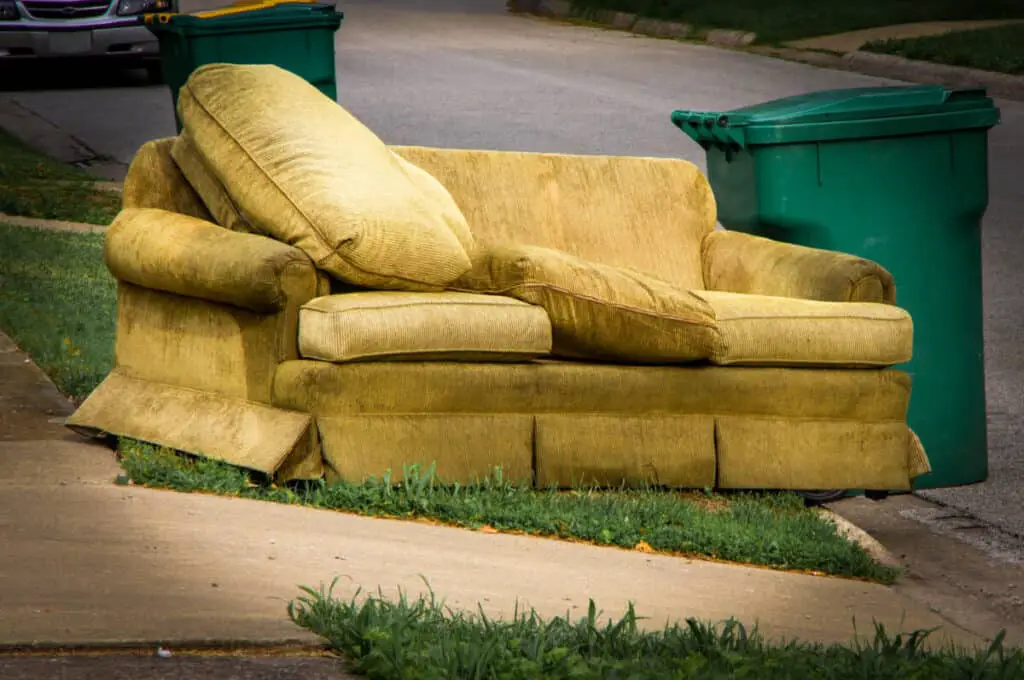 If you are wanting to limit the amount of time your couch is going to spend in a landfill by a few more years, there are a few other options for furniture disposal for you to consider, most of which are equally or more convenient. Here are a few:
Leave it on the Curb or Near Trash Bins for Junk Collectors – You might not be aware of it, but there are plenty of people who love dumpster diving and collecting old, thrown-away items either for their own usage or for "upcycling," repurposing, and reselling.
If you leave a piece of furniture out on the corner, at the curb, or near your trash bins where others can see it, there's a good chance that someone could drive by and haul it away for you for free. Just place your couch outside a few days before the garbage collectors come, and be sure not to place the couch for pickup anywhere that's not your own property.
Donate it to a Thrift Store, Charity, or Nonprofit – You can typically donate furniture to Goodwill, the Salvation Army, or other charities if it is in decent condition. Depending on your location, you can find many organizations that accept donations. Some that will even come to pick up the furniture from you! Here are a few donation centers that usually offer pickup services:
Habitat for Humanity ReStores
Salvation Army 
National Furniture Bank Association 
Vietnam Veterans Association
Local furniture banks
Keep in mind that some charities like Goodwill and other local shelters will usually require you to drop the furniture off.
Put an Ad on the World Wide Web – Putting an ad on Craigslist, Facebook Marketplace, or KSL for a "free couch available for pickup" is another great way to get someone else to do the dirty work while getting rid of your couch just the same. There are many people who will jump at the opportunity to get a free couch even if it's well-loved and not in the newest condition (this is how my college roommates and I got one of our couches!).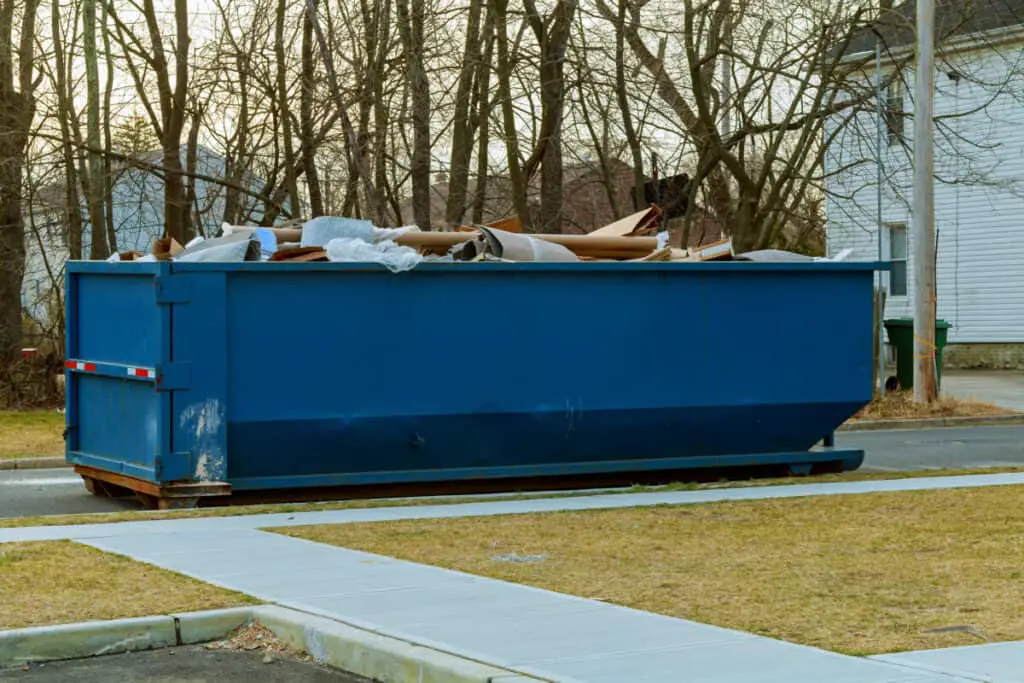 Rent a Dumpster – If you're doing a major house-wide decluttering project, renting a roll-off dumpster might be the best option for you. You can rent a roll-off dumpster of the size of your choosing and get to work filling it up with all your unwanted items. This way, you can have all your large items hauled away at once likely in one trip, and you don't have to be the one to do it!
Donate to a Local School, Church, or Community Theater – If your couch is in good enough condition, some local organizations may be able to put them to good use. Many schools, churches, and theater groups operate on small budgets, and they may be able to make good use of your old furniture for a future event or show, so it couldn't hurt to ask!
Donate to a Local Animal Shelter – If your items are not in good enough shape to donate to a charity, church, or other community groups, some animal shelters accept worn-out furniture for the animals to sit on. Just call your local humane society or shelter to see if your old furniture could make life better for some local animals!
Related Topics:
If you like the article above, here are some other similar articles you should check out!
Cost of Dumping a Piano at the Dump
Cost of Dumping a Boat at the Dump