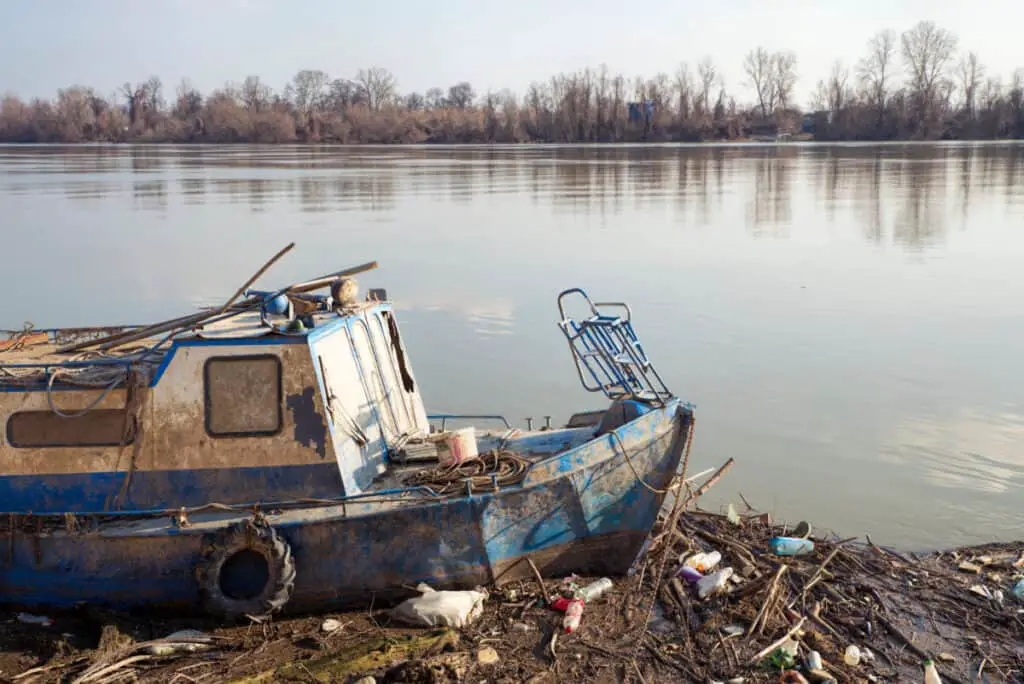 Boats are expensive to purchase and maintain, and getting rid of a boat can cost a lot as well–depending on where you live. That is not to say that the process is guaranteed to cost you a lot of money. The cost of dumping a boat at a landfill will vary from state to state and city to city, particularly in coastal cities where there are lots of boats.
To dump a boat at the dump, it will cost about $5 per foot to $105 per ton. The cost will vary depending on the landfill's rates and how big the boat is. There are some cities in the U.S. that have programs in place to dispose of boats for free and will not charge a fee.
In order to get a better idea of the variation in boat dumping costs, you can read below to find a list of 5 different locations and what it would cost to dispose of a boat there. Remember that at the end of the day, the most accurate price quote will likely be listed on your city's or county's solid waste district or landfill website.
How Much Does it Cost to Dump a Boat?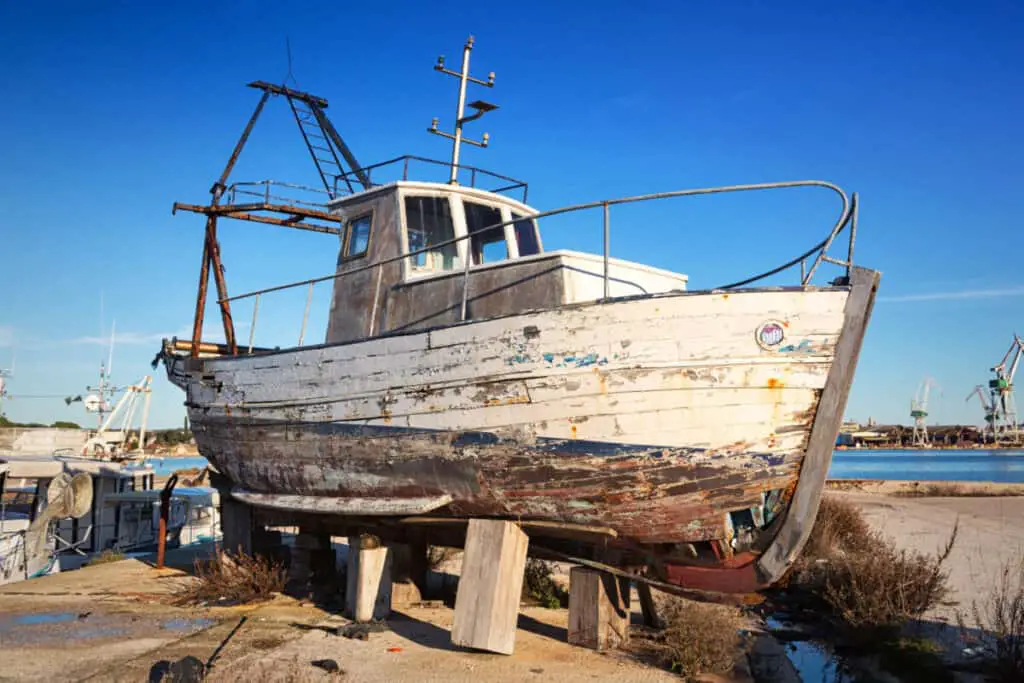 Although Utah is landlocked, there are plenty of boat owners in the state who take their boats out on the many large bodies of water found in the state, including the Great Salt Lake, Utah Lake, and Lake Powell. So, what does it cost Utah boat owners to dispose of their boats after years of use?
The Salt Lake Valley Landfill accepts boats at $32 per ton. They do note on their website, however, that all fluids, tanks, batteries, and refrigerators must be removed prior to dumping the boat. The boat must also not contain excessive garbage or prohibited items at the time that it is dropped off.
Just a few miles south of Salt Lake is the city of Provo, which borders Utah Lake. In order to dump your boat at the South Utah Valley Solid Waste District (SUVSWD), you are required to show proof of ownership of the vessel by a bill of sale or old registration.
This policy is in place because the DMV requires proof of ownership for any item that requires registration, including boats, which are under the classification of "automobiles" by the SUVSWD. Those that do not have proof of ownership must contact the DMV prior to dumping the boat.
The SUVSWD will accept automobiles only with their original title, or registration and proof of ownership with a valid driver's license. The person dumping the boat will be charged a fee dependent upon the weight of the vessel.
In addition to the option of taking your boat to the SUVSWD, other Utah Valley residents have the option to donate or recycle their boat or other vehicles, or some of the parts at the following locations:
National Kidney Foundation -Tow Kars of Utah – (801) 226-5111
Used Parts Dealers – locals can check listings online or in the Yellow Pages
Western Metal Recycling – located at 1776 S. Colorado Ave., Provo, Utah (801) 841-3135
State Street Auto Wrecking – 2403 S. State Provo, Utah (801) 377-2060
Transwest Auto (801) 768-0200
Utah Pic A Part – (801) 775-5878
In locations that are more costal, some cities have specific programs in place in order to help residents get rid of their boats to keep them from being abandoned, since this is harmful to the environment in the long run. The state of Washington is one of these areas with a vessel-turn-in program, and depending on the circumstances, boat disposal is potentially free for those that apply and are eligible.
For those that do not qualify, there are still other good options for getting rid of an old boat in a responsible way. Snohomish County suggests one of the following:
Take Your Vessel to the Landfill: It is always an option to take your boat to the landfill. Most landfills require you to remove the oil, fuel, batteries, and any refrigerators before they will accept your boat. Like in Utah, proof of ownership may also be required. Be sure to call your local landfill to find out all of the requirements in place before dropping off your boat. If you don't have a boat trailer, you can contact a local tow company and have them transport the boat for you, or contact a boat transport company.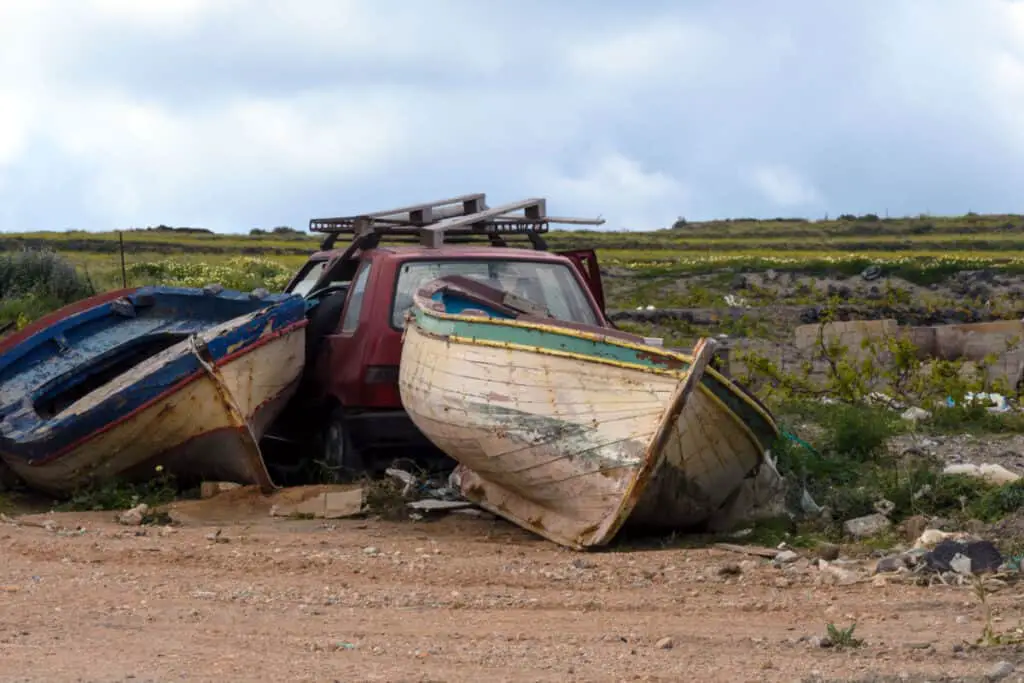 Rent a Dumpster and Dismantle the Boat Yourself: Another option that will require more of your time, but that could potentially be a very satisfying project, is to rent a dumpster and dismantle the boat yourself with a chainsaw or Sawzall after draining and disposing of any hazardous materials. Engines and boat trailers can often be recycled with a metal recycler or at a scrap metal shop.
Snohomish County's Solid Waste Environmental Cleanup Team (ECUP) in Washington state also offers a service to recycle and dispose of unwanted boats, boat trailers, campers, and travel trailers.
With Snohomish County's Boat Disposal Program, the disposal fee is determined by the vehicle weight and is charged at $105 per ton. Keep in mind that a $36 fee is also charged for the refrigerator-freezer and/or air conditioning unit if not removed prior to dumping.
Broward County, Florida is another coastal location with a landfill that charges a fee according to the size of the vessel. In Broward County, the cost to dump a boat in the landfill is $5 per foot, according to the county website.
Idaho is another land-locked state with a decent amount of boat owners. In Teton County, Idaho, disposing of a boat will also cost a fee that is charged by the ton. Non-metal and non-wood boats are considered to be "unsorted" items and are charged at $210 per ton.
With all these comparisons in mind, there's no certain number as to what it will cost to dump a boat in your local landfill, but looking at the different prices it should come as no surprise if you are charged a few hundred dollars to have your boat disposed of by the city.
Related Topics:
If you like the article above, here are some other similar articles you should check out!
Disposing of a Microwave: A Guide