"Might run neck and neck with Whirlaway the thoroughbred."
Of course, it was an exaggeration. But mind you, for a 1/2 HP motor, it's quite fast and strong.
And:
If Whirlaway (The famous horse) had the same power, this one might beat it – we're serious!
While this may not be the strongest or the fastest disposer out there because the horsepower is limited, it actually is capable of doing quite an impressive job.
By now, you might be familiar with the famous Anaheim Manufacturing Company – a name that quickly turned into one of the leaders of garbage disposers with its Waste King Disposer line.
Well:
The good news is that they're the manufacturers behind the Whirlaway 291 Disposer.
This also means that you can have the assurance of getting a better bang for your buck.
With that piece of news, let's delve deep into the facts we've got here.
Compact Design
Looking for a disposer but hadn't found one that could be squeezed into your cabinet below the sink? Then this might put an end to your search.
At 13.7 x 6.1 x 5.9 inches, Whirlaway 291 Disposer is one of the smallest models we've come across. It will hardly give you any space trouble.
But, if it still can't fit under your sink, then we ain't sure which one would.
Works Like A Charm
Since you're looking for a 1/2 HP motor, you'd better not have tough food wastes in mind.
And though it has only a limited capacity, as we've mentioned earlier, it's way better than most other 1/2 HP disposers.
The motor is a permanent magnet motor, therefore it produces more power per pound.
While at the same time, the blades in the grinding chamber are not made to spin, but to slide. This prevents jams and eliminates the need of having swivel impellers.
As a result, you don't have to worry about feeding it with all your fruits and vegetable peels – it is even strong enough to munch cantaloupe rinds!
In other words, if purchased, you will end up being best friends with this little disposer in no time at all.
EZ Mount Is Easy
If you've dealt with a disposer from the Waste King line, then mounting this one would not be a big deal for you.
Because:
As the name itself suggests, the EZ mount is actually very easy. For an experienced plumber, this would be a job of 10 minutes.
However, if Whirlaway 291 Disposer is going to be your maiden plumbing experience, then we strongly suggest you invest some time in reading the instruction manual.
Perhaps you can look into YouTube videos on EZ mounting as well. Once you have the process nearly by heart, then set to work. Nothing would go wrong.
Long-Lasting Nature
Anaheim Manufacturing Company has tried its best to give you the finest value for your money.
That is why they've taken measures to prevent corrosion by using non-corrosive materials.
The grinding components are entirely made up of those. So they won't rust over time and would sustain long years of heavy use.
Warranty Is Not Aimed To Please
When compared to the warranties given for the Waste King disposers, a 2-year Over-The-Counter Replacement Warranty for this unit puts many customers off.
But then again, we don't think it's fair to compare this disposer with the Waste King disposers – especially since the price is much lower.
So, if you can make sure that the Whirlaway 291 Disposer has no material or manufacturer's defects within the warranty period, then the chances of encountering further problems would be slim – until, of course, it's time to find another disposer.
What Comes With The Package
Through experience, we've seen buyers make one particular mistake in common.
That is:
They don't pay close attention to detail. Which, ultimately, pisses them off to write bad reviews – totally unfair from the producer's viewpoint.
So let's put an end to it by getting to know what you'll be paying for, in addition to the Whirlaway 291 Disposer.
Since it is dirt cheap, we ain't surprised to say that a power cord is not included. So you'll either have to buy one or dig out the one from your old disposer.
However, the manufacturers have saved you the expense of a Splash Guard and a Sink Stopper. Don't hurry and buy yourself these separately, like some customers have, just to end up disappointed.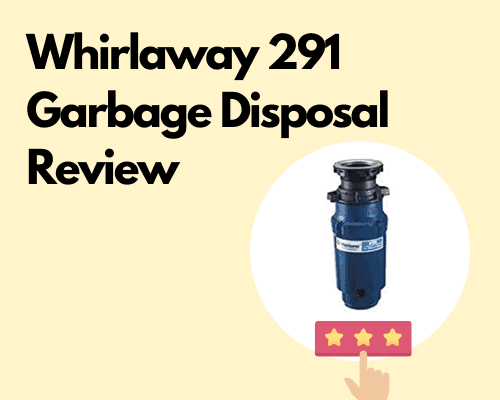 Whirlaway 291 Review Summary
All right, you would've already got the idea that this disposer doesn't have bells and whistles – yet, when the price and quality are combined, it simply becomes a wonderful 1/2 HP disposer worth considering a purchase.
And as always, Amazon is the best place for further information and lower prices – so don't forget to pay a visit.
But if you think you can make more room under your sink for another best-selling disposer, then our review on Waste King L-2600 might help you make the right buy.
Related Topics:
If you like the article above, here are some other similar articles you should check out!
General Electric GFC520V 1/2 HP Garbage Disposer Review
Kitchen Aid KCDB250G 1/2 HP Continous Feed Review