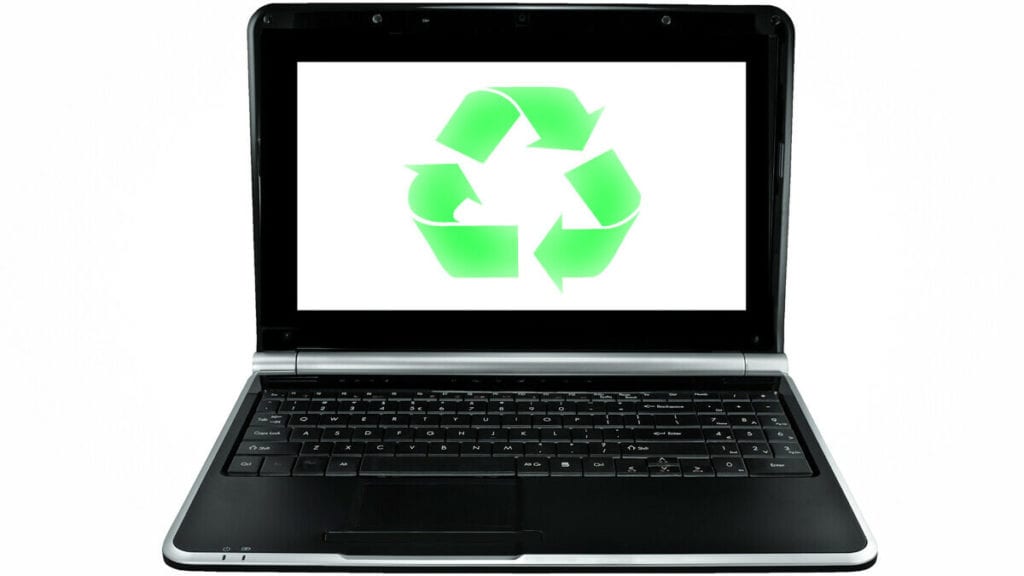 Electronics like laptops and computers are made of valuable materials that are important to recycle. In most cases, the process of recycling a laptop is fairly straightforward as long as you complete the right steps prior to sending or giving your computer away.
Before recycling a laptop, back up important files on a hard drive or online account then clear the machine of all personal data. If possible, remove the lithium battery. Finally, ship or bring the laptop to a recycling facility. It is worth recycling laptops to minimize toxic waste in landfills.
According to the ERA, recycled laptops save energy that is equivalent to the utilities used by thousands of homes per year. Electronic recycling processes also yield thousands of pounds of copper, silver, gold, and palladium that can be reused in sustainable, energy-efficient ways. Needless to say, it's worth learning about how to recycle your laptop!
Before Getting Rid of Your Laptop
Never donate or recycle a laptop without clearing it of your personal data. Laptops and computers collect lots of data on your personal files, usage activity, password storage, and more. Even when recycling your laptop through a trusted recycling facility, it isn't worth compromising your privacy.
While it's easy to just rely on automatically synced cloud storage, consider making a physical copy of your files and data, just in case. External HDD or SDD drives are fairly cheap these days and have plenty of space to store everything from your laptop on a single device. If you're a gamer or a content creator, this step is a must. Wrote one gamer about prepping a laptop to be recycled:
After backing up your data, log out of all personal accounts and applications. Some applications limit you from having access to multiple devices, and the last thing you want to find out when trying to set up a new laptop is that you cannot log in. Most programs and applications have a "help" or "settings" tab that will guide you through the steps necessary to log out of your account and even remove it from autofill.
Finally, wipe your laptop clean by resetting it to its original state, just like it came out of the factory. For MacBooks, reset the laptop, then hold down 'Command + R' while it reboots, and select the option for reinstalling the original system on the pop-up menu. For Windows laptops, enter 'Settings,' go to 'Change PC Settings,' 'Update and Recovery,' 'Recovery,' and then select the option to remove everything and reinstall Windows. After that, select 'Get started' and follow the prompts. This will completely wipe your drive and leave you with a completely clean laptop that is now safe to recycle.
Lithium Battery Removal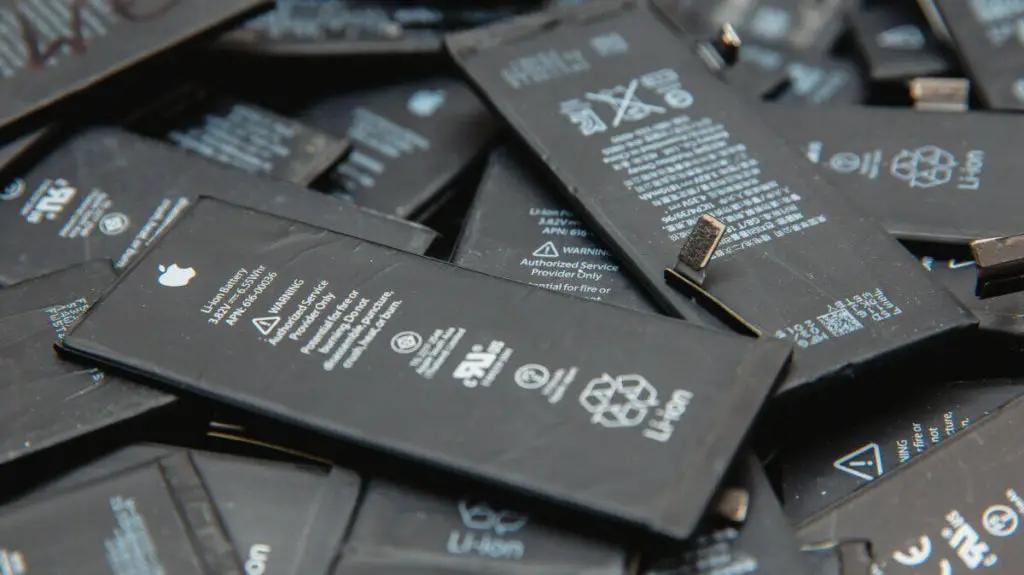 The nice thing about mail-in recycling services is that you can recycle your laptop without having to physically go to a recycling facility; you can just ship it in and let the professionals take care of the rest. The only drawback is that there are special, specific requirements revolving around shipping anything that contains a lithium-ion battery, and this includes laptops.
Most laptops will simply have the battery attached to the back. If you flip over the laptop, you should be able to see whether or not there are tabs that would allow you to pull the battery off of the device. If possible, remove the battery and use electrical tape to secure the terminals on its edges prior to shipping, then place it in a separate bag. If you cannot remove the battery on your own, bring the laptop to a certified electronics recycler near you, or another participating retailer recycler that takes back used electronics for safe disposal.
Where to Recycle a Laptop
There are dozens of companies everywhere that are happy to help consumers safely and responsibly dispose of used laptops and other electronic devices. Here is a list of some of the most commonly accessible locations, but you can also search online for locations near you that participate in Sustainable Materials Management programs (SMM). Policies and practices vary by state, so it is wise to do your research beforehand.
| | | |
| --- | --- | --- |
| Accepted Recyclable Devices | Company | Services |
| Imaging equipment and supplies, used PCs, used mobile devices | Hewlett Packard | Free reuse and recycling options for printers, laptops, PCs, toner cartridges, and mobile devices |
| Imaging equipment and supplies | Xerox | Mail-in recycling and local recycling events |
| Mobile devices, PCs, TVs | Best Buy | In-store recycling, online information, local recycling events, and haul-away options |
| Mobile devices, PCs | Staples | In-store recycling and local recycling events |
| Mobile devices, TVs | Samsung | Drop-off sites and mail-in recycling services |
| Mobile devices | T Mobile | In-store recycling, local recycling events, trade-in options |
| PCs, laptops | Dell | Drop-off sites, mail-in recycling services, and local recycling events |
| PCs, laptops | Vizio | Drop-off sites, mail-in recycling services |
| PCs, TVs | Sony | In-store recycling, drop-off sites, local recycling events, haul-away services |
| TVs, Mobile devices | LG | Mail-in recycling, drop-off sites, local recycling events |
| TVs | TCL | Mail-in recycling, drop-off sites, local recycling events |
EPA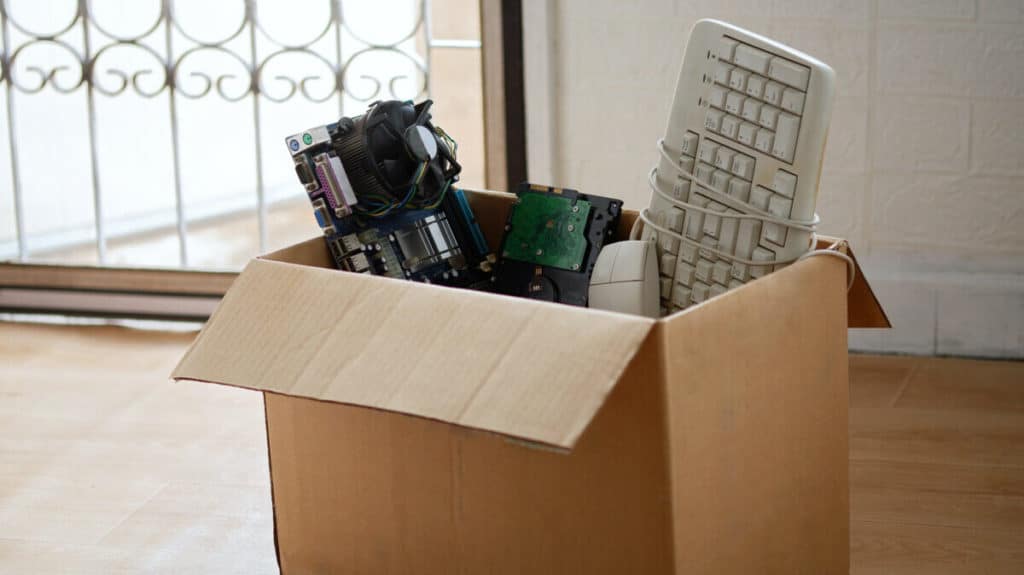 Consider Donation
Countless people are in need of an affordable laptop for school or work. If you are upgrading to a new laptop but your old laptop works just fine, locate a store or refurbishment center near you. These places specialize in assessing the value of reusable electronic devices and fixing them up so that they're suitable for the next customer to purchase and use.
You can also recycle, resell, or donate peripherals, such as keyboards, mice, speakers, and other wireless or connectable laptop accessories. Never throw these away; save space in your home and in the landfill by recycling your laptop in whatever way works best for you. It's an easy way to do good, help the environment, and help people around you have access to products they could not otherwise afford.
Related Topics:
If you like the article above, here are some other similar articles you should check out!
How to Recycle Lead Acid Batteries