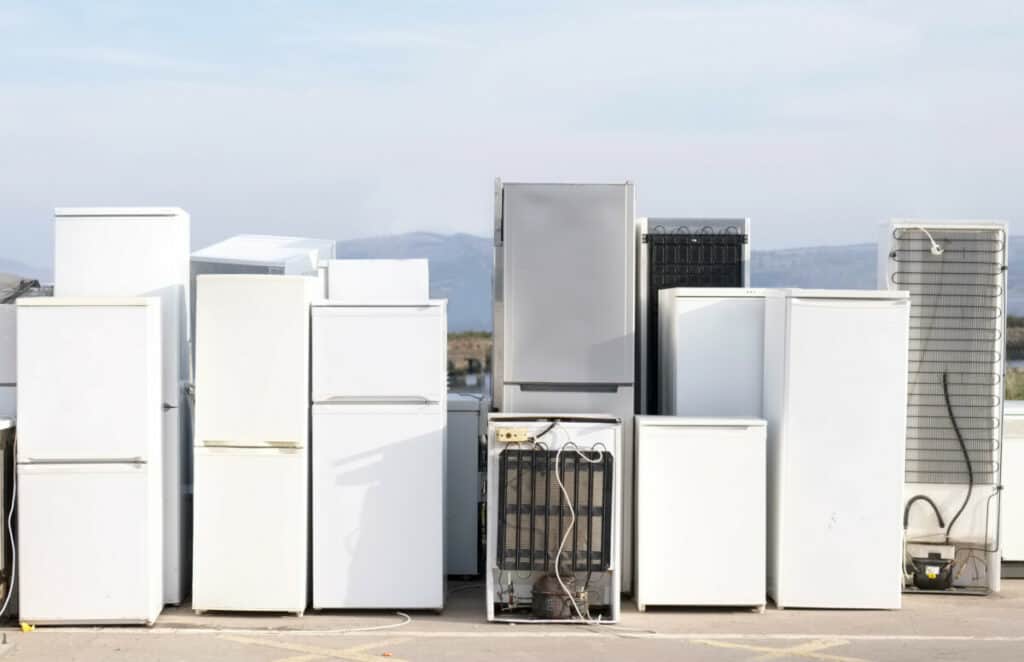 You might have an old refrigerator that you need to get rid of. It is a little too large to fit in your trash can and so you may be wondering what your other options are. One of these options is to recycle your fridge.
All fridges require a technician to remove the coolant, lining, and oil in a way that won't impact the health of others or the environment. By following the proper steps all refrigerators can be recycled safely. Refrigerators should be recycled and not dumped in landfills.
In order to recycle your fridge successfully here are a couple of things to keep in mind as you work through this process.
How to Prepare a Fridge for Recycling
So you have a fridge that is on its last legs and you need to replace it. This is a situation that many homeowners are going to experience. In 2015, Statistica reported that 118.2 million households in the United States used a refrigerator, and roughly 30 percent (29.6) used two or more fridges. That's a lot of fridges floating around, many of which need to be replaced. If you are one of these millions of homeowners, here are some steps you can take to prepare your fridge for recycling. Recycling your fridge keeps it out of a landfill and reduces your impact on the environment.
The first thing that you need to do is clean your fridge out. Remove any food or drinks from inside. It might seem simple, but you don't want to be frantically clearing leftovers out of your fridge before it is picked up. After you take any food out you'll want to make the inside is clean. Almost everything in a fridge is recyclable from the glass shelves to the inside walls. Ensuring that these components are clean can help speed up the recycling process and help prevent these components from being discarded in a landfill.
The last step is to make sure your fridge is prepared for transportation. Your best option is for your fridge to be unplugged for several days beforehand. This gives the components a chance to defrost and for any excess electricity to drain out. Tie the door shut with a rope or remove the door. This prevents the door from swinging open during shipping and keeps exploring children and pets from being trapped inside the fridge if the door opens/closes while it is waiting for pickup. With all these steps done your fridge is ready to be recycled.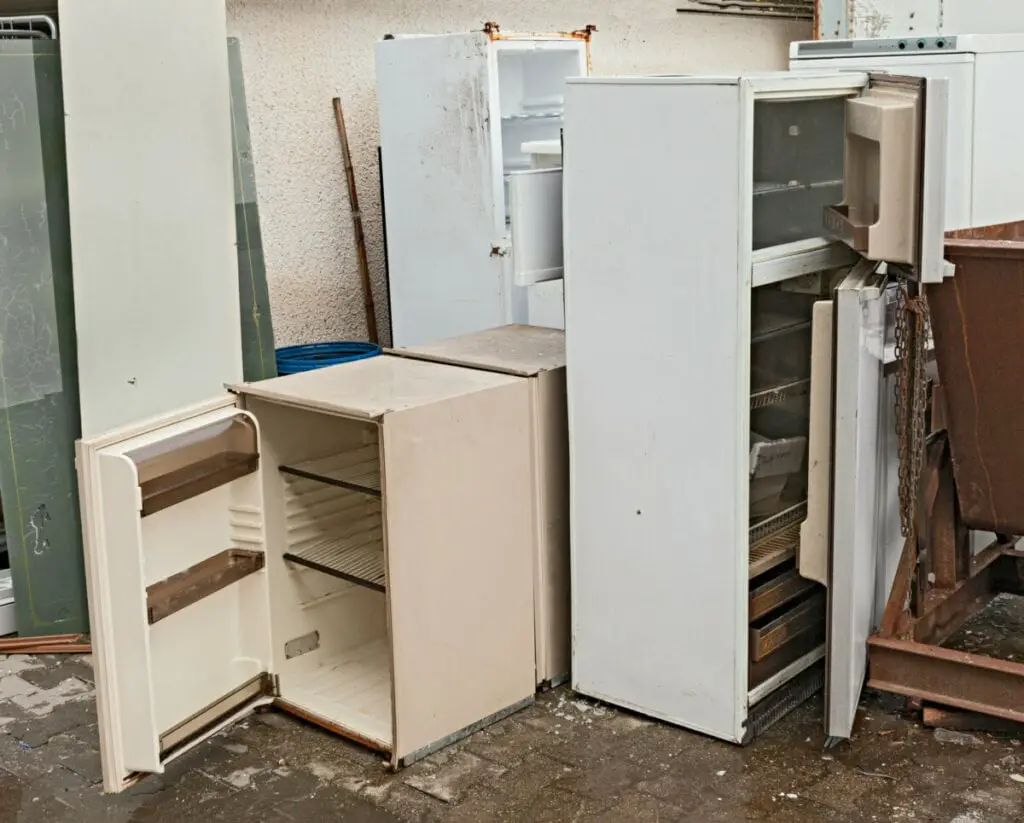 Who Needs to Handle Your Fridge
You might be wondering who can recycle refrigerators? In order for refrigerators to be recycled, they need to be first processed by a technician. This technician will ensure that a handful of chemicals in the refrigerator are collected so the rest of the refrigerator can be recycled.
The first of these chemicals is the coolant. The way this coolant will be handled depends on when your fridge was made. Fridges made before 1995 typically contain chlorofluorocarbon (CFC) refrigerant according to the EPA. CFCs are a two-part problem, they are a greenhouse gas and they damage portions of the atmosphere. Because of this, they need to be handled by a technician with training in these types of coolants.
Newer models use different coolants that while less damaging, should still be handled by a technician. Never remove or "vent" the coolant from a fridge yourself. Other materials in a refrigerator like the insulating foam or the used oil may all be toxic and will be removed by the technician. Some older models of fridges have mercury switches. If you suspect your fridge contains mercury do not attempt to remove it. Mercury is highly toxic even in small amounts and can cause permanent health issues.
Who Recycles Fridges
There are a couple of options to recycle your fridge. Some local agencies and companies will accept fridges to be recycled. They may even pick them up from your home. This is the simplest option, but it works as perfectly well as any of the others below.
Your next option is to see if your fridge has a bounty on it. While this might sound like something out of a western movie, it is a real thing. Companies selling appliances and electrical utility companies will place these "bounties" on certain models of appliances. Generally, on older, or less energy-efficient models, they offer you money in exchange for your appliance. They will then recycle your fridge. They may even offer you a discount on your next purchase of a newer fridge.
If you have already bought a new fridge many companies will haul away your old fridge at the time of delivery. They may charge you a fee to do this, but they will often lower it if you are ordering another appliance from them. While it might be annoying paying this fee, remember you would pay something similar to leave it at a landfill. By paying it here instead, you ensure your old fridge will be recycled instead of left to stack up in a dump.
One final option is to see if you have a Responsible Appliance Disposal (RAD) member near you. These are volunteer partners with the EPA to try and increase the number of appliances being recycled. Check and see if you have one near you and what their policies are on accepting used refrigerators.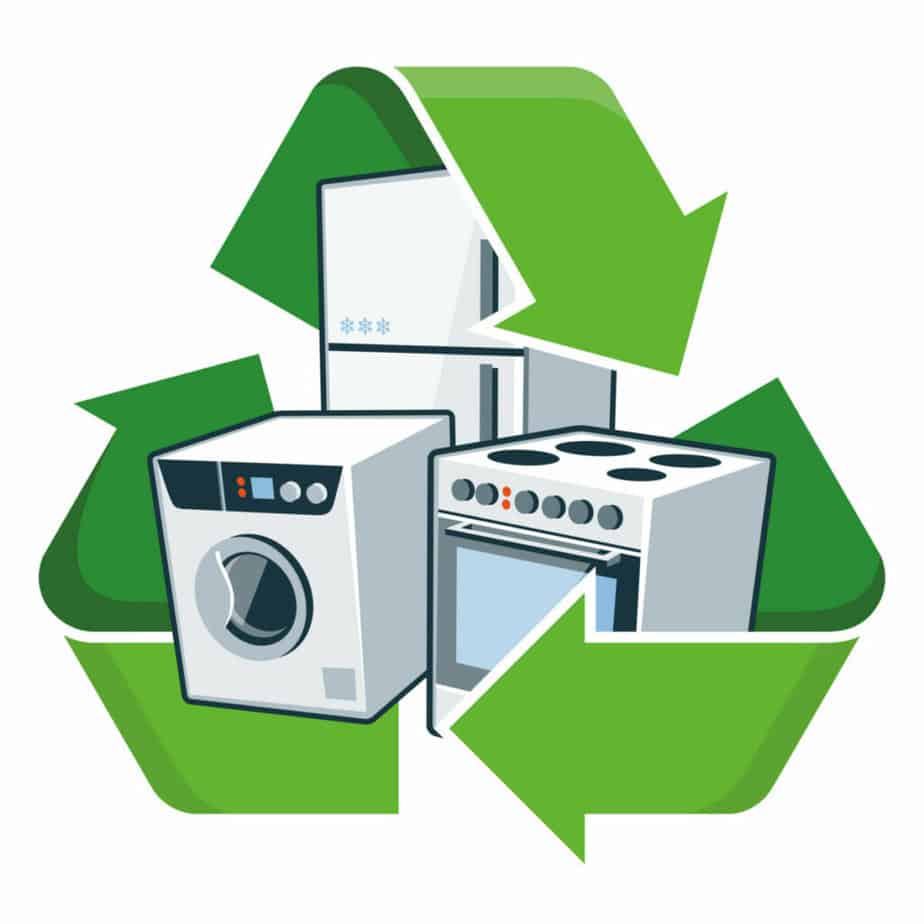 Should your Fridge be Resold?
While reselling your fridge to someone might seem like a viable option it might not be the best option for recycling your fridge. Many used fridges are not as energy efficient as newer models and should be phased out in favor of newer models. Reselling instead of recycling prevents this from happening and keeps many poorly running fridges floating around. Companies that resell fridges will often sell them abroad, many times in third-world countries, where when the appliance fails they don't have the infrastructure to recycle it. Your best option is just to simply recycle your fridge, not resell it.
Related Topics:
If you like the article above, here are some other similar articles you should check out!