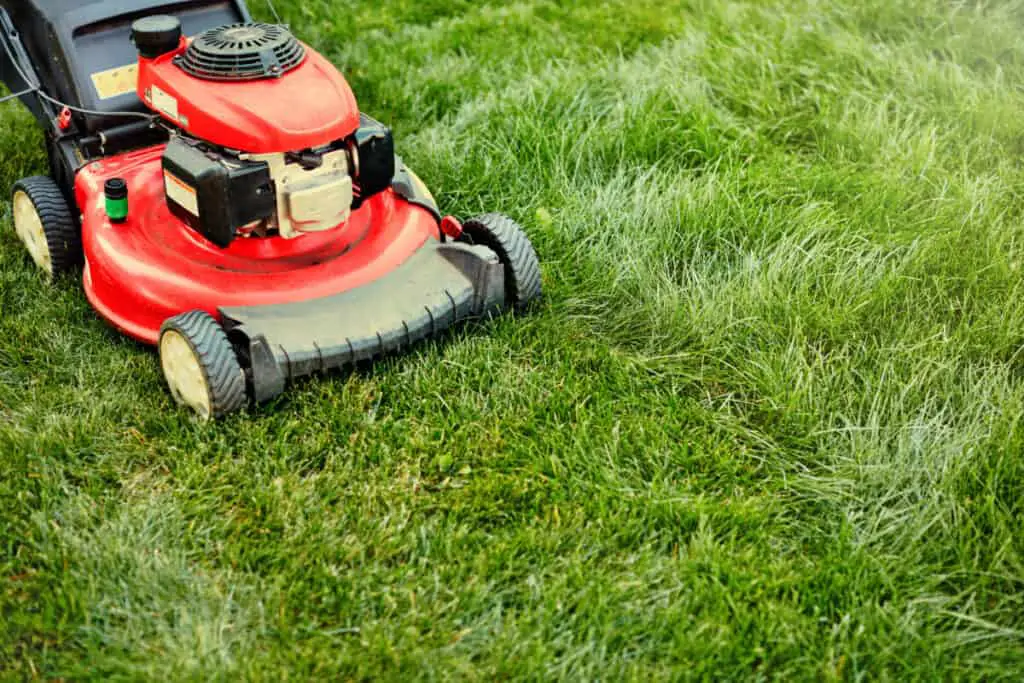 Spring is the time of year when people begin to go through their homes, storage, and sheds to make way for a fresh new summer. When getting ready to mow the grass for the first time in a year, many people discover their lawn mowers are broken beyond repair. So, how do you dispose of a lawn mower?
The most common way to dispose of a lawn mower is through a junk removal service. Other methods of disposing of a lawn mower include recycling it, selling it, donating it, and scrapping the lawn mower for its parts. Make sure to dispose of the lawn mower properly.
Disposing of a lawn mower can be tricky, especially if you are disposing of a lawn mower on your own. You'll want to make sure you make it as environmentally friendly as possible and not contaminate other items that may be disposed of as well. Here is a guide on ways you can dispose of your lawn mower.
Junk Removal Service
There are junk removal services nation-wide that will come and collect anything that is no longer wanted. These services will take almost anything and actually prefer taking things that cannot be properly disposed of by an untrained individual. Lawn mowers are one of many things these junk removal companies can take off your hands.
Some of these nation-wide junk removal services include, but are not limited to:
1-800-GOT JUNK?: This company offers full junk removal service, same-day service, and free on-site estimates, and they will have their team do the heavy lifting. You can go to their website and schedule them to come to get your lawn mower.
Load Up: Load up is designed so everything is done online. All you have to do is go to their website enter your zip code and the items, then you'll get an upfront price. Once you accept the price and enter the rest of your information, Load Up will come to pick up your lawn mower.
Junk King: This company is franchised, so it's locally owned, nationally run, and they offer free onsite estimates. They also state that 60% of whatever they pick up gets reused and repurposed so it's environmentally friendly. Go on their website and book online or you can give them a call to pick up your lawn mower.
Using these junk removal services, although sometimes costly, will ensure that your lawn mower is disposed of properly. These companies will make sure that no harmful toxins are put into the environment so we can have cleaner air and help the earth become greener.
Recycling a Lawn Mower
If you would rather recycle your lawn mower many cities offer a pickup service to come to get your lawn mower from you. There may be certain requirements you have to follow in order for your lawn mower to qualify as a recyclable material. Removing all gas from the lawn mower, and sometimes even the physical gas tank, could possibly be one of these requirements. If you have any questions regarding removing the gas tank, contact your local gardening store or take it to a professional to get it removed.
Once you have met the requirements for your lawn mower to be recyclable, contact your city and request a pickup. These pickups can sometimes take a while, so make sure you contact your city with plenty of time in your schedule.
Another option you have for recycling a lawn mower is to take it yourself to a recycling facility. Be prepared because they may charge a fee to recycle it for you and similar to the city pickup, they may not accept your lawn mower if there is gas still in it or the gas tank is still attached.
Requirements When Recycling a Lawn Mower
If you are wanting to recycle your lawn mower yourself, but aren't sure how to meet the requirements, here is a step-by-step process on how to meet those requirements.
Remove all gas from your lawn mower 24 hours before it's going to be recycled.
If your recycling facility requires you to remove the gas tank, carefully remove it from your lawn mower using an instruction manual.
Go to your local hazardous waste facility and dispose of the gas. You can also look online and call their number to see if they do free pickups for hazardous materials.
Contact a recycling facility to come pick up your lawn mower, or deliver it to them yourself.
If you have an electric lawn mower, you can recycle it at a household electronic recycling facility.
Selling a Lawn Mower
If your lawn mower is in good working condition or only needs a couple of small things fixed, you could consider selling your lawn mower. Selling a lawn mower to someone who needs one is a great way to ensure your lawn mower does not end up in a landfill.
Where To Sell a Lawn Mower
Facebook Marketplace
eBay
Craigslist
LetGo
OfferUp
Yard sale
Flea markets
Social Media
Talk to neighbors
Sell to a friend or family member
These are all great options for selling a lawn mower and it will allow you to get some money back for it. If you choose to sell something online and meet with someone in person, make sure you meet with them in a public area during the day.
Another way you could sell your lawn mower is to a pawn shop. Just remember that pawn shops buy things at a lower price so they can make a profit off of them. This may not be your best option, but if you cannot sell it any other way and you want to make a little money off of your lawn mower, this is something to consider.
How Do I Know if My Lawn Mower is Worth Anything?
A great way to know if your lawn mower is worth anything, whether in working condition or not, is to go to any of the websites listed above and compare prices with what other people are selling their lawn mowers for. Be sure to look at what condition other lawn mowers are in and if they're selling them with other things. You can use this same method when trying to sell the parts of a lawn mower individually.
Once you have compared your lawn mower to others, then you can average the prices and sell it at a good price. If your lawn mower is in working condition and has a good brand name on it, you can expect to get more money. If your lawn mower isn't working well and not a name brand, you may not get the money you want from it.
Why Would People Buy an Old Lawn Mower?
Some people have an itch for fixing things and if your lawn mower just needs a couple of parts, someone will be able to buy it, fix it up, and either turn around a sell it themselves or they'll be able to use it themselves.
Another reason someone may want an old lawn mower is if they don't plan to stay at their current residence for very long and they just need something to get them by until they leave.
Another possible reason is if someone cannot get their hands on a lawn mower themselves. When spring first begins, it can be hard to find a local gardening store that carries lawn mowers that are at a good price range, so many people will try to buy older lawn mowers so they can stay within budget.
Giving the Lawn Mower Away
If you're not looking to get money for your lawn mower and know someone who needs one, you can give it to that person for free. Another way you can give your lawn mower away is by listing it for free on one of the following sites above. Let the person know the condition of your lawn mower, and someone may be willing to take it off your hands and fix it so they can use it.
Donating A Lawn Mower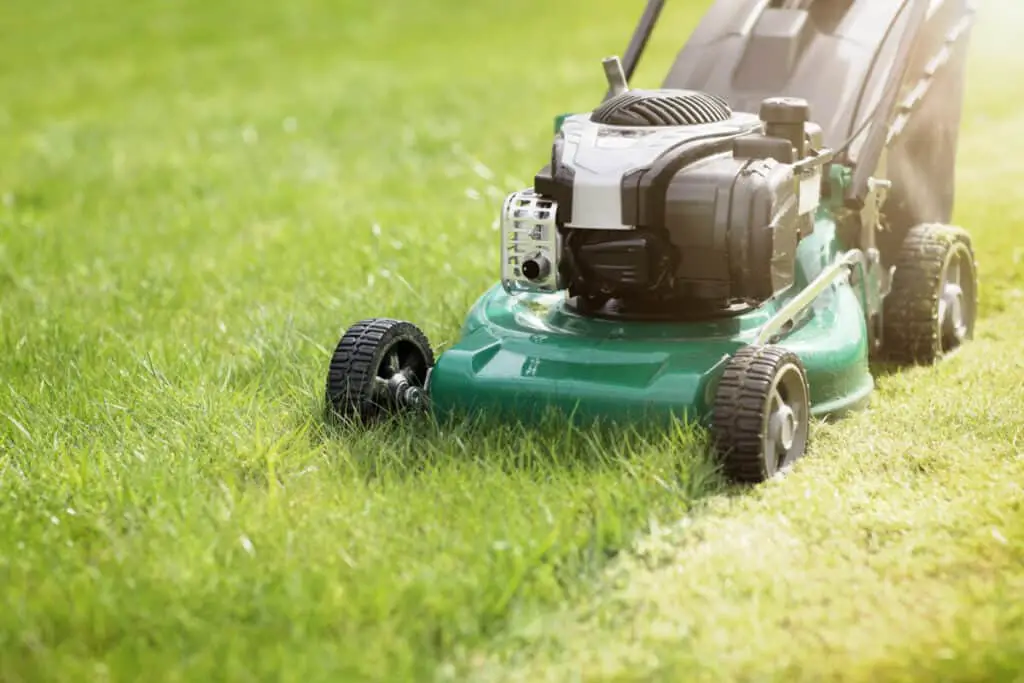 If your lawn mower is still in working condition you could consider donating it to charity. Someone who maybe can't afford a lawn mower will be able to get it at a donation center.
There are many organizations and non-profits that are willing to pick up your lawn mower for a small fee, otherwise, you will want to figure out how to get your lawn mower to a donation center yourself.
Here are some nation-wide donation centers you can donate to:
Goodwill
Savers
Salvation Army
Habitat for Humanity
Pickup Please
AMVETS
PickupMyDonation
Donation Town
If you're wanting to donate to one of these national donations centers, go to their website and see if they have a location near you. If there isn't a location near you, consider donating it to a local charity.
Another way you could donate an item is by seeing if your local church, school, animal shelter, or service center wants a lawn mower. This is a great way to donate a lawn mower because you'll be giving back to your community.
Scrapping For Parts
If you're not wanting to junk, recycle, sell, or donate your lawn mower you can always scrap it for parts. A lot of people like scrapping old things, such as lawn mowers, for their parts so the parts can get reused for a new thing. You can even sell these parts on the lawn mower that you scrap to someone who needs them.
Lawn mowers have a lot of metal parts that contain valuable metals in them and these valuable metals are used for many things. So if you get someone who knows what they're looking for, you can give the parts away or sell them. The best way to do that is by selling them on one of the sites listed above.
There are also scrap metal facilities that won't buy the whole lawn mower, but will buy those valuable parts off of it. That makes each individual part worth more than if it was still attached to the whole lawn mower. You can contact your local scrap metal facility and see if they will buy certain parts of your lawn mower from you.
Another place that would potentially buy these lawn mower parts from you is a local small engine repair shop. These shops can always use extra parts. Give your local small engine repair shop a call to see if they'd like your lawn mowers for scrap parts.
The thing you have to be careful with when doing this is making sure your lawn mower is no longer in working condition so it can't hurt you when trying to take it apart. If you are not handy and don't know much about the moving parts on a lawn mower, consider one of the other options above.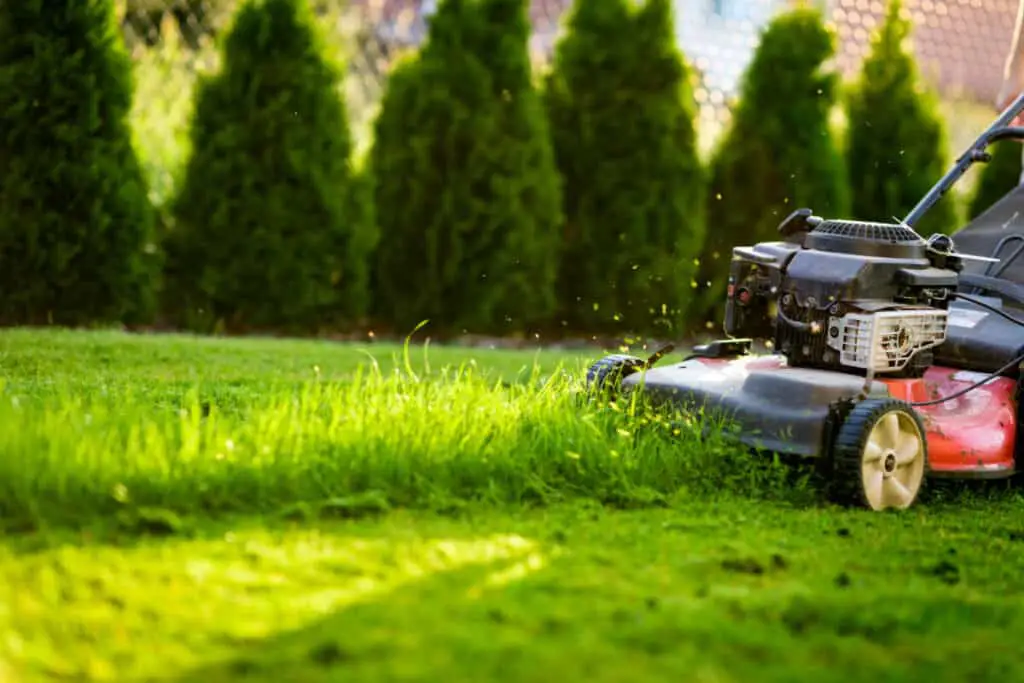 Whether you are junking, recycling, selling, donating, or scrapping your lawn mower for parts, all ways are great ways to get rid of your lawn mower while staying environmentally friendly. There are so many options to choose from when trying to get rid of your lawn mower that you should have no problem doing so.
I find that junking or donating your lawn mower is the best way to get rid of it if you are not looking to make a profit. Keep in mind that some of these options may take time, so make sure you plan accordingly in order to benefit you and your schedule.
If you end up choosing to hold onto your lawn mower but don't plan to use it, remember to remove the gas from the tank and take it to a hazardous waste facility to prevent any breaks or leakage.
No matter what option you choose, remember to do it safely and if there are any requirements, be sure to follow them in order to make things environmentally friendly and make the process go smoothly. If you have any questions regarding your lawn mower, contact any of the organizations above and they will be able to give you further information.
Related Topics:
If you like the article above, here are some other similar articles you should check out!
How to Recycle a Catalytic Converter