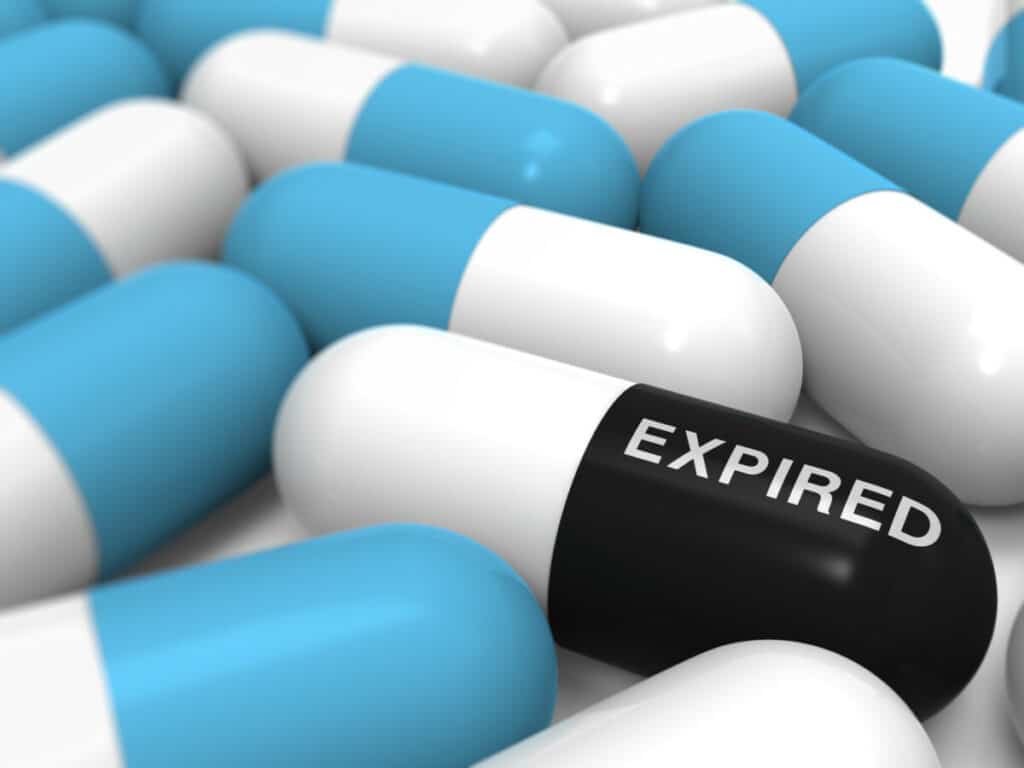 Medications like Dayquil, unlike some foods (such as milk or eggs, which can still be used within several days of their expiration date) are not safe to be used after their expiration date. Though there are no significant studies showing the effects of taking expired medications, doing so is very dangerous and can make a person very sick. The expiration date listed on the drug container is very much intended as a "use by" date, not a "best by" date.
The best way to dispose of unused expired Dayquil is to drop it off at a drug take-back site or program immediately upon discovery. Most pharmacies, like Walgreens or CVS, offer drug take-back services for both over-the-counter (OTC) medications like Dayquil and prescription medications.
The pharmacies and other drug take-back initiatives will then make sure the unused or expired medications are disposed of safely and properly. Where no drug take-back programs are available, the Federal Food and Drug Administration (FDA) provides instructions for the disposal of over-the-counter and prescription medications. Let's look at some specifics for what to do when determining how to properly dispose of Dayquil or similar medications.
What is Dayquil?
Dayquil is a combination medication of acetaminophen (a pain and fever reducer), dextromethorphan (a kind of cough medicine), and phenylephrine (a decongestant). It is a non-drowsy over-the-counter (OTC) analgesic cough suppressant medication commonly used to treat cold and flu symptoms, which can include cough, sore throat, fever, and aches. You may be familiar with its counterpart, Nyquil, a medication used for the same purpose, but without the non-drowsy assurance.
Dayquil is the brand name of a Vicks cold medication. Non-brand medications that serve the same purpose include Theraflu Severe Cold and Cough, Tylenol Cold Max, and Sudafed Head & Sinus Congestion. Each of these comes in options for capsules or tablets, as well as liquid form.
It is important to dispose of out-of-date and expired medications, not only for your protection but for the protection of others. The misuse of drugs in adults and teenagers frequently beings at home, with medications found in the family medicine cabinet. The ingredient dextromethorphan in DayQuil is a commonly misused drug. In high doses, it can cause a high feeling and even hallucinations. Such misuse— occasionally called "skittling"— is highly dangerous and can result in death. Keep all medications in a safe location, so that there is less chance of misuse even before the listed expiration date.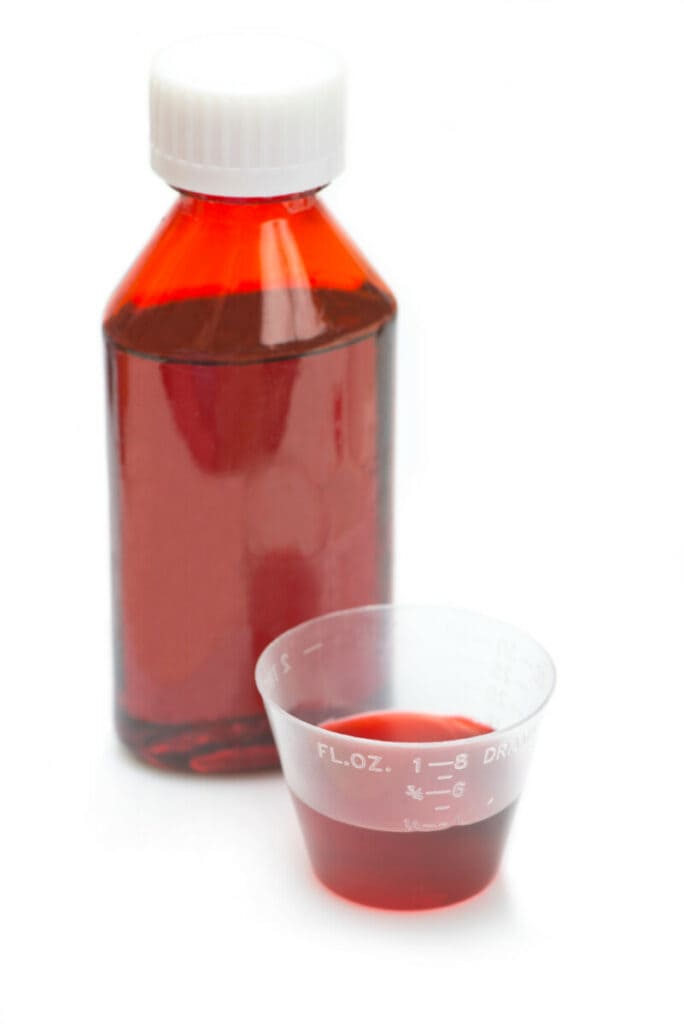 How to Tell if Dayquil is Expired?
You may be wondering how to tell if your dayquil is expiring, well if that's the case, you've come to the right place!
All medications are required to clearly list their expiration dates. For Dayquil and similar OTC drugs, expiration dates can be found on the shoulder of the bottle for liquid forms. For tablet or capsule forms, expiration dates can be found on the end flap of the carton and on the back of the liquid cap or caplet blister pack.
According to the Smartlabel available on Vick's website, Dayquil does not have any specific storage or disposal instructions beyond not keeping the container in an environment that exceeds 25°C, as well as advising that the liquid form not be refrigerated.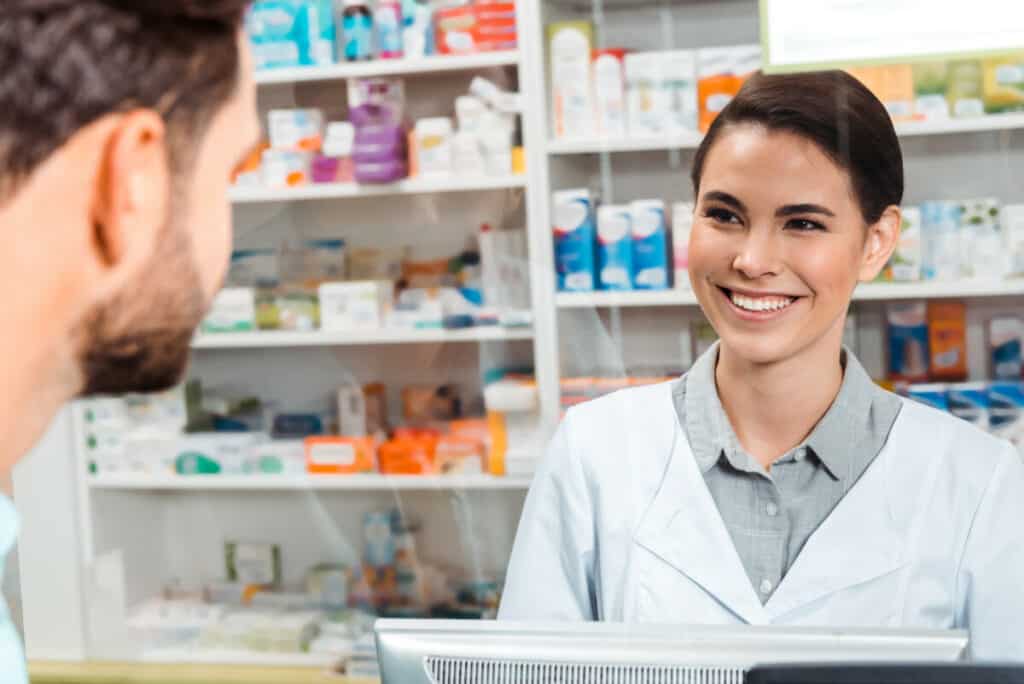 Where to Find a Drug Take-back Program?
The FDA website lists two kinds of drug take-back options for expired and unused medications. The first is permanent collection sites, such as those frequently available at pharmacies. These are available year-round for medication drop-off. The U.S. Drug Enforcement Administration website provides a search engine for nearby permanent locations. Simply enter a postal code or city and a generated list of valid drug take-back locations will be provided for you. A similar function can be found in Google Maps, by typing in "drug disposal near me" or "medication disposal near me" to find the nearest location.
Another website that can be used to find safe locations for drug disposal is the NABP or the National Association of Boards of Pharmacy. They provide information both on the safe disposal of medications as well as safe use. Their website offers lists of nearby locations based on a provided zip code.
Walgreens pharmacy is frequently among permanent medication return locations. Most of their pharmacies have a kiosk inside where you can drop expired or unused medications, similar to a letterbox. Not only do they accept expired OTC medications such as Dayquil, but they also collect unused prescription medications. Some CVS pharmacies also provide similar kiosks.
The second kind of take-back option is a periodic event. The U.S. Drug Enforcement Administration (DEA) will periodically host a National Prescription Drug Take-Back event, during which temporary stations for drug collection are set up. These temporary drug collection sites are set up in communities nationwide. Local law enforcement agencies may also host similar events periodically. Local law enforcement and waste management authorities can provide information on such events in your area.
It should be noted that while most medications are accepted here, certain drugs or medical paraphernalia, such as thermometers, needles, and syringes, are not accepted.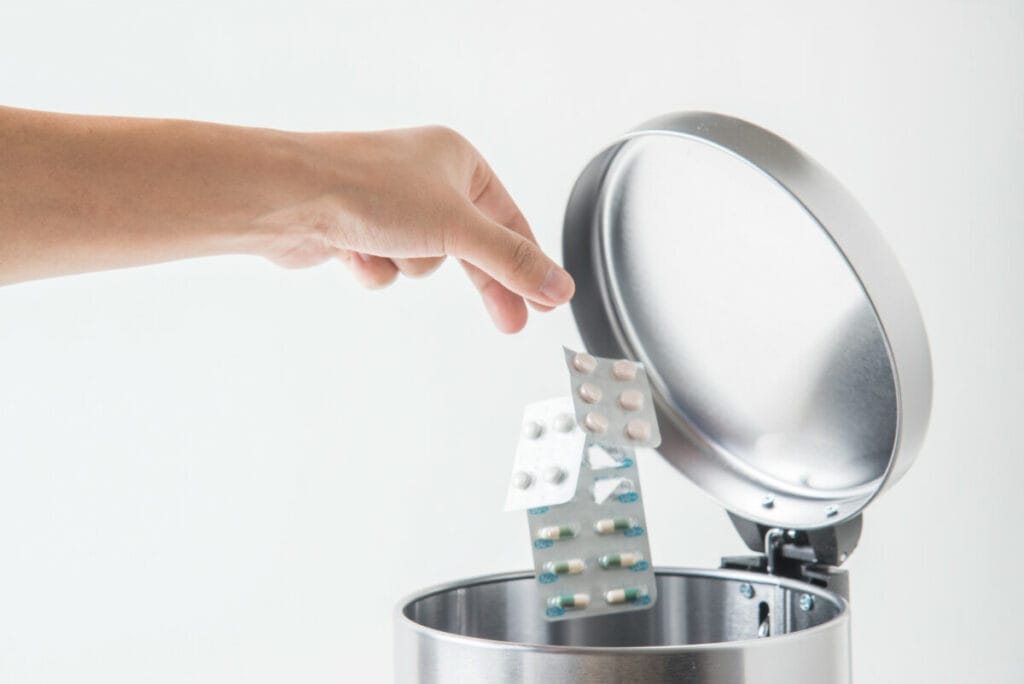 How to Dispose of Expired Dayquil?
For medications not able to be safely flushed, the FDA has also published steps on how to safely dispose of those expired medications. Dayquil does not include specific disposal instructions such as flushing on its packaging, and therefore falls under this category.
For non-flushable medicines, mix the drugs with an unappealing substance like cat litter, dirt, used coffee grounds, or rotten, compost-like foods. This works for both liquids and pills, though tablets and capsules should not be crushed, but left whole. The mixture is then supposed to be placed in a sealed container, such as a ziplock or plastic bag.
The container of drugs can then be thrown away in your trash at home. Before disposing of the packaging, be sure to remove any and all personal information (especially true for prescription bottles, even empty ones). Scratch out prescription numbers, names listed, or other information before recycling or throwing away the now-empty bottle or packaging. Cough syrup bottles can be recycled, but should always be thoroughly washed first.
Related Topics:
If you like the article above, here are some other similar articles you should check out!
What Should I Do with Expired Disney Tickets
What Should I Do with Expired Deodorant