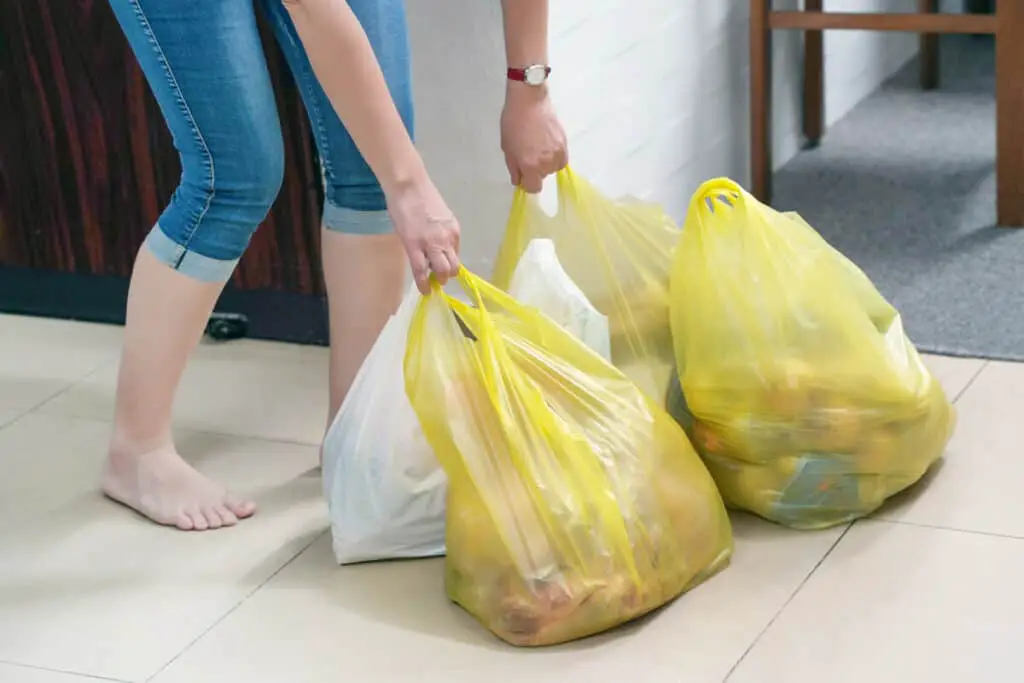 Recycling plastic bags is easy. No matter where you live, there are several places you can take your plastic bags for recycling.
To recycle plastic bags, fill a large garbage bag or bin with clean plastic bags, and take them to stores such as Walmart, Kroger, and Target. Stores and recycling plants will accept plastic bags and send them to get processed and transformed into re-usable plastic pellets.
If you want to know the easiest places to recycle your plastic bags and what you can do with your non-recyclable bags, continue reading down below.
Preparing Your Plastic Bags
Buying groceries happens almost every week, and plastic bags accumulate quickly. Instead of throwing your plastic bags into the trash, you can help the environment by recycling them. Plastic bags are found floating in the ocean where animals can mistake the bags for food. Plastic bags at the landfill take decades to decompose.
Ziploc bags can also be recycled in the same bins as your plastic grocery bags. Collect them all together and prepare them to go in your car, so that you may drive them to a store or recycling plant.
Some stores and plants may do a delivery service. Call your local stores and recycling facilities or visit their websites to see what services they order.
When you have collected between 50 and 100 plastic bags it is time to get those bags recycled. Make sure they are labeled with a #2 or #4 recycling symbol. If neither of those symbols is on your plastic bag, you'll want to re-use the bags until they need to be thrown away. Plastic bags can be collected in grocery stores such as Target, Walmart, Kroger, Safeway, and more. There are also local and state recycling plants that will accept plastic bags and send them away to get processed and transformed into re-usable plastic pellets. Non-recyclable bags can be re-purposed or re-used. (Source)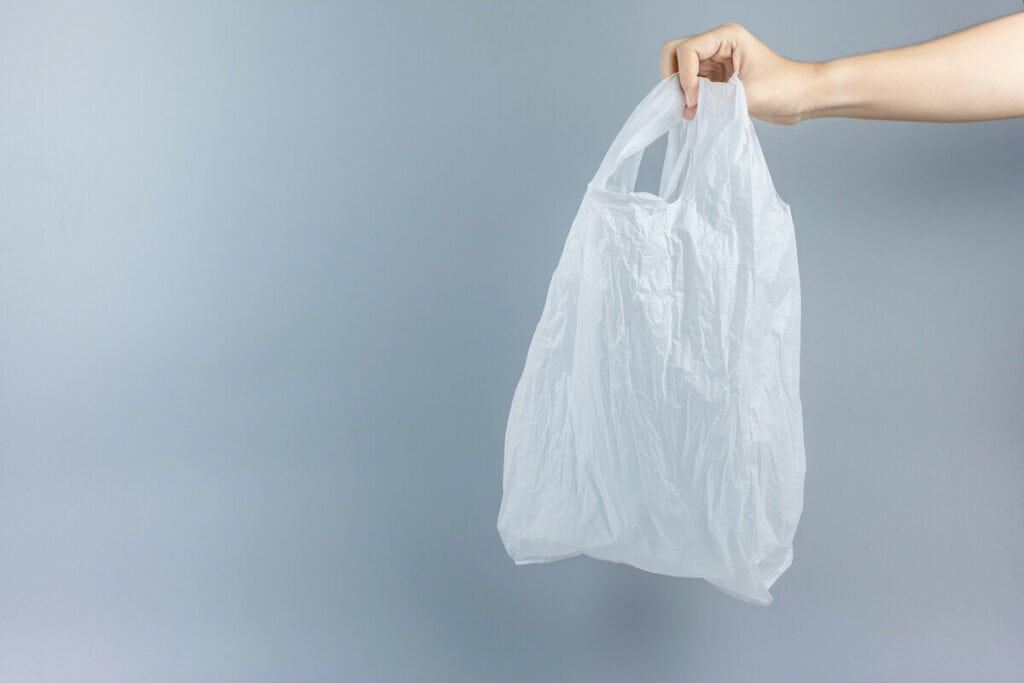 Grocery Stores
Walmart, Target, Kroger, Safeway, and more have How2Recycle bins where you can take plastic bags and bottles. There should be bins inside or outside of the store. At the Target in Idaho Falls, Idaho, the How2Recycle bins are located by the restrooms. The guest or customer service desks at these stores will have information about the store's recycling program. In states where recycling is more popular, make a phone call and see if you need to schedule an appointment.
The grocery store will transport the bags to a local recycling plant to be processed.
Recycling Plants and Facilities
There are 633 recycling plants in the United States. These plants will most likely accept plastic bags. If they don't then they will know a place that does. (Source)
Darker bags can be harder for recycling plants to recycle. The recycled bags will create dark pellets which are not commonly used. Therefore it is hard to resell dark pellets. (Source)
Plastic bags cannot always be recycled inside a curbside bin. It differs among states and counties. If you do not have a curbside plastic bag recycle service then they need to be taken to a grocery store or recycling plant that accepts plastic bags. When preparing your bags to be recycled, make sure that there is nothing remaining inside the bag. You want your bag to be as clean and dry as possible.
There is a huge plastic bag recycling plant called the Hilex Poly Plant in North Vernon, Indiana. When plastic bags are taken to the plant, they go through a long process of sanitation, separation, heat, and more in order to turn the bags into re-usable plastic pellets. The water, contaminant, and other products such as receipts and cans must be removed during the process. The pellets are used to make more plastic bags or any other object that can be made from plastic. (Source)
In Idaho, you can recycle plastic bags at the BYU-I recycling plant, Albertson's, and Walmart. You can search where you can recycle different items on this website. It will ask for the item you want to recycle and your zip code.
Re-using Plastic Bags
If your bag is a material that cannot be recycled at a grocery store or recycling center, you can reuse your plastic bags in millions of ways. Consider using them as trash can liners, pooper-scoopers, litter-box liners, and more. You can use them again when you go grocery shopping and you can use them when you are moving. Plastic bags work as a great cushion when you are transporting fragile items.
Use your plastic bags for wet swimsuits and shoes, knee protectors when you're gardening, and more. (Source) I use plastic bags when I am returning something to someone so that they don't have to worry about giving a bag back to me. I also use plastic bags to put left-over food or grease in so that it doesn't leak or stink.
People often re-purpose their plastic bags if they are not recyclable material. If you are around young children, you can make them a jump rope with your old plastic bags. There are also fun crafts you can do with plastic bags like making parachutes and paper ghosts. I attended a service project where there were giant looms and we wrapped the plastic bags around them to make mats for homeless people to sleep on them. The mats were donated to a local homeless shelter.
I have also seen plastic bags get used for making pillows, purses, totes, baskets, toys, rugs, decorations, and more.
If your non-recyclable bag is beaten up and cannot be re-used, you must throw it in the trash.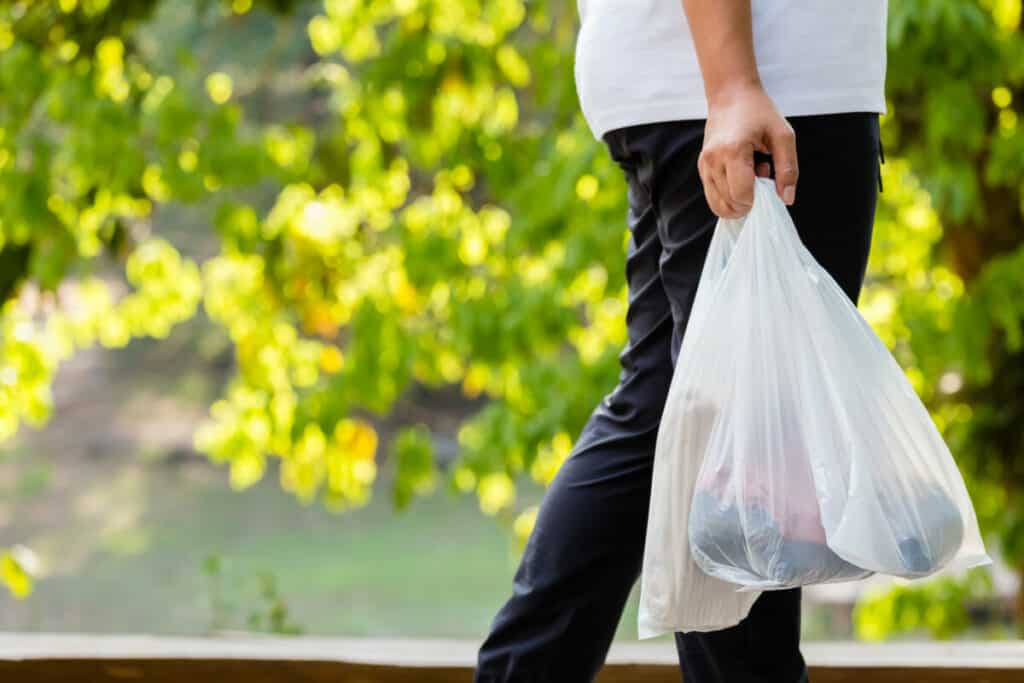 Plastic Bag Recycling Tips
If you want to use fewer plastic bags, buy reusable bags often found at the checkout stand of grocery stores. Always re-use the plastic bags that you have instead of getting new ones. Share your ideas with your family, neighbors, and friends so that they know how to recycle plastic bags too.
Recycling plastic bags is easy. The next time you go to the grocery store, grab your plastic bags and look for a How2Recycle bin, or a local recycling plant. Even some universities will take your plastic bags.
Related Topics:
If you like the article above, here are some other similar articles you should check out!
How to Recycle Plastic Bottles