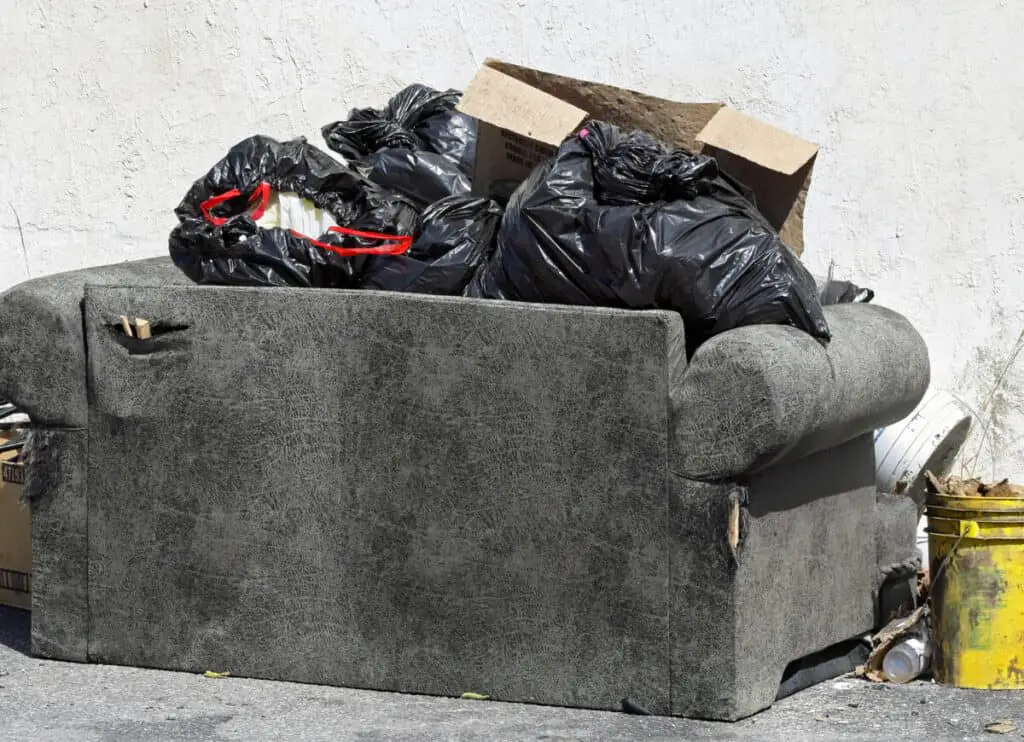 The couch is a pleasant commodity that anyone today can own and utilize in their home. Of course, with time comes age, damage, and maybe even an unpleasant smell that makes the couch uncomfortable and therefore undesirable. So, how do you dispose of a couch?
Anyone can dispose of a couch or other piece of soft seating furniture by either taking it to the nearest landfill, selling it, or donating it to an organization that sells used furniture and appliances. It could even be given away if there is someone nearby that will take it.
I remember visiting the dump to dispose of a couch a few years ago. For that specific option of couch disposal, I will lend an account of my personal experience. After doing research, I have compiled a few suggestions on how to dispose of any large piece of furniture.
Put it in a Landfill
Upon arriving at the landfill that is located a few miles away from my hometown, I had to pay a toll in order to enter the grounds of the landfill with my truck. No matter what you take to the dump, be ready to provide payment in cash for entry. To know the exact amount for this entry fee, call your local landfill. Calling ahead of time can ensure that are you completely prepared to dispose of the couch.
Some local landfills have bulk waste disposal days, and this can be an easy alternative to taking the couch to the dump yourself. Call the landfill in your area to see if they have these days before deciding which way you'll dispose of your couch.
Once inside the dump and parked near the designated area for couches and other soft furniture, you can either have the help of another person in lifting the couch onto the ground or simply push it off of your truck and onto the pile with the rest. It is important that the couch is disposed of in its assigned spot within the landfill. Workers at the landfill will direct you to the correct spot to dump the couch.
Depending on the condition of the couch, it could be important to be careful when moving it to avoid getting hurt many any springs that are sticking out.
Donate It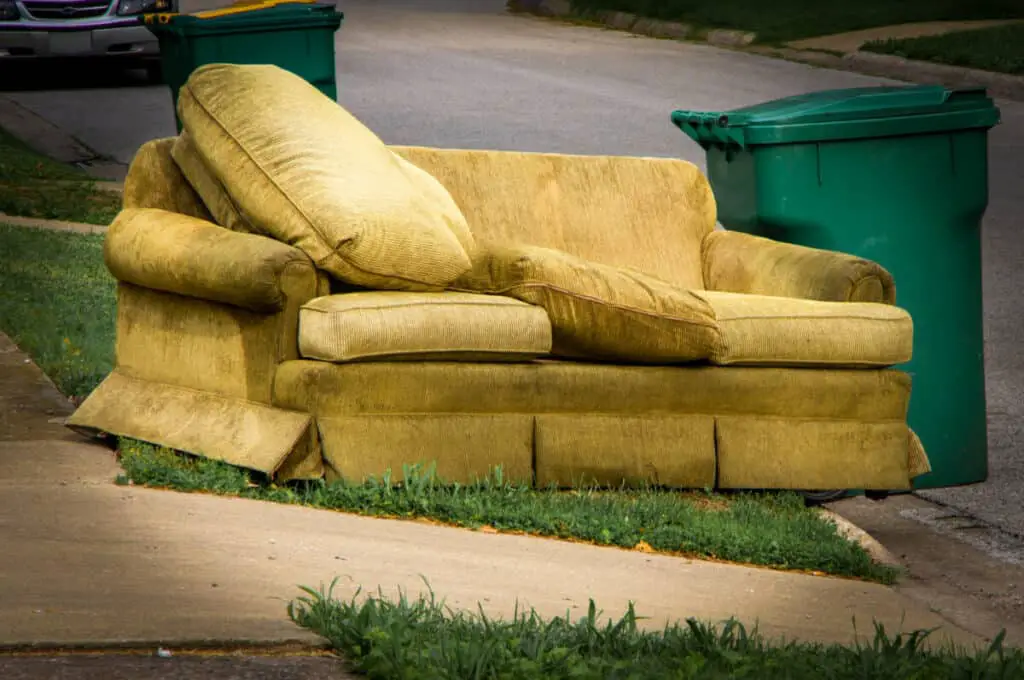 There are many individuals who are looking for furniture, so donating a couch is an option for getting rid of an unwanted couch. It is important to only donate couches that are in useable conditions. These couches can be donated to many different thrift stores such as Goodwill or the Salvation Army. It is important to call local thrift stores ahead of time to see if they are collecting couches before loading your couch into a vehicle.
Some local homeless shelters will accept donations of unwanted furniture. It is important these items are cleaned completely before being donated to ensure they are in their best conditions. Call local shelters in your area to see if they are collecting couches. (Source)
Donating unwanted couches allows for others to benefit from the couch you are parting with. This option allows for the couches that are in good condition but no longer fit someone's space to get used.
Sell It
If the couch you are wanting to get rid of is in good condition consider selling it. There are various ways to sell furniture, but one of the most common ways to sell furniture is to do so online.
A common online option for selling a couch is Facebook Marketplace. Posting on Marketplace is simple and can allow interested individuals to message the seller to get more information about the product being sold. This can allow a buyer to feel more secure in their purchase and allows the seller to feel more secure that the sale will not fall through.
There are other platforms that allow individuals to sell unwanted items, such as the apps Nextdoor or Offerup. (Source)
Before selling anything online it is important to find which platform will work best for your personal needs. When selling anything online, it is important to be aware of the risks of dealing with scammers.
Give it Away
While many people sit on a couch daily, there are some individuals who cannot afford to purchase a couch, even if it is one that is used. Simply giving an unwanted couch to someone who is in the market for a couch but unable to purchase one is an easy way to get it out of your home.
If you are unaware of anyone in your life who is looking for a couch, there are many Facebook pages that allow individuals to give away unwanted items. These pages require an individual to post a picture of what is being given away as well as a description of the item being posted. Individuals who are interested will comment on the posting, and the individual who originally posted the item will select someone to give the item to.
It is important when giving away a couch to ensure that it is in good condition. It is also important to inform anyone who is interested whether or not the couch comes a home with pets.
Giving the couch away allows someone else to benefit from you uncluttering your home.
Things to Consider When Disposing of a Couch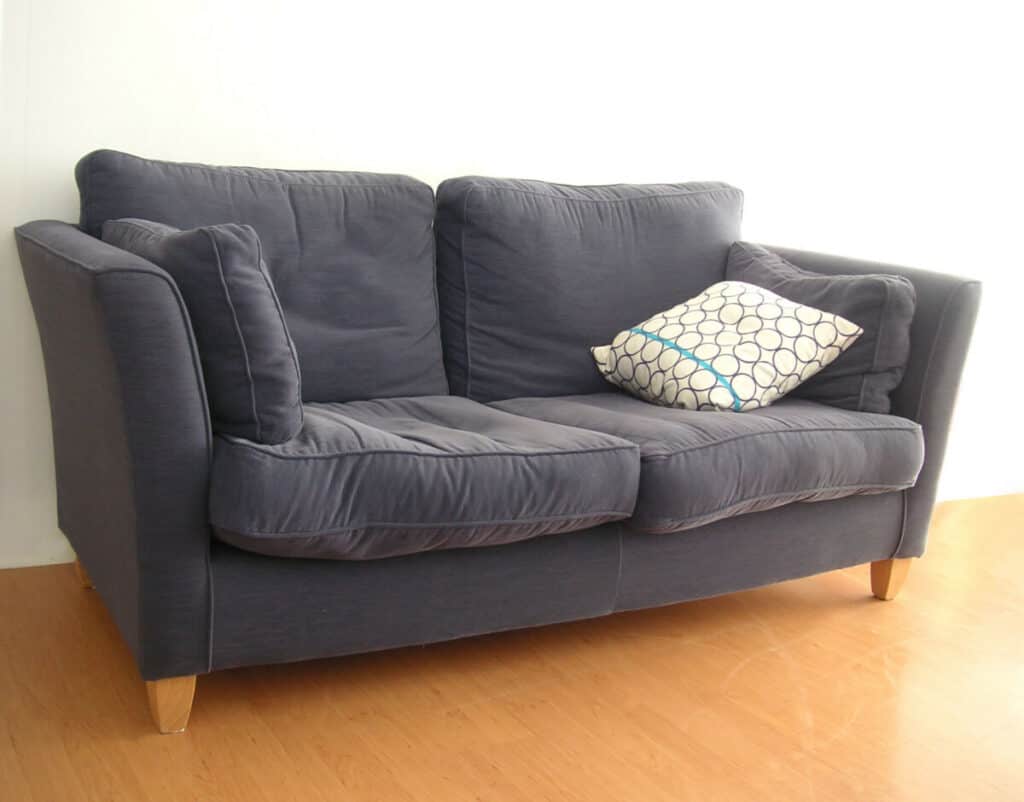 Many individuals assume that burning a couch is an option for disposing of it; however, burning a couch can be extremely dangerous and is illegal in some states. When couches are burned, the fumes that are produced can be very dangerous to inhale. (Source)
It is important to dispose of the couch in a way that is both safe and responsible.
Another thing that is important to consider is that parts of the couch can be repurposed. If the couch is simply taking up too much space but is still in good condition there are options if you cannot find someone or someplace to take it to. One of these options is using the couch cushions for beds for pets.
Overall, there are many ways that you can dispose of a couch, so there is no need for you to keep an unwanted couch in your home.
Related Topics:
If you like the article above, here are some other similar articles you should check out!
What Should I do with Old Credit Cards?
What Should I do with Old Dolls?