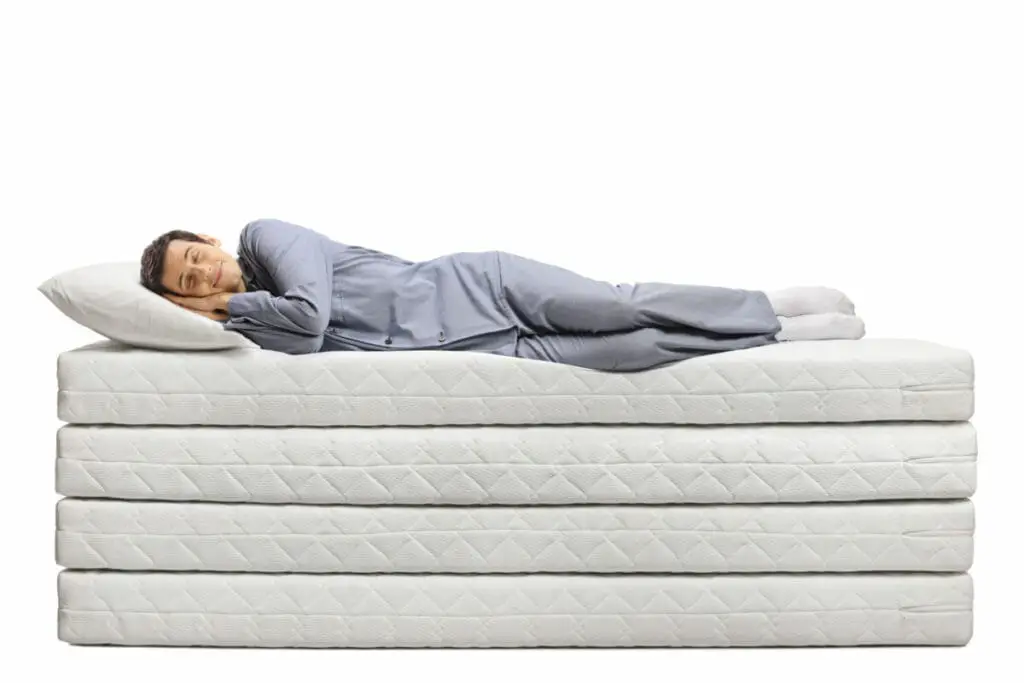 We take our beds for granted until your mattress reaches the age of retirement. Disposing of your mattress doesn't happen frequently, so what do we do? The natural response would be to dump the mattress in a landfill; out of sight, out of mind.
Dumping a mattress in the trash has environmental consequences. With 20 million mattresses deposited in landfills yearly, they are non-biodegradable and contribute to 91% of landfill methane emissions. This increases the consequences of climate change, costing all organisms of the planet's health.
If throwing an old mattress at the dump is not the solution, what are some environmentally friendly options for disposing of an unwanted mattress? How are they made? Read more to find out those solutions.
How Mattresses Are Made
We now know that disposing of your mattress at the dump is not a sustainable option because of methane emissions. But why is that? To understand this question, we need to look into how mattresses are made.
Traditional foam and spring mattresses are created in factories from polyurethane and petroleum, which harm the environment and contribute to greenhouse gas emissions. After the product is completed, mattresses are transported to a warehouse or home. This process takes a large amount of fossil fuels from the factory operation itself to transporting the product to the customer's home. (Source)
Once your new mattress arrives, it brings chemicals into the home. These chemicals originate from volatile organic compounds, otherwise known as VOCs. VOCs are made of polyurethane, flame retardants, and plastics. These materials bring health effects ranging from eye, nose, and throat irritation to cancer risk. Luckily, until your mattress deteriorates, these chemicals likely won't harm you. (Source)
When your mattress has completed its lifespan of 10 to 20 years, because of VOCs, discarding your mattress by dumping it off at a landfill will contribute to greenhouse gas emissions. As said before, mattresses are non-biodegradable, so VOC emissions will never stop.
Throwing Away a Mattress
To properly throw away your old mattress, you need to look at your city's landfill requirements. Some cities will not accept mattresses, but if they do, there is a proper way to dispose of yours. Wrapping your mattress in a plastic bag is typically the minimum requirement. (Source)
You will have to pay a fee that is typically around $60, but the exact cost will vary depending on your state and the landfill rights.
Recycling a Mattress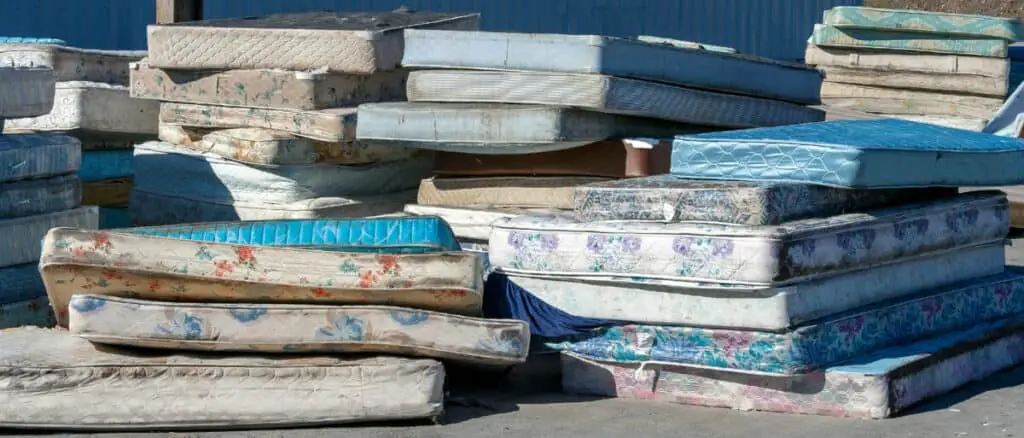 One option for disposing of your mattress is to recycle it, as 80% of mattresses qualify to be recycled. Recycling doesn't mean dropping it off at a donation store because your old mattress will be covered in dead skin cells and bacteria. The best way to recycle your mattress is to contact a mattress recycling company. Programs such as Earth911 and Bye Bye Mattress offer these services but are limited to a few states such as California, Rhode Island, and Connecticut. (Source)
Another reason why recycling your mattress with a company can be difficult is because it is a labor-intensive and expensive process. Because of this, a lot of companies will just drop your mattress in a landfill, costing you money for something that could be done for free. Sometimes, where you buy your mattress has a recycling program, but because mattresses are about a 10-year investment, it can be hard to trace back to where you bought your product. Even if you go to any mattress store, there is no guarantee they will recycle it as promised. (Source)
So, what do you do?
If you are looking for the easiest way to recycle your old mattress, contact a nearby mattress store and ask about their recycling or donation options. You can also contact your city's recycling program and ask them specifically about disposing of your mattress.
If you want a promised result, contact 1-800-GOT-JUNK. They can give you a quote and provide cities in your state where mattress recycling and junk removal are done. However, mattress recycling is often only in select cities. You can also do research online, but keep in mind that a majority of mattress removal websites are scams. (Source)
Another option is to recycle your mattress yourself. This is the most difficult option, but a very hands-on experience. The foam can be used as insulation, resting pads, or pillows. Coils and springs can be used for building purposes, and fibers such as cotton can be used for fuel for burning, doormats, and towels. You can also donate these materials to donation centers or personal connections. (Source)
Cost to Dispose of a Mattress Examples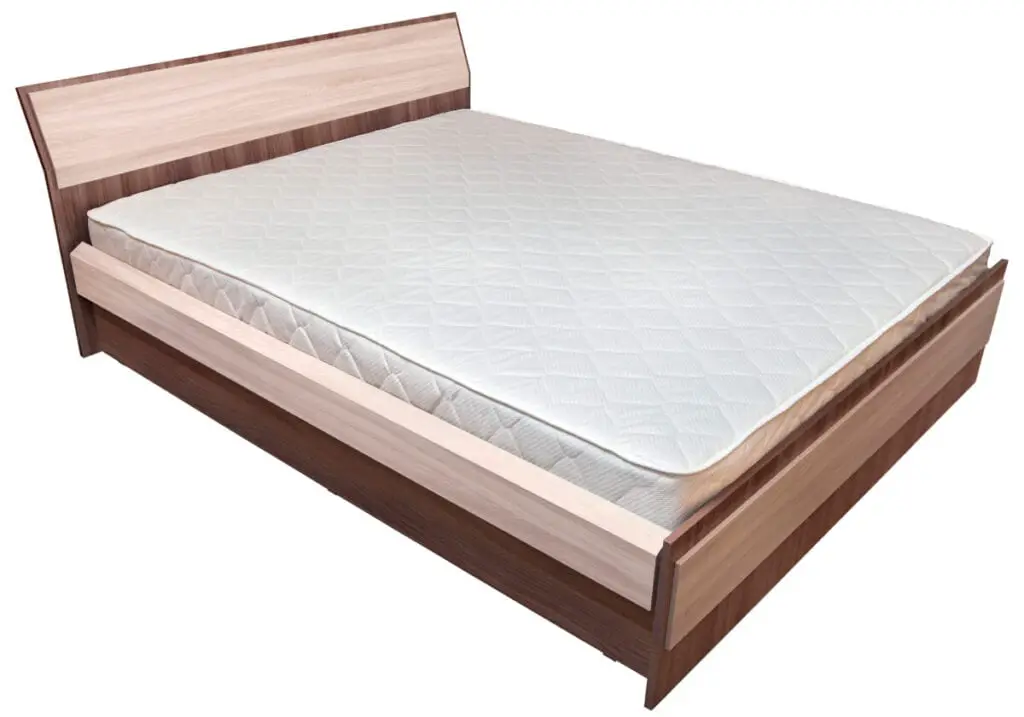 Rexburg, Idaho
To recycle a mattress in Rexburg, Idaho using 1-800-GOT-JUNK costs quite a bit of money. To use this company to throw away or recycle a mattress will cost at least $129, not including the gas it takes to drop it off. The Idaho Mattress Outlet in Rexburg, Idaho, has an online chat service where you can ask specific questions about mattress removal. To recycle or donate one mattress through their services is estimated to be $50.
Provo, Utah
To recycle a mattress in Provo, Utah using 1-800-GOT-JUNK, it will cost about $129, but no price is guaranteed until delivery. Salt Lake City has free mattress disposal/recycling for country residents or $20 for non-county residents when you use Spring Back Utah. (Source)
Farmington, Utah
To recycle a mattress in Farmington, Utah using 1-800-GOT-JUNK will cost about $129. Using Davis County Mattress Removal, the company will assess the condition of your mattress. They may clean and donate it properly, or they will take it apart and recycle it. If your mattress is long gone, it will go to the landfill. The price is estimated to be $50 to $100 depending on the size. (Source)
Houston, Texas
Houston has a lot of options for mattress recycling and cheap rates. Houston Furniture Bank has multiple locations with prices ranging from $10 to $30. (Source)
San Diego, California
It will cost you about $75 to dispose of your mattress in San Diego, California. There are a variety of recycling centers in the area that accept mattresses, but their rates vary. (Source)
North Kingstown, Rhode Island
Rhode Island has many options for mattress removal. If you use North Kingstown's transfer station, it will cost about $70. (Source)
Mattresses have many chemicals that can harm the environment if you don't dispose of them properly, but luckily, there are plenty of recycling centers that accept mattresses.
Related Topics:
If you like the article above, here are some other similar articles you should check out!
Cost of Dumping Yard Waste at the Dump